I've never met a lasagna I didn't love. Yes, there's something about the way it's assembled -- with the rich sauce, melty cheese and juicy bits of browned meat blanketing the noodles -- but what really makes it stand out is how the ingredients come together for a warm, comforting meal. And that's exactly what you can expect when you tuck into a bowl of this lasagna-inspired soup. It's everything you love about the classic casserole, packaged in a cozy new way.
The easiest lasagna soup starts with a jar of marinara
Yes, that's right! A jar of your favorite marinara sauce and a few cups of broth are what make up the base of this soup. It's a little untraditional, but trust me on this one.
For the best lasagna soup, marinara beats out a can of chopped tomatoes because of the flavor and texture it delivers. Since a lot of marinara sauces are infused with herbs, spices and roasted garlic, they come packed with a whole lot more flavor than a can of tomatoes. And then there's the thicker consistency, which makes for an irresistibly velvety broth. Of course, you can always make your own marinara, but it's hard to beat the convenience of store-bought -- especially when your priority is a super-easy dinner.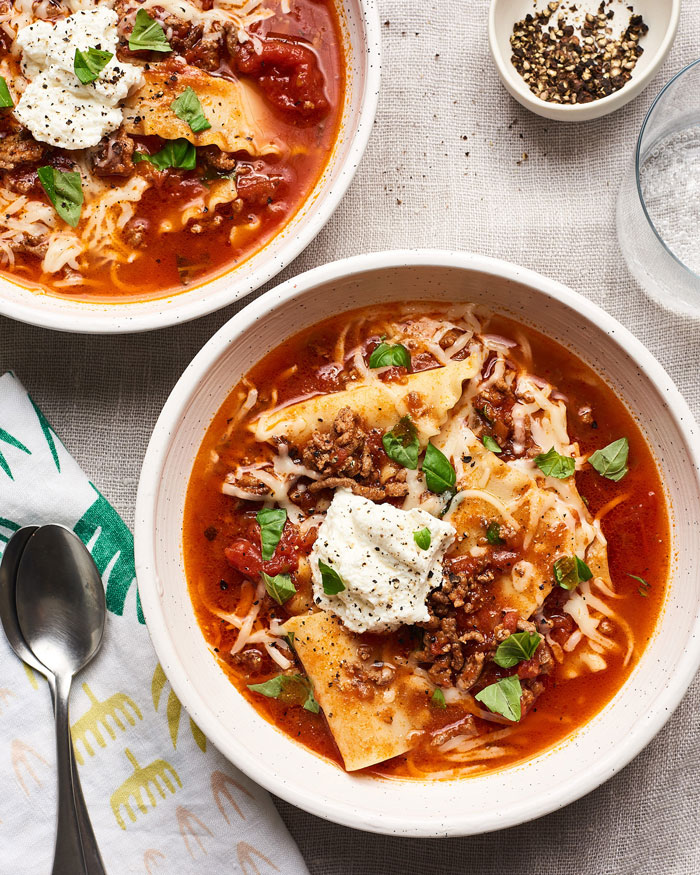 Easy Slow Cooker Lasagna Soup
Serves 6 to 8
Prep time: 10 minutes ; cooking time: 4 hours to 8 hours
For the soup:
1 pound lean ground beef
1 teaspoon kosher salt
1/2 teaspoon freshly ground black pepper
4 cups low-sodium chicken broth
1 (24-ounce) jar marinara sauce
1 small onion, diced
2 cloves garlic, minced
2 teaspoons Italian seasoning
1 Parmesan cheese rind (optional)
8 ounces dried lasagna noodles, broken into bite-size pieces (8 to 10 sheets)
For serving:
1 cup shredded low-moisture mozzarella cheese
1/2 cup ricotta cheese
Torn fresh basil leaves
Place the beef, salt, and pepper in a 6-quart or larger slow cooker. Use a wooden spoon to gently break up the meat. Add the broth, marinara sauce, onion, garlic, Italian seasoning and Parmesan rind, if using. Stir well to combine.
Cover and cook on the high setting for 4 to 5 hours or on the low setting for 7 to 8 hours. Stir in the noodles. Cover, set to low, and cook until the noodles are tender, 25 to 35 minutes.
Remove and discard the Parmesan rind. Ladle the soup into bowls and top with the mozzarella, ricotta and basil. Serve immediately.
Recipe notes: Leftovers can be refrigerated in an airtight container for up to four days.
This article is written by Kelli Foster from The Kitchn and was legally licensed via the Tribune Content Agency through the NewsCred publisher network. Please direct all licensing questions to legal@newscred.com.