Go ahead and bookmark this recipe now -- it will serve you well next time you crave chocolate. This over-the-top sheet cake is a mash-up of two favorites: decadent German chocolate cake and rich and creamy cheesecake. Once you try them together, you'll never want one without the other.
Although many earthquake cakes call for a box of German chocolate cake mix, I bet you already have the ingredients on hand to start from scratch. The process is simple: Whisk the dry ingredients in one bowl, and whisk the wet in another; then pour the wet into the dry, and stir until just moistened. No mixer required!
You'll pour the batter into a baking pan over a mixture of shredded coconut, chopped pecans and chocolate chips (classic toppings for a German chocolate cake). Then, you'll dollop heaping spoonfuls of sweetened cream cheese onto the batter. As it bakes, the batter shifts, the cream cheese sinks and a rich, gooey cake is born. In place of frosting (which would be too rich for this cake), you'll top the warm cake with more coconut, pecans and chocolate chips, which begin to melt but retain some texture.
Bring to a potluck, a bake sale or a birthday party -- or simply serve it just because on a random Monday night. Don't forget the cold milk for serving.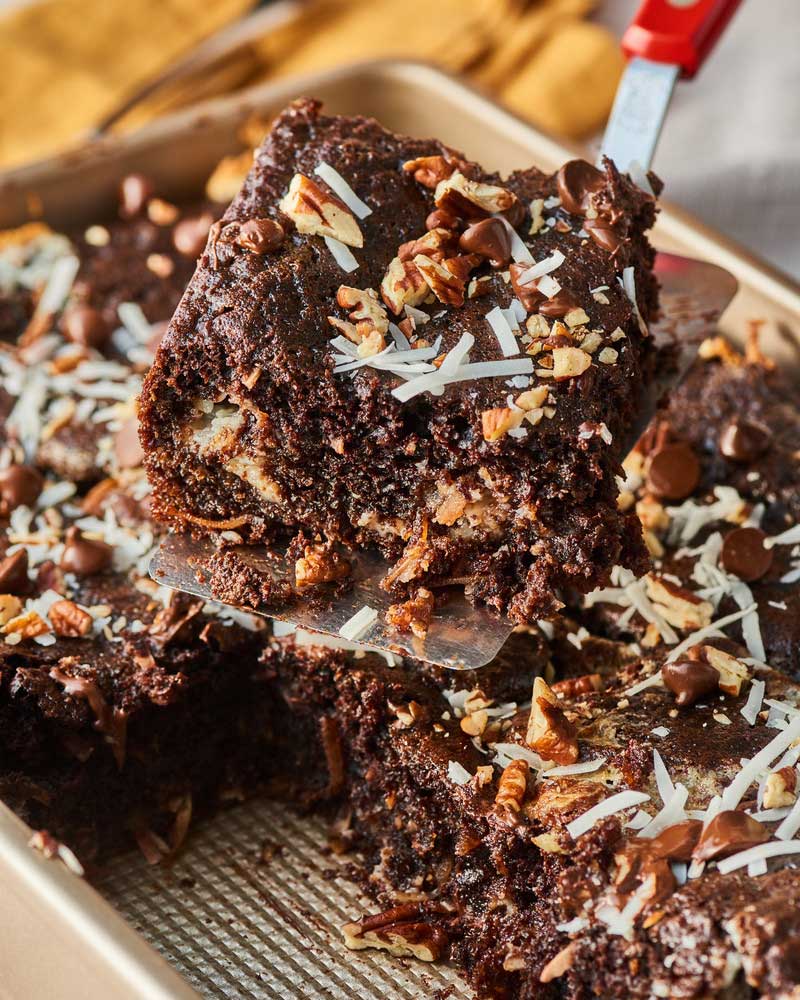 Rich & Gooey Earthquake Cake
Serves 12 to 15
For the cake:
Cooking spray
2 cups granulated sugar
1 3/4 cups all-purpose flour
3/4 cup unsweetened natural cocoa powder
1 1/2 teaspoons baking powder
1 1/2 teaspoons baking soda
1 teaspoon kosher salt
2 cups whole or 2 percent milk
2 large eggs, at room temperature
1/2 cup vegetable oil
1 tablespoon vanilla extract
For the filling:
2 cups powdered sugar
1 (8-ounce) package cream cheese, at room temperature
8 tablespoons (1 stick) unsalted butter, at room temperature
1 teaspoon vanilla extract
1 1/2 cups plus 2 tablespoons shredded, sweetened coconut, divided
1 1/4 cups semisweet chocolate chips, divided
1 cup chopped pecans, divided
1. Make the cake: Arrange a rack in the middle of the oven and heat to 350 F. Coat a 9-by-13-inch baking pan with cooking spray and set aside.
2. Whisk the sugar, flour, cocoa powder, baking powder, baking soda and salt together in a large bowl.
3. Whisk the milk, eggs, oil and vanilla together in a medium bowl until smooth. Pour into the flour mixture, and stir with a spatula until the batter is just combined and no streaks of flour remain; set aside.
4. Make the filling: Place the powdered sugar, cream cheese, butter and vanilla in a large bowl, and beat with an electric hand mixer on medium speed until smooth, about 2 minutes.
5. Sprinkle 1 1/2 cups of the coconut, 1 cup of the chocolate chips and 3/4 cup of the pecans over the bottom of the prepared baking pan. Pour in the cake batter. Dollop spoonfuls of the cream cheese mixture into the cake, and then use two forks to swirl and spread the cream cheese slightly.
6. Bake until the center of the cake springs back when pressed lightly, the edges pull away from the sides of the baking dish, and a cake tester comes out with only a few moist crumbs, 45 to 50 minutes. Immediately sprinkle the hot cake with the remaining coconut, chocolate chips and pecans. Set aside to cool on a wire rack for at least 30 minutes. Cut into squares.
Recipe notes: Leftovers can be store in an airtight container at room temperature for up to four days.
This article is written by Patty Catalano from The Kitchn and was legally licensed via the Tribune Content Agency through the NewsCred publisher network. Please direct all licensing questions to legal@newscred.com.