If you're looking for something other than chicken and burgers to grill, shrimp is the answer. When grilled with an herby, garlicky chimichurri sauce that doubles as both a marinade and a dipping sauce, shrimp skewers have enough bold flavor to make you feel like a kitchen rock star, even though they only take five measly minutes on the grill to cook.
Serve them for dinner on a busy weeknight or as a fast and fancy appetizer at your next grilling party. Don't be surprised if you come back to this recipe over and over again.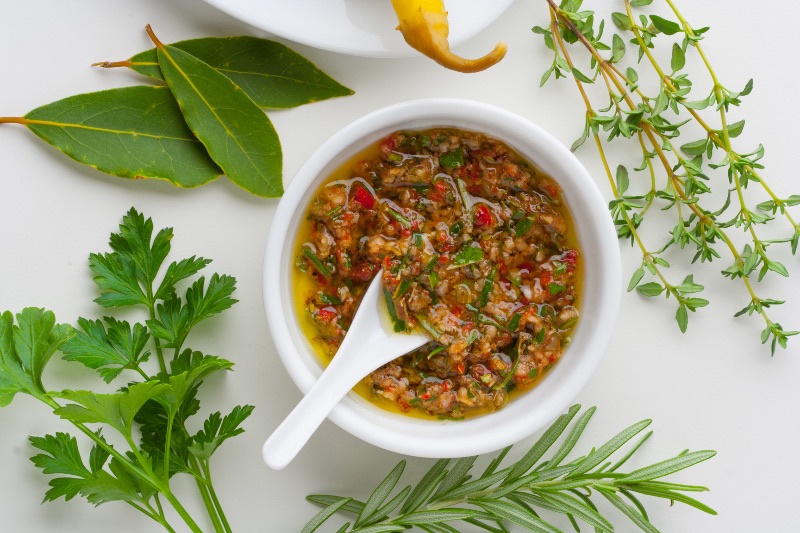 Superstar chimichurri
We've sung the praises of chimichurri before because this South American sauce is such a versatile tool in the kitchen. While it's usually served with grilled beef or chicken, its combination of fresh herbs, garlic, vinegar and citrus work just as well with sweet, briny shrimp. This no-cook sauce simply needs a quick buzz in the food processor or blender, and it can double as both the marinade and dipping sauce. I love chimichurri sauce so much that I usually make a double batch, as it stores and freezes extremely well for when I need a quick sauce or marinade.
I love the taste of grilled lemons, so each skewer gets a lemon wedge as an anchor. The lemon wedges char and caramelize just a bit on the grill, making them super-juicy and ready to be squeezed over the grilled shrimp before digging in.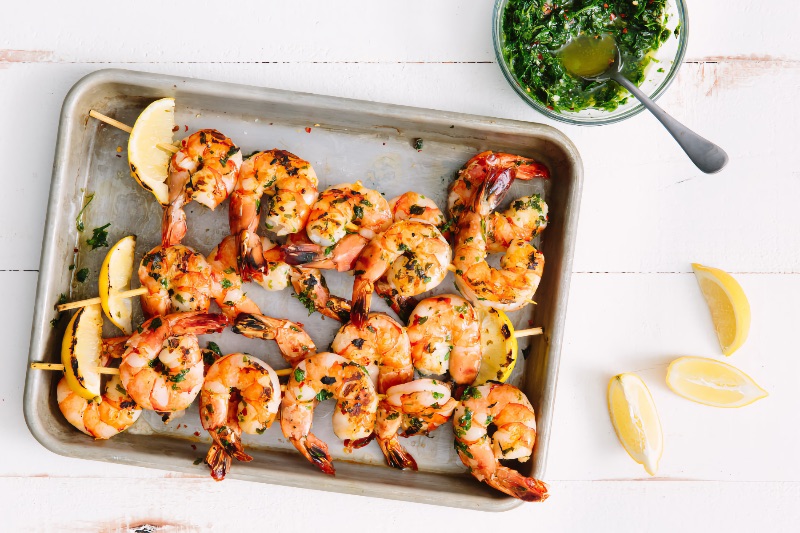 Grilled Shrimp Skewers with Chimichurri
Serves 4 as a main dish
1 1/2 cups packed fresh parsley leaves
1/2 cup olive oil
1/4 cup packed fresh oregano leaves (from about 1 bunch)
2 tablespoons freshly squeezed lemon juice
1 tablespoon red wine vinegar
2 cloves garlic
1 teaspoon kosher salt, divided
1/4 teaspoon red pepper flakes
2 pounds extra-large uncooked shrimp, peeled and cleaned (16 to 20 shrimp per pound)
10 (9- to 10-inch) skewers (soak wooden skewers in water for 20 minutes)
1 medium lemon, cut into 10 wedges
Place the parsley, oil, oregano, lemon juice, vinegar, garlic, 1/2 teaspoon of the salt and the red pepper flakes in a blender or food processor fitted with the blade attachment. Pulse until it forms a chunky paste. Transfer 3 tablespoons to a large bowl. Transfer the remaining chimichurri to a serving bowl.
Add the shrimp and remaining 1/2 teaspoon salt to the large bowl, and toss to combine. Let sit for 15 minutes. Meanwhile, prepare an outdoor grill to high (450 F to 550 F).
Thread a lemon wedge through the rind onto a skewer and slide down to about 1/2 inch from the end. Thread about 5 shrimp onto the skewer, skewering each shrimp twice (through the tail and head ends) and spacing them evenly. Place on a baking sheet, and repeat with skewering the remaining lemon wedges and shrimp.
Place the skewers in a single layer on the grill without touching (grill in batches if needed). Cover the grill; cook until grill marks appear on the bottom, about 4 minutes. Flip the skewers, cover and cook until the shrimp are just firm, about 1 minute more. Transfer the skewers to a serving dish, and serve with the reserved chimichurri sauce.
Recipe notes: If using frozen shrimp (which I actually prefer), thaw overnight in the refrigerator or under cool running tap water if using immediately. The chimichurri can be made and stored in the refrigerator for up to four days or frozen for up to two months. Let come to room temperature before marinating the shrimp. Leftovers can be stored in an airtight container in the refrigerator for up to three days.
(Christine Gallary is food editor-at-large for TheKitchn.com, a nationally known blog for people who love food and home cooking. Submit any comments or questions to editorial@thekitchn.com.)
This article is written by Christine Gallary from The Kitchn and was legally licensed via the Tribune Content Agency through the NewsCred publisher network. Please direct all licensing questions to legal@newscred.com.