Baked spaghetti is pretty much a mashup of all the best qualities of classic spaghetti and cheesy baked lasagna. The hearty casserole consists of spaghetti noodles and meat sauce layered with creamy ricotta and melty mozzarella cheese, which, needless to say, makes it just the kind of meal you want to tuck into mid-winter. Plus you can easily make it ahead of time, and if you're not serving it to a crowd, you can keep leftovers and enjoy for days to come.
Baked spaghetti is beloved for its ability to feed a hungry crowd both easily and cheaply. Basic spaghetti and meat sauce (ground beef and jarred sauce, no less) are mixed with two eggs and three types of cheese before heading to the oven to bake and bubble. Rest assured, the process is easier than making lasagna, but the results are just as satisfying.
The spaghetti bakes for 30 minutes, covered, which keeps things moist while the eggs set. You'll then uncover and bake for 10 to 15 minutes more, or until the whole thing is bubbly and the cheese is browned. Just after baking, let the casserole cool for five minutes before cutting into slices and serving.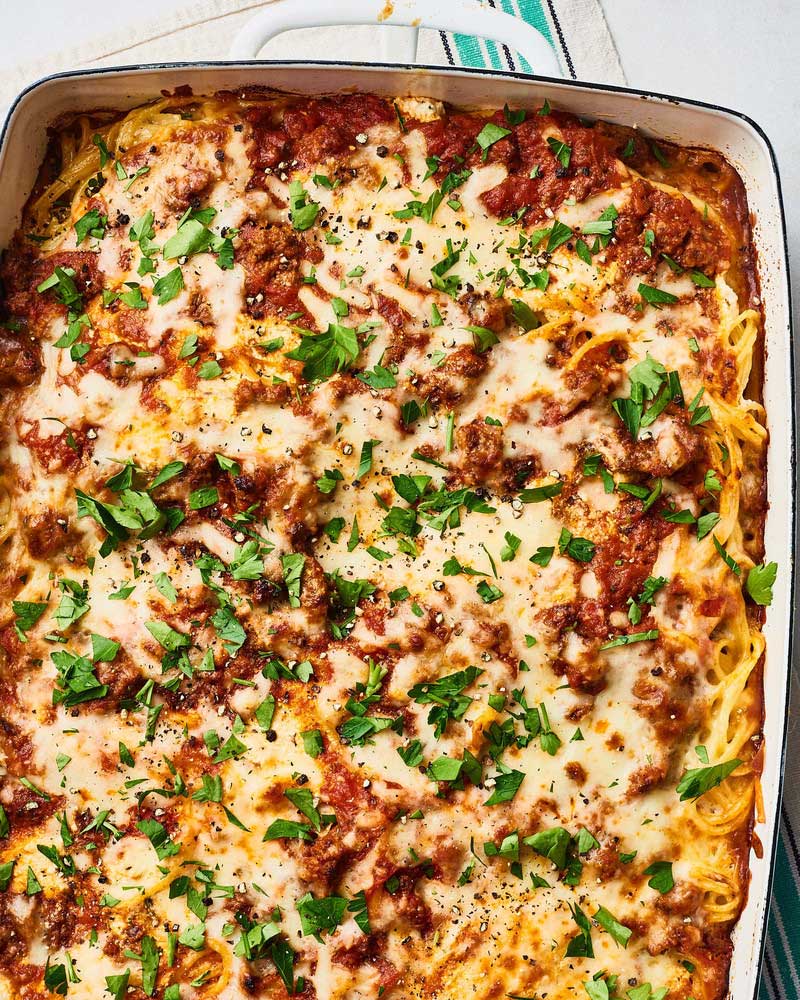 Baked Spaghetti
Serves 10 to 12
Cooking spray
16 ounces dried spaghetti, such as Barilla
1 1/2 teaspoons kosher salt, divided
1 tablespoon olive oil
1 pound lean ground beef
1 (24-ounce) jar marinara sauce
1 (15-ounce) container full-fat ricotta cheese
1 teaspoon dried Italian seasoning
1 clove garlic, minced
2 large eggs
1/2 cup finely grated Parmesan cheese (about 3 ounces)
4 cups shredded part-skim mozzarella cheese (16 ounces)
Chopped fresh flat-leaf parsley leaves, for serving (optional)
1. Arrange a rack in the middle of the oven and heat to 350 F. Coat a 9-by-13-inch baking dish with cooking spray. Meanwhile, bring a large pot of water to a boil.
2. Add the spaghetti and 1 teaspoon of the salt. Cook according to package directions until the spaghetti is al dente, 8 to 10 minutes. Meanwhile, make the sauce.
3. Heat the oil in a large skillet over medium heat until shimmering. Add the beef, and use a stiff spatula to break it up into large pieces. Season with the remaining 1/2 teaspoon salt, and let the meat brown undisturbed, 4 to 5 minutes. Break the meat up into smaller pieces with the spatula, and continue to cook until the beef is mostly browned with no pink showing, 2 to 3 minutes more. Remove from the heat, and stir in the marinara.
4. When the pasta is ready, drain but do not rinse. Let cool for 5 minutes, just long enough to prevent the eggs from scrambling.
5. While the pasta is cooling, stir the ricotta, Italian seasoning and garlic together in a small bowl.
6. Place the eggs and Parmesan cheese in a large bowl, and whisk to combine. Add the drained and cooled spaghetti, and toss to coat.
7. Place 1/2 of the pasta mixture in the baking dish in an even layer. Dollop with 1/2 of the ricotta mixture, then spread with a spatula. Spoon 1/2 of the meat sauce over the ricotta, then sprinkle with 1/2 of the cheese. Repeat the layers with the remaining ingredients.
8. Cover the dish tightly with aluminum foil. Bake for 30 minutes. Uncover and cook until the edges are bubbling and the cheese is melted and browned in spots, 10 to 15 minutes more. Garnish with fresh parsley, if desired. Let cool 5 minutes before cutting and serving.
Recipe note: Leftovers can be refrigerated in an airtight container for up to four days.
This article is written by Meghan Splawn from The Kitchn and was legally licensed via the Tribune Content Agency through the NewsCred publisher network. Please direct all licensing questions to legal@newscred.com.