I used to think a classic bacon, egg, and cheese sandwich was the fastest way to take any morning from good to great. But as it turns out, there's actually a better way — and that's layering the trio between a couple sheets of buttery, flaky puff pastry. These hand pies pack in the very best parts of the classic breakfast sandwich, with a twist that makes them feel a little bit fancy.
When layering the ingredients, be sure to leave a small border (about a half inch) around the edge of the puff pastry pieces. Then, before adding the top pieces of puff, brush this border with a tiny bit of water. Both of these steps together will create a tight seal, ensuring the ingredients don't spill out during baking.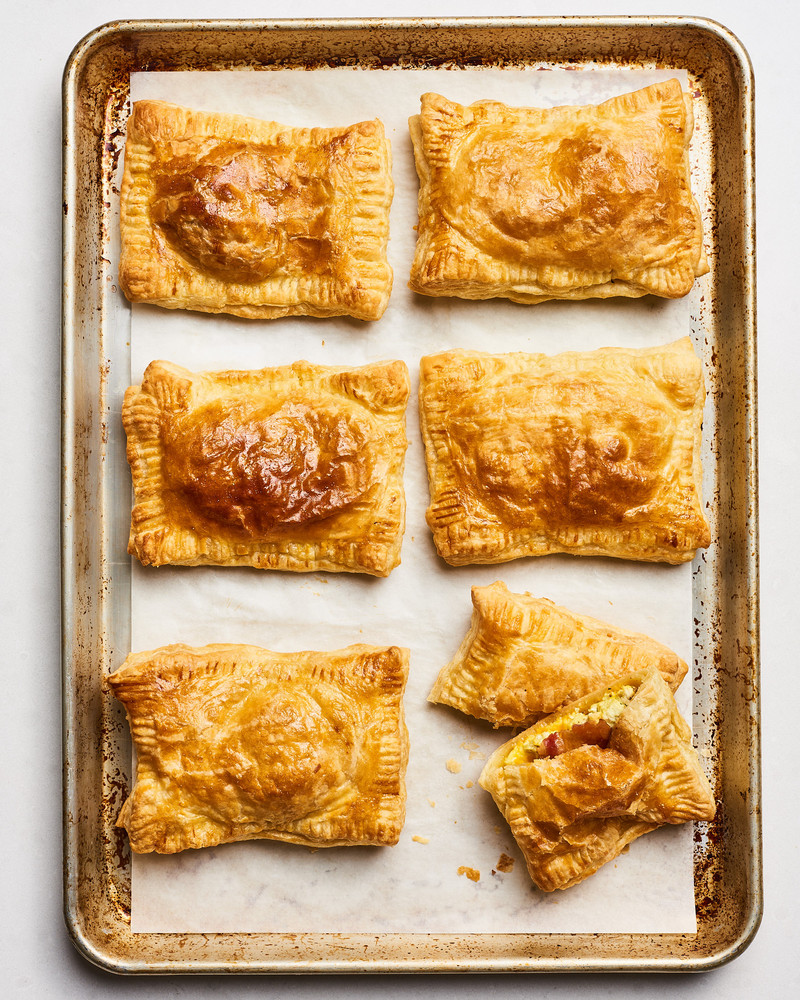 Breakfast Hand Pies
Makes 6
All-purpose flour
2 sheets puff pastry from 1 (17-ounce) box, thawed but still cold
1 1/2 cups scrambled eggs, cold or at room temperature
3 slices cooked bacon
1/2 cup shredded cheddar cheese
1. Line a baking sheet with parchment paper. Lightly flour a work surface, place two thawed sheets puff pastry on it, and unfold the sheets. Cut each sheet into six rectangles for a total of 12. Place six of the rectangles in a single layer on the baking sheet.
2. Leaving a 1/2-inch border, divide 1/2 cup shredded cheddar cheese among the rectangles on the baking sheet (about 1 heaping tablespoon each). Divide 1 1/2 cups scrambled eggs over the cheese (1/4 cup each). Top each with 1/2 strip cooked bacon.
3. Brush water around the borders of each piece. Top with the remaining six puff pastry pieces. Crimp the edges with a fork to completely seal. Cut a 1/2-inch slit in the top of each. Refrigerate while the oven heats.
4. Arrange a rack in the middle of the oven and heat the oven to 400 F. Bake until puffed and golden-brown, 20 to 25 minutes.
Recipe notes: Wrap well and refrigerate up to three days or freeze up for three months.
This article is written by Kelli Foster, TheKitchn.com from The Kitchn and was legally licensed via the Tribune Content Agency through the Industry Dive publisher network. Please direct all licensing questions to legal@industrydive.com.