It's that time again. Back to school activities and unexpected meetings can wreak havoc on dinnertime plans. I rely on one-dish meals for these moments as an easy way to put dinner on the table. It's fun to offer a big, colorful salad in the center of the table and let everyone dig in.
Here are two of my favorite main course salads that have stood the test of time and remain classics on restaurant menus across the country.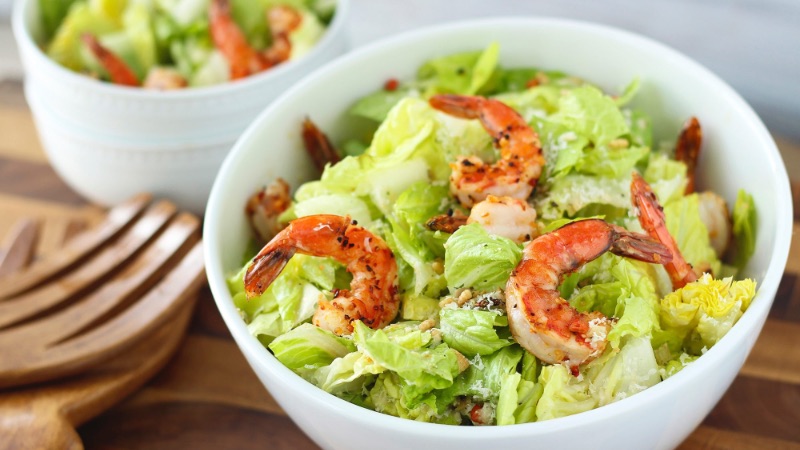 Perhaps the Chef's Salad originated as a way for crafty cooks to use up leftover ingredients in an appetizing and attractive way, but this standby has long since evolved into a highly desirable dish of its own. The julienne slices should be about 3/8 inch by 2 inches long, and the salad will look best if all the julienned ingredients are similar in size. While vinaigrette is recommended here, Thousand Island or blue cheese dressing are also delicious. Feel free to put your own signature on this with different meats or cheeses of your choosing.
The Seafood Louis salad is as good as when it was first served many years ago. Both Seattle and San Francisco claim to have invented this timeless salad. What's clear is that the salad was developed to showcase the West Coast's shrimp and Dungeness crab. You can use either all shrimp or all crab in this dish, or you could even substitute another cooked shellfish such as scallops or lobster. It wouldn't be a Seafood Louis salad without Thousand Island Dressing. Don't forget to serve some warm crusty bread and olive oil for dipping the bread.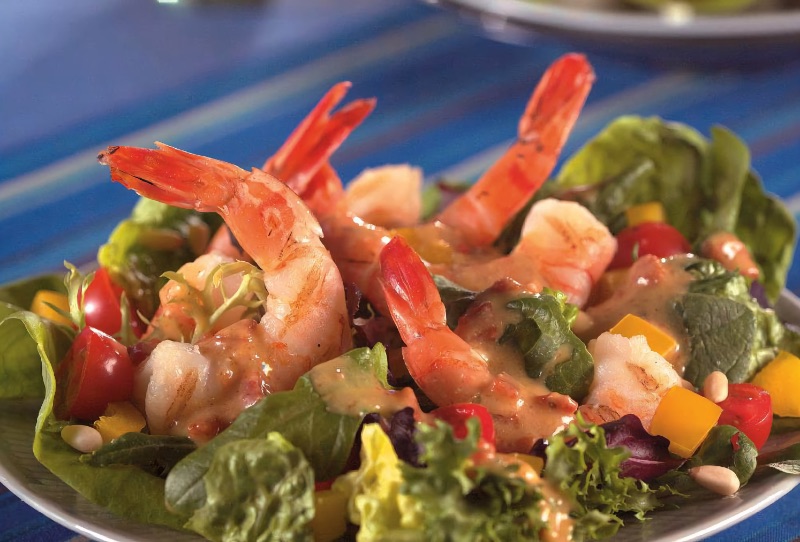 Chef's Salad
Serves 4.
Vinaigrette:
2 tablespoons fresh lemon juice
2 teaspoons Dijon mustard
1 small shallot, finely minced
Salt and freshly ground black pepper to taste
6 tablespoons extra virgin olive oil
2 heads of butter lettuce, pale inner leaves only, washed and dried
1/3 pound honey baked ham, cut into julienne
1/3 pound smoked chicken or roast turkey, cut into julienne
8 ounces Monterey jack or Swiss cheese, cut into julienne
3 hardboiled eggs, cut into quarters
8 cherry tomatoes, cut into quarters
1. Make the vinaigrette: In a small bowl whisk together the lemon juice, mustard, shallot, and salt and pepper until well blended. While continuously whisking the dressing, drizzle in the oil, and continue whisking for another 10 to 20 seconds until emulsified. Set aside.
2. In a large salad serving bowl, arrange the leaves of butter lettuce, leaving them whole if small and tearing the larger leaves into bite sized pieces. Arrange the ham, smoked chicken and cheese on top of the lettuce, keeping each ingredient separate from the others rather than jumbling them all together. The julienne strips should radiate outward from the center of the salad like the spokes of a wheel. Place the wedges of cherry tomato and hardboiled egg in between the three main ingredients.
3. The salad should be served with the dressing on the side, then dressed and tossed at the table.
Seafood Louis
Serves 4.
1 medium head of iceberg lettuce, shredded, about 8 cups shredded
1/4 European cucumber, washed and thinly sliced
1/2 pound fresh lump crabmeat
1/2 pound cooked tiny shrimp
1 ripe avocado, peeled, pitted and sliced
2 hard-cooked eggs, quartered
8 cherry tomatoes
1 cup Thousand Island dressing (see below)
1 tablespoon finely chopped parsley
1 lemon, cut into wedges
1. In a large serving bowl, combine the lettuce and cucumber and toss to mix. Mound the crabmeat and the shrimp in the center on top of the lettuce, and arrange the avocado slices, egg quarters and tomatoes around the seafood.
2. Spoon the Thousand Island Dressing over the shrimp and crabmeat and garnish the salad with the chopped parsley. Toss the salad just before serving and pass the lemon wedges separately.
Thousand Island Dressing
Yield: about 1 cup.
2/3 cup mayonnaise
1/3 cup chili sauce
2 tablespoons pickle relish
Salt and pepper to taste
In a medium mixing bowl, combine all the ingredients and mix thoroughly. Cover and chill until needed.
This article is written by Diane Rossen Worthington from Seriously Simple and was legally licensed via the Tribune Content Agency through the NewsCred publisher network. Please direct all licensing questions to legal@newscred.com.