My husband and I visited the Omni Hotel in San Francisco recently and enjoyed an amazing steak dinner at Bob's Steakhouse, the in-house restaurant. That night we were jolted out of a deep, steak-satisfied sleep by the Napa earthquake. I couldn't help thinking that I would always remember that delectable dinner. Now I call it our "Steak and Shake" dinner.
Fortunately, the hotel was solid as a rock and we went back to sleep. Still, the rest of the trip we couldn't get the unique steak flavor out of our minds.
I had a chance to interview chef Thomas Rhodes about Bob's steakhouse secrets. I learned a great deal about what it takes to make a great steak. I asked him for tips that could help all of us home cooks replicate their steaks.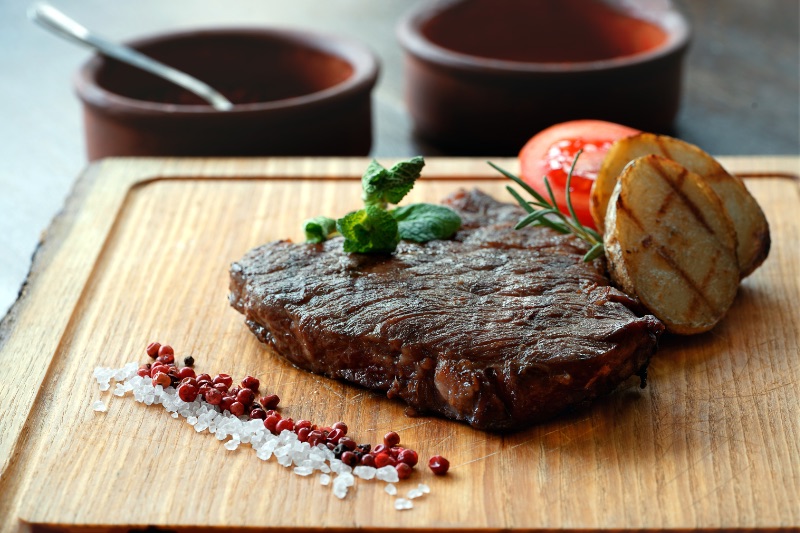 It's important to choose your meat from a known purveyor. If your budget can handle it, go for USDA Prime beef. Otherwise choose best quality USDA Choice steak. Remember that the higher the ratio of marbling and the younger the beef, the higher the grade of meat. And for you Costco shoppers, you can find all of these grades in its meat department. If you want aged beef, know the difference between wet and dry aging. Wet-aged beef is lighter, very tender and has a grassy flavor, while dry-aged beef is richer and has almost an earthy, mushroom flavor.
Chef Rhodes says it best just to season only with salt and freshly cracked black pepper. Make sure to cook the meat on high heat and serve the steak rare or medium rare for best overall flavor and texture; use a meat thermometer if you are unsure, and remember that the steak will continue to cook after it's taken off the heat.
Bob's cooks its steaks partway under a broiler and then finishes them on a very hot flattop grill, which is its steakhouse secret for sure. Why? Because this technique allows both sides of the meat to achieve paper-thin caramelization. The flavor is truly unique. With top quality beef and a clever cooking technique, Bob's steak rate as one of the best I have every enjoyed. Since home cooks don't have commercial broilers, the steaks in this recipe are grilled on both sides and then finished in a piping-hot cast-iron skillet that will help create that glistening finish. No sauce is necessary with this flavor-inducing cooking method. I like to serve the steak with braised spinach and a baked potato. To drink? A big, bold Cabernet would be perfect.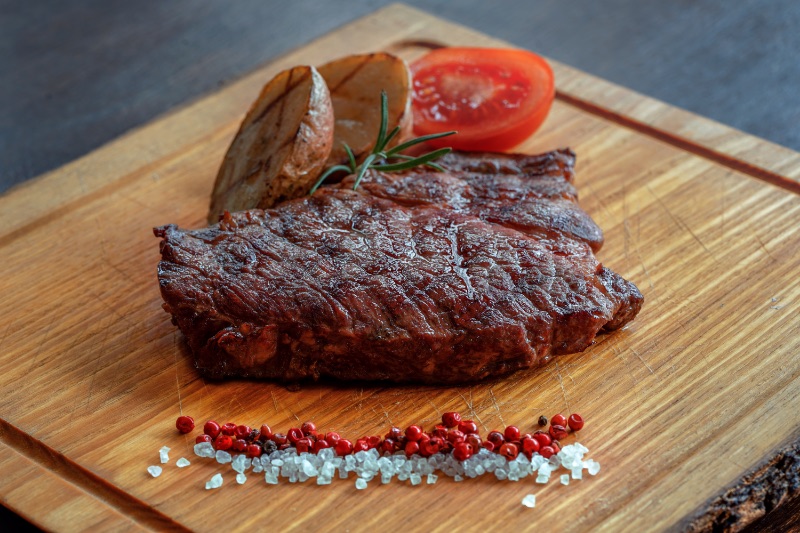 Grilled Steak
Serves 6.
6 (2-inch thick) rib eye steaks with rib attached (approximately 1 1/2 pounds each) or 6 filets, approximately 1/2 to 3/4 pounds each
Salt and freshly ground black pepper
2 tablespoons finely chopped Italian parsley
1. Remove the meat from the refrigerator 1 hour before grilling. Liberally season the steaks on both sides with salt and pepper. Prepare barbecue or a grill pan for medium-high heat grilling. Grill the steaks for about 7 to 9 minutes on each side or until rare, depending upon their size. Turn them so that you get crisscross marks on the steaks. Heat a cast iron skillet on high and when the skillet is very hot, place the steaks in the skillet for a minute on each side to create paper-thin caramelization. The steaks should be almost charred on the outside and medium-rare on the inside (130 F with an instant-read thermometer).
2. Place the steaks on a platter and let rest for 10 minutes. This will allow the juices to be distributed and keep the steak juicy. Slice the steaks against the grain into 1/2-inch thick slices or serve whole. Sprinkle with parsley and serve.
(Diane Rossen Worthington is an authority on new American cooking. She is the author of 18 cookbooks, including "Seriously Simple Parties," and a James Beard Award-winning radio show host. You can contact her at www.seriouslysimple.com.)
This article is written by Diane Rossen Worthington from Seriously Simple and was legally licensed via the Tribune Content Agency through the NewsCred publisher network. Please direct all licensing questions to legal@newscred.com.