I love risotto and have made more versions than I can remember. I've used stock, wine and sometimes cream, along with different vegetable combinations that always seem to turn out delicious. In the spirit of the new year, I wanted to come up with some lighter dishes that didn't sacrifice an ounce of flavor. That's where riced cauliflower comes in. It's easy to work with and provides rich results in each dish I have tested.
I had heard about making cauliflower into a risotto, and soon thereafter I enjoyed it a restaurant where the riced vegetable included cream and lots of cheese. Yes, it was definitely tasty; but I tried to figure out how I could cut down on the extra calories and still make it a dish I would want to eat.
It's quicker to make than ever because now you can find it already riced for you. If you want to rice it yourself, trim a whole cauliflower and then grate it with a large hole box grater to yield 4 cups. The mushrooms should be well cooked so that they offer an earthy flavor. You can find butternut squash peeled and diced at most markets now, so add that for its orange color and velvety texture. Sweet frozen peas add additional vibrant color and a garden pea flavor. They should be added frozen to the dish so they don't become overcooked. Note that this dish will not be creamy like its rice cousin but it will be satisfying in its own unique way.
Feel free to add different veggies or different cheeses to the dish. The fresh lemon zest and a generous grinding of black pepper bring all the flavors together. If you like a richer flavor, you can add a drizzle of olive oil to the top just before serving. I have served this as both a first course and as a colorful side dish to simple entrees like grilled or roasted chicken, turkey, beef or pork.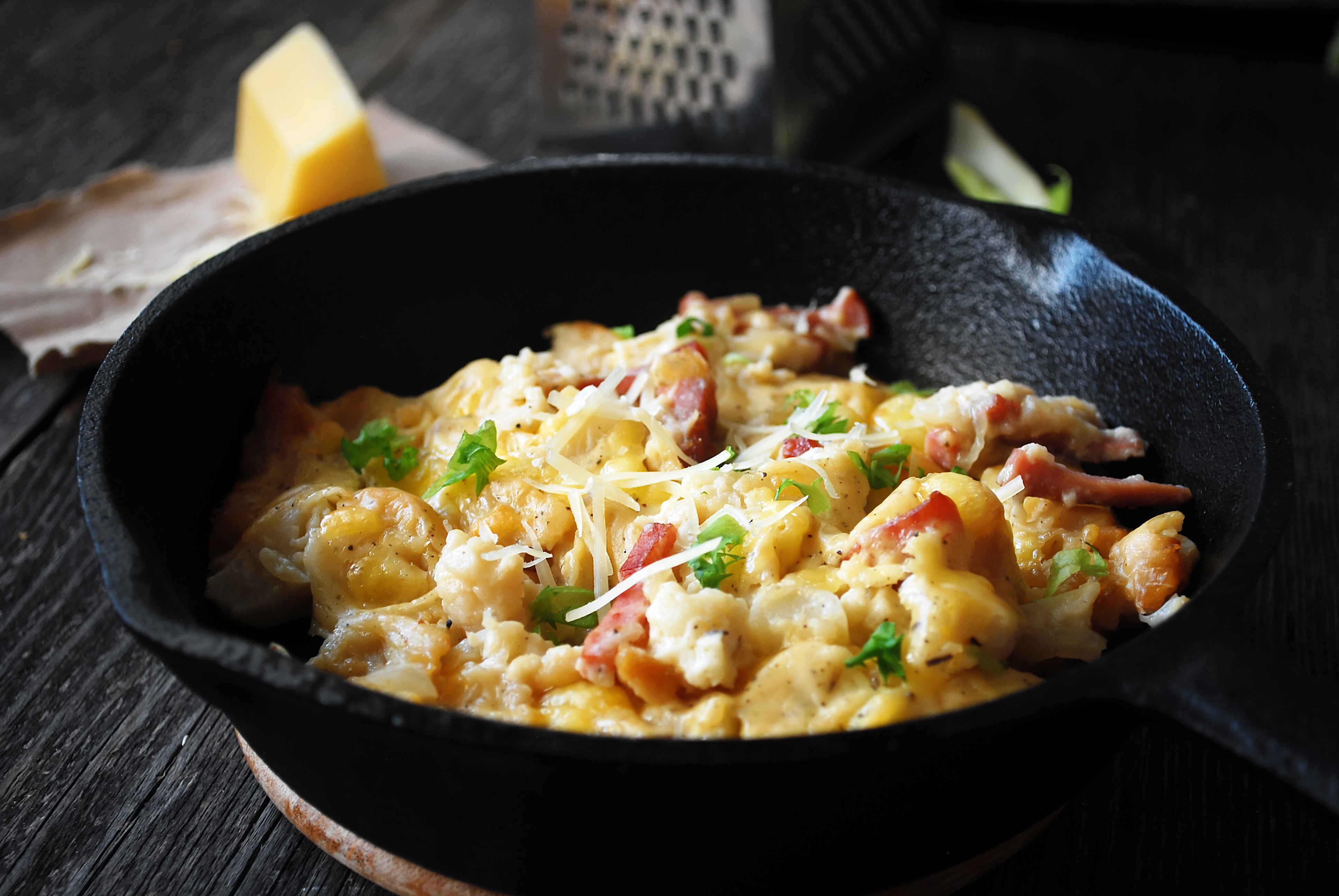 Cauliflower, Mushroom and Pea Risotto
Serves 4 to 6
4 tablespoons olive oil
3/4 pound sliced cremini mushrooms
2 leeks, light green part and white part only, finely chopped
2 garlic cloves, minced
1 (16 ounce) package riced cauliflower
1 cup peeled and diced butternut squash
1 cup vegetable or chicken stock
1 cup frozen petit pois
Zest of 1 lemon
1/3 cup freshly grated Parmesan cheese, plus extra for serving
1/4 cup finely chopped parsley or mixed fresh herbs
Salt and freshly ground black pepper
1. Heat 2 tablespoons oil in large saute pan that will fit the ingredients on medium-high heat. Saute the mushrooms, turning to evenly cook, for about 4 minutes or until cooked through and lightly brown. Remove to a small side bowl.
2. Add remaining oil to pan, and saute leeks for about 5 to 7 minutes or until soft and light brown. Add the garlic, and cook another minute. Add the cauliflower and butternut squash; saute, mixing with a large spoon, until crisp-tender, about 4 more minutes.
2. Add the stock, cover, and cook another 5 minutes or until the cauliflower and squash are tender. Remove top and reduce the liquid until just a little bit remains. Add the peas and cook about 2 minutes or just until they are cooked through. Add the reserved mushrooms, lemon zest, Parmesan and parsley and mix to combine. Season to taste with salt and pepper.
3. To serve: Place in shallow soup or pasta bowls and serve immediately with extra Parmesan cheese on the side. You can also serve this as a side dish with most entrees.
(Diane Rossen Worthington is an authority on new American cooking. She is the author of 18 cookbooks, including "Seriously Simple Parties," and a James Beard Award-winning radio show host. You can contact her at www.seriouslysimple.com.)
This article is written by Diane Rossen Worthington from Seriously Simple and was legally licensed via the Tribune Content Agency through the NewsCred publisher network. Please direct all licensing questions to legal@newscred.com.