If you are thinking of making a chocolate cake for folks who love coffee, I have the perfect Seriously Simple dessert for you.
The first time I tasted this I thought it was the best home-style chocolate/coffee cake I had ever tasted. My friend Judy Miller has had this recipe in her family for years and she told me that it is always a hit for both simple get-togethers and larger events. I particularly like it served after a cold weather stew or soup since it has a rustic touch to it.
This moist, brownie-style mocha cake is truly Seriously Simple. Made using an unusual cooking technique, the batter is first blended and cooked in a non-stick saucepan on top of the stove before it is baked in the oven. And for ease in clean up you use the same non-stick saucepan to simmer the cake and make the frosting.
The frosting is poured over the cake, which has holes poked into it to make the cake moist and give it a double dose of chocolate. Make sure to use a high-quality unsweetened cocoa powder like Droste or Scharffen Berger. The espresso instant coffee not only gives the cake a hint of coffee flavor, but it also enhances the chocolate flavor.
Since it only takes a few minutes to put together, this may become your standby for last minute dinners or even when you just need a chocolate fix. Serve this warm or at room temperature with a scoop of coffee ice cream.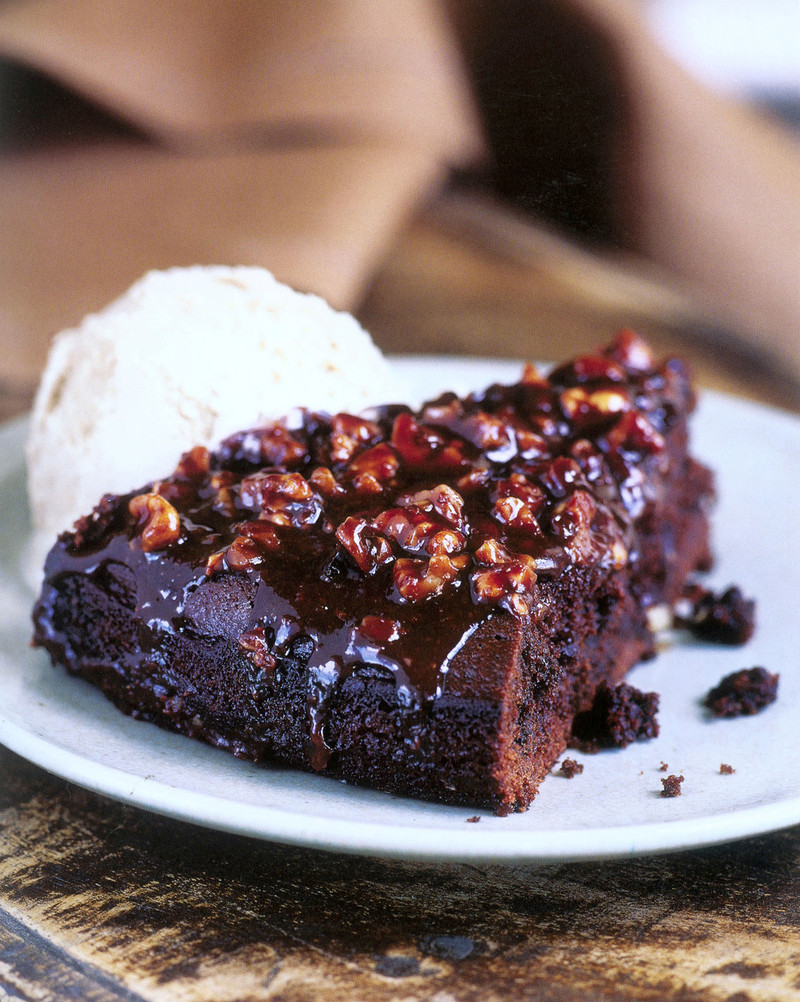 Judy's One Pot Mocha Brownie Cake
Serves 6 to 8
1 cup all-purpose flour
1 cup sugar
1/2 teaspoon baking soda
1/2 cup water
1 stick (1/2 cup) unsalted butter
1/2 cup unsweetened cocoa, like Droste or Scharffen Berger
2 teaspoons instant espresso like Medaglia D'Oro
1/4 cup buttermilk
1 egg
1 teaspoon vanilla
For the frosting:
1/2 stick butter
1/4 cup cocoa
1/4 cup buttermilk
1 cup powdered sugar
1 teaspoon vanilla
1 cup chopped walnuts
1. Preheat the oven to 400 F. Butter a 9-inch spring form pan. Combine the dry ingredients together and reserve.
2. In a medium (3 quart) non-stick saucepan, bring the water, butter, cocoa and espresso to a boil on medium-high heat, stirring for 2 minutes. When it comes to a boil add the dry ingredients, stirring to combine. Reduce the heat to medium. Then add the buttermilk, eggs and vanilla, and mix vigorously until well blended. Remove from the heat. (Do not cook too long or it will affect the rising of the cake.)
3. Pour into the prepared pan. Bake for about 15 minutes or until the top just begins to crack and the center is still slightly wet when pierced with a skewer.
4. Clean the saucepan, then while the cake is baking make the frosting. In the saucepan over medium-high heat bring the butter, cocoa and buttermilk to a boil, mixing constantly. When blended add the powdered sugar, vanilla and walnuts, and mix to combine. Remove from the heat.
5. While the cake is still hot, poke holes in the cake and pour over the frosting. Keep poking the cake after you have poured over the frosting to create a fudgy interior. When the cake is completely set, place it on a platter and release the spring form allowing the frosting to drip down the side. Serve warm or room temperature.
Recipe note: For a crowd, double the recipe and place in a 9-by-13-inch baking pan. Cut into squares and serve with ice cream.
Advance preparation: This may be prepared a day ahead, covered and kept at room temperature.
This article is written by Diane Rossen Worthington from Seriously Simple and was legally licensed via the Tribune Content Agency through the NewsCred publisher network. Please direct all licensing questions to legal@newscred.com.