I never was a ham lover until I made this delectable sweet-and-savory ham. Spiral-sliced hams are now readily available at the supermarket, already cooked. You'll find this variety especially convenient since it does not require carving. This pre-cooked ham is heated and glazed with complimentary mustard pineapple sauce. If your family enjoys ham for Easter dinner, they will certainly like this recipe and be thrilled to have plenty of leftovers for the rest of the week.
You can serve the ham at room temperature or chilled along with assorted salads and condiments for a casual Easter brunch. Don't forget warm rolls. To drink? It's easy to complement the spice and sweetness of this ham dish with an off-dry Gewurztraminer. If your fondness is for red, celebrate with Nouveau Beaujolais.
Leftover ham has endless possibilities. Try it in a grilled sandwich with Gruyere cheese and honey Dijon mustard. It is always a great breakfast item; saute and serve alongside scrambled eggs, use as a base for poached eggs, or chop and add to creamy scrambled eggs. I also like to add it to my favorite macaroni and cheese.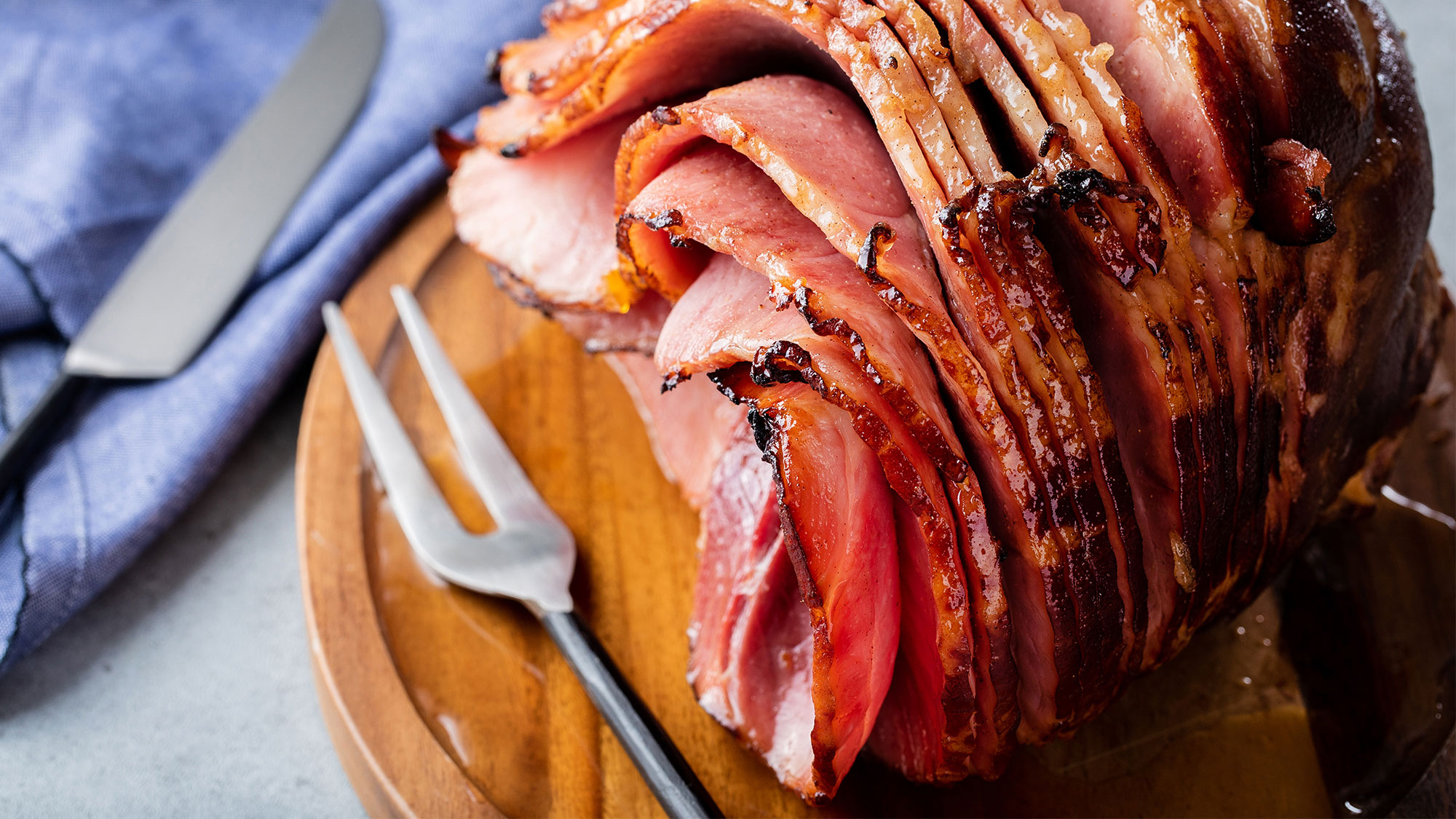 Pineapple-Honey Glazed Ham
Serves 12 to 16
Glaze:
One 8-ounce can crushed pineapple
1/2 cup orange blossom honey
1/4 cup packed brown sugar
1/4 cup Dijon mustard
1/4 teaspoon ground cloves
One 8-pound cooked spiral-sliced ham
1. Preheat the oven to 325 F. To make the glaze, in a small bowl, stir together all of the ingredients until well blended.
2. Place the ham flat side down in a shallow roasting pan. Insert bamboo skewers into the ham in 2 places to hold the slices firmly together.
3. Bake for 1 hour. Spread half of the glaze on the ham, using the back of a spoon to help it adhere. Bake for 45 minutes, or until an instant-read thermometer inserted into the center of the ham reads 135 F.
4. Raise the oven temperature to 425 F. Apply the remaining glaze, pressing it into the ham with the back of the spoon. Bake for 20 to 30 minutes, or until the glaze is set and the internal temperature of the ham is 140 F. Place on a carving board or platter. Remove the skewers and serve.
Advance preparation: Make up to 1 hour ahead and serve warm. The ham can also be made 2 days ahead, refrigerated, and served chilled.
(Diane Rossen Worthington is an authority on new American cooking. She is the author of 18 cookbooks, including "Seriously Simple Holidays," and also a James Beard award-winning radio show host. You can contact her at www.seriouslysimple.com.)
This article is written by Diane Rossen Worthington from Seriously Simple and was legally licensed via the Tribune Content Agency through the NewsCred publisher network. Please direct all licensing questions to legal@newscred.com.