These sweet little corn nuggets are a big hit on my table any time of year. Combining flour with cornmeal lightens the batter, and the sweet maple and brown sugar flavors bring out the inherent creamy sweetness of the corn. I use Albers cornmeal, but you can use any cornmeal as long as it isn't too coarse. Some brands will tell you the texture on the bag. Look for medium grind.
I like to serve these with orange-honey butter. To make orange-honey butter, combine some orange zest with softened unsalted butter and orange blossom honey and mix them together until they are well blended.
You can make these in the mini-muffin size to serve with tea in a pretty napkin-lined basket with your favorite butter and preserves. They are also a complementary accompaniment to simple roasted chicken, hen or turkey. And sometimes I'll serve them alongside a robust savory soup like lentil or split pea. If you don't finish them, freeze them in a freezer bag. Defrost and heat up in 300 F oven for a few minutes.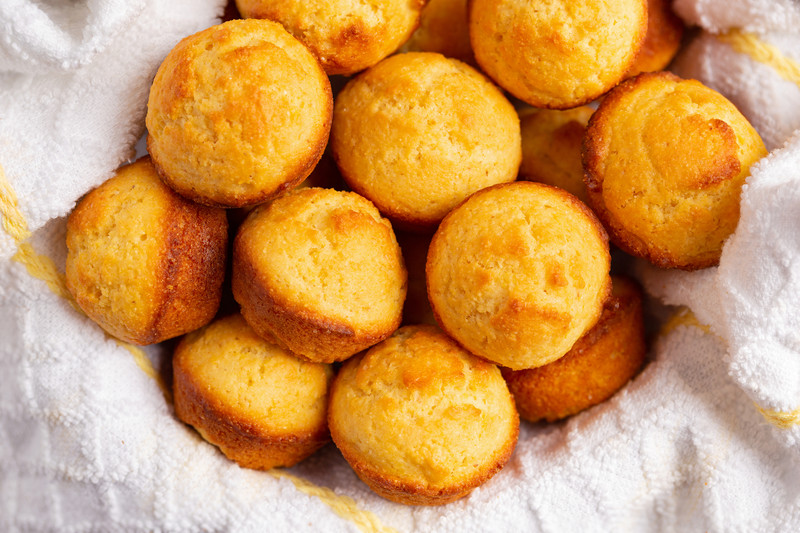 Maple Corn Muffins
Makes 12 regular or 48 mini muffins
2 cups all-purpose flour
1 cup yellow corn meal
1 tablespoon baking powder
1/2 teaspoon salt
1/4 cup packed light brown sugar
2 large eggs
6 tablespoons melted unsalted butter
1 cup milk
1/3 cup maple syrup
1/2 cup corn kernels (about 1 medium ear)
1. Preheat the oven to 350 F. Grease the muffin tins. Combine the flour, cornmeal, baking powder and salt in a large bowl.
2. In a medium mixing bowl, whisk the brown sugar into the eggs until well blended. Add the melted butter, milk and syrup and mix until combined.
3. Pour the liquid mixture over the dry ingredients and fold them together with a rubber spatula until the dry ingredients are completely blended. Add the corn kernels and mix to combine. Spoon the batter into the muffin cups two thirds of the way up. Bake for 20 minutes for mini muffins or 25 to 30 minutes for regular muffins or until the tops are golden brown and a toothpick inserted in the center comes out clean. Cool the muffins in the pan for 15 minutes. Serve them immediately with orange-honey butter if desired.
Advanced preparation: The muffins can be prepared up to 8 hours ahead and reheated in a 350 F oven just before serving.
This article is written by Diane Rossen Worthington from Seriously Simple and was legally licensed via the Tribune Content Agency through the Industry Dive publisher network. Please direct all licensing questions to legal@industrydive.com.