Nothing says America like a milkshake and a burger. And while I've cooked my fair share of burgers for summer parties and Fourth of July celebrations, I was intrigued by the recipes in "The Ultimate Burger: Plus DIY Condiments, Sides, and Boozy Milkshakes" by America's Test Kitchen (2019). If you, too, are a burger lover, this is a terrific addition to your cooking library.
America's Test Kitchen is the gold standard for testing recipes and refining them until they are as close to perfect as they can be. A variety of burger recipes including sliders, patty melts, lamb and turkey are presented with a paragraph called "Why This Recipe Works." Specific information helps the reader avoid any cooking pitfalls.
There are lots of other recipes in the book, including how to make spectacular milkshakes. After much trial and error, the authors chose the food processor as their go-to appliance for making diner-style milkshakes. The result is a frothier, lighter mixture than the final product a blender delivers, and the sweet concoction is easy to sip through a straw. This is because the higher heat generated by the food processor's blade causes the ice creams crystals to slightly melt, creating a smooth milkshake that is still cold but fluid.
You'll find variations of milkshake flavors included here as well. Try one flavor or all, but be sure to serve the shakes in chilled glasses so they will stay colder longer.
I must admit that my favorite burger recipe has some great things going for it: the right amount of fat (15 percent), blue cheese, caramelized onions and my burger sauce. It's a divine combination of tastes and textures.
Remember, it's easy to make the milkshakes, two at a time, so this is an easy menu to serve for a group. I can't wait to celebrate our national holiday with a juicy burger and a frosty shake. Now I just have to decide what flavor I want. Happy Fourth of July!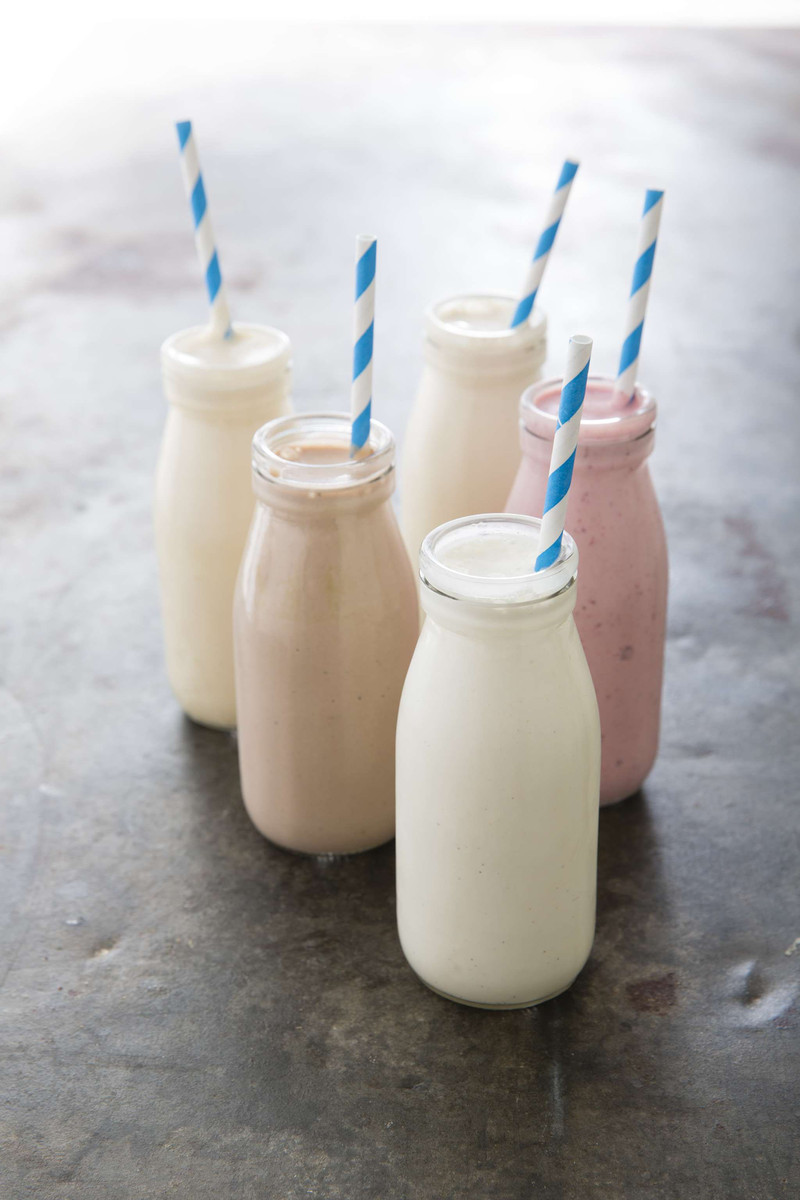 Vanilla Milkshakes
Serves 2
4 cups vanilla ice cream
1/2 cup milk
Pinch table salt
1. Place two pint glasses in freezer, and chill until ready to serve.
2. Let ice cream sit at room temperature to soften slightly, about 15 minutes.
3. Process ice cream, milk and salt in a food processor until smooth, about 1 minute, scraping down sides of bowl as needed. Pour milkshakes into chilled glasses, and serve.
Tasty variations
Chocolate-malt
Add 1/4 cup malted milk powder and 1 tablespoon unsweetened cocoa powder to the food processor with the other ingredients.
Salted caramel
Increase salt to 1/4 teaspoon. Add 1/4 cup caramel sauce to the food processor with the other ingredients.
Strawberry
Process 1 pound (3 1/2 cups) of thawed frozen strawberries in the food processor until smooth, about 1 minute, scraping down sides of bowl as needed. Reduce ice cream to 2 cups and milk to 1/4 cup, and add to processor with pureed strawberries and salt, and proceed with recipe as directed.
My Favorite Burger
Serves 6
3 pounds (15 percent fat or higher) freshly ground chuck or beef brisket, or a mixture of the two
Coarse salt
Freshly ground black pepper
1 cup crumbled blue cheese
6 onion, brioche or soft hamburger rolls
1/2 cup caramelized onions (see following recipe) or store-bought
Creamy steak sauce (see following recipe)
1. Gently shape the burger meat into 6 thick patties with an indentation in the center of each one. (Do not compress the meat, and handle as little as possible to shape). Refrigerate until grilling.
2. Prepare a barbecue for medium-high heat grilling. Just before grilling, season with salt and pepper. Grill the burgers for about 3 to 4 minutes on first side, and then flip over and cook 4 to 6 minutes on other side for medium rare or until desired doneness.
3. Sprinkle the cheese evenly over the burgers a couple of minutes before they are done so the cheese can melt. Place a large cover over the burgers to help the cheese melt. Grill the buns.
4. To serve, place burgers on toasted buns and top each burger with a tablespoon of caramelized onions. Serve immediately. Serve the creamy steak sauce on the side.
Creamy Steak Sauce
1/2 cup favorite steak sauce (I use Peter Luger)
1/2 cup mayonnaise
1. Combine the ingredients together in a small bowl, and blend with a whisk. Serve on the side.
Caramelized Onions
1/4 cup olive oil
4 large yellow or Maui onions, thinly sliced
3/4 cup red wine
1/4 cup balsamic vinegar
1 tablespoon sugar
Salt
Freshly ground pepper
1. Heat oil in large non-aluminum casserole on medium high heat. Add the onions, and saute for about 10 to15 minutes or until well softened. Stir frequently.
2. Add the wine, balsamic vinegar and sugar to the onions, and simmer on low heat until almost all of the liquid has evaporated. The onions should be very tender and caramelized.
3. Add the salt and pepper. Taste for seasoning. Cool and serve at room temperature. (This can be kept in the refrigerator, well covered, for a month.)
Art courtesy of "The Ultimate Burger: Plus DIY Condiments, Sides, and Boozy Milkshakes" (America's Test Kitchen, 2019).
This article is written by Diane Rossen Worthington from Seriously Simple and was legally licensed via the Tribune Content Agency through the NewsCred publisher network. Please direct all licensing questions to legal@newscred.com.