Eggs are one of the most versatile ingredients out there, yet we often resort to the same old tried-and-true recipes, instead of trying a different way to cook eggs. Since eggs are surprisingly temperamental, breaking out of our own shells and trying new methods definitely isn't always easy. And sometimes, it seems downright impossible to cook eggs perfectly—so once you finally nail that perfect hard-boiled egg, you stick to it.
When I worked as a cook in a French restaurant, the executive chef spent 45 minutes teaching me how to properly scramble eggs—and to my surprise, I had been doing it all wrong. Other times, certain egg dishes simply seem too fussy for everyday meals. For example, frittatas are a hands-off egg dish that allows you to get rid of leftover veggie stir-fry and deli meat, yet they're often only made for special occasion brunches. Poached eggs are reserved for diner orders of Eggs Benedict, and soft-boiled eggs seem like more trouble than they're worth (even though you can totally boil eggs in your Instant Pot).
All of this is to say that we've heard (and made) every excuse for not properly cooking eggs or being afraid to try something new. Below, we've cracked the secrets to perfectly cooking eggs more than a dozen different ways. With a few simple tips and some delicious recipe ideas, these protein powerhouses will take center stage on your kitchen table any time of day.
Baked Eggs
Baked eggs are a decadent way to tie in this simple protein with seasonal produce for an unexpected hearty dinner. This specific version of baked eggs is perfect for large groups when you have plenty of time to prep, but we also love our eggs baked into ramekins with cream, Parmesan cheese, and bright green herbs.
Scrambled Eggs
One of the secrets to making soft, creamy scrambled eggs is constantly moving the eggs around in a nonstick pan with a rubber spatula. Cook over a very low heat until the eggs just begin to set to avoid dry eggs. Don't season the eggs with salt and pepper until the very end to prevent watery curds.
Soft-Boiled Eggs
For those that don't like to stray too far from the tree, behold: Le soft-boiled egg. The key to perfectly cooked soft-boiled eggs is placing the eggs in cold water and bringing it up to a boil; once the water is rapidly boiling, turn off the heat and cover the eggs in the pot for exactly three minutes before transferring to the ice bath. This will yield eggs with a very runny yolk similar to a poached egg; cook for four minutes if you prefer a slightly firmer yolk and runny center (see this chart for more soft boiled egg cooking advice). A splash of white vinegar makes mind-blowingly easy-to-peel soft boiled eggs. Try soft boiled eggs on toast with asparagus, English muffin egg pizzas, or the Soba With Charred Scallions and Soft-Boiled Eggs you see here. 
Quiche
Quiches are a French version of versatile frittatas, except the custard is baked in a pie crust, which gives the quiche a bit more body and texture. Cut down on prep time (and stress) by using a store-bought unbaked pie crust.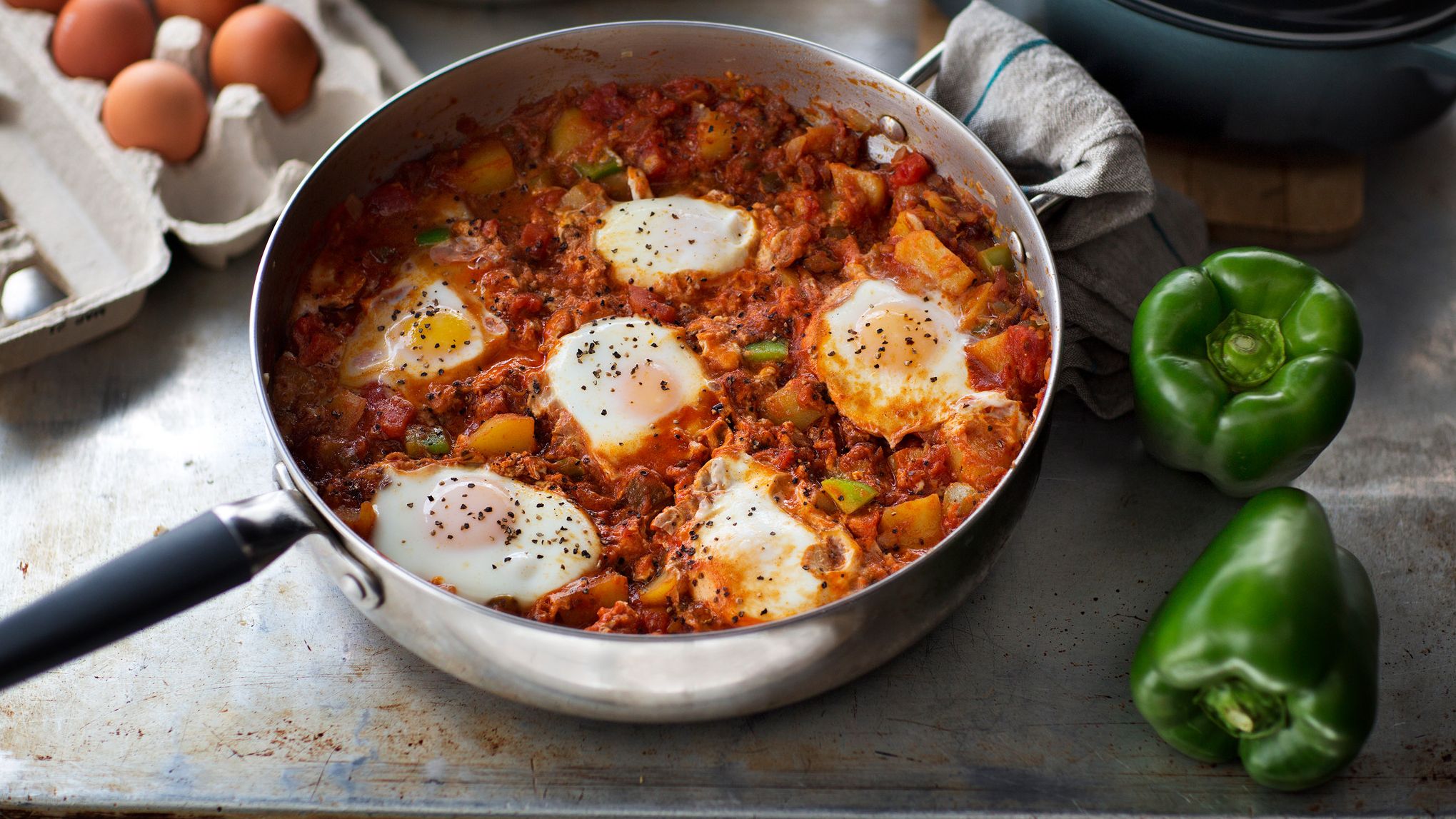 Shakshuka
This traditional Israeli preparation of eggs cooked in a skillet with tomatoes, peppers, and onions is a 'gram-worthy dish that's easier to make than it looks. The flavorful addition of cumin, paprika, cayenne pepper, harissa, and red pepper flakes gives you the opportunity to clean out your spice cabinet.
Deviled Eggs
These easy, elegant eggs always make an appearance at holiday brunches. A teaspoon of fresh lemon juice brightens up spicy mustard, and when it comes to toppings for deviled eggs, the options are endless.
Poached Eggs
While poached eggs are commonly found drenched in a rich hollandaise sauce atop an English muffin, their soft whites and runny yolks are also delicious on salad, oatmeal, and roasted vegetables. A well of gently boiling water will help shape and cook the egg perfectly in just three minutes.
Fried Eggs
Crispy egg whites and runny yolks are so satisfying, especially when spread on toast or next to a potato and veggie hash. A nonstick pan, lots of butter, and a little patience are all it takes to create silky fried eggs.
Frittata
Looking for a hands-off egg dish that will feed a crowd? Frittata is an Italian egg dish that combines meat, veggies, cheese, and whatever else you want into one savory custard. It's the perfect opportunity to use up leftovers and clean out your fridge for a seriously impressive dish.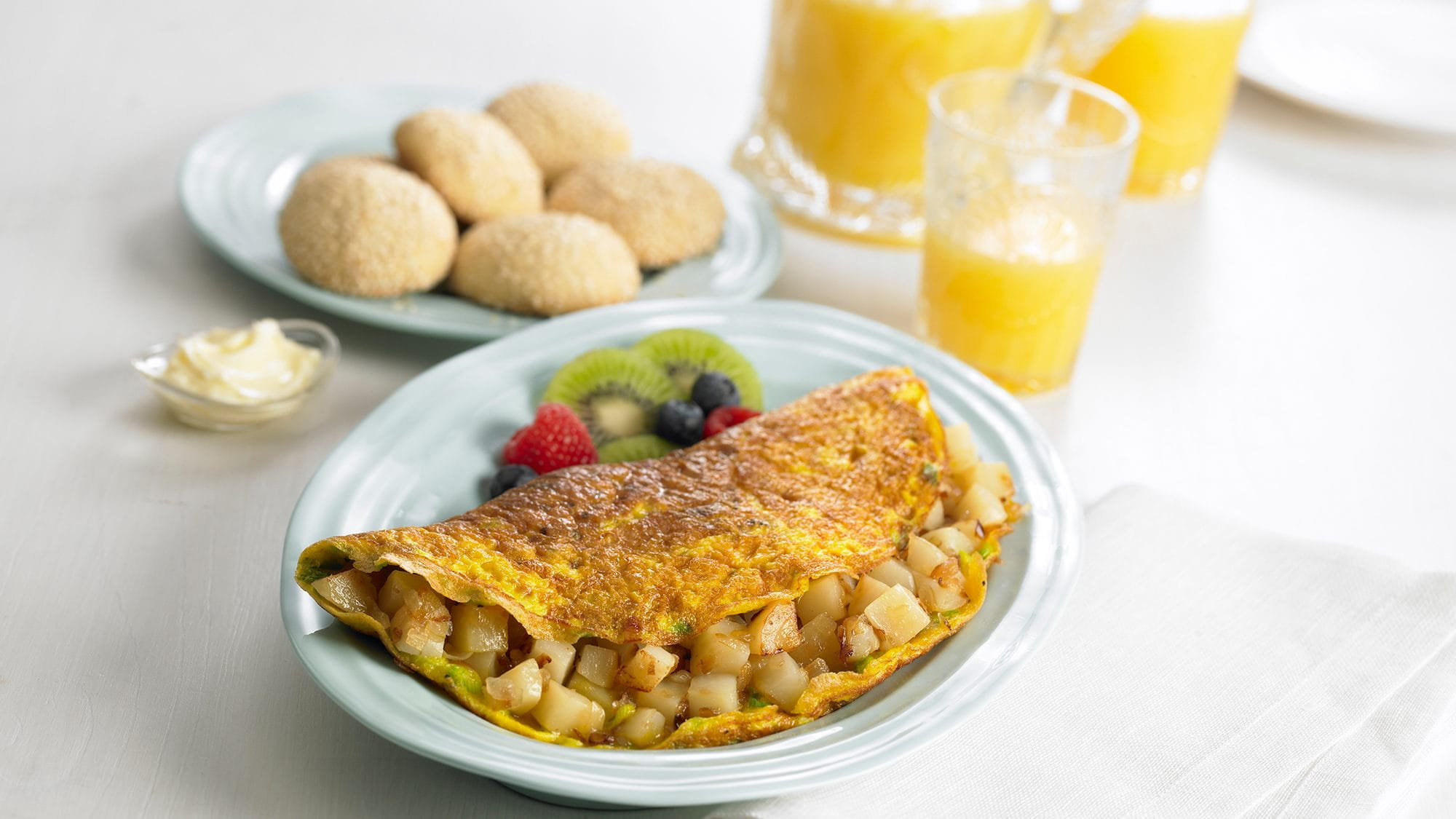 Omelet
There are two basic styles of omelets: American and French. American omelets are traditionally stuffed with meat, cheese, and veggies, and then folded in half and cooked until a light golden brown. French omelets involve a delicate tri-fold, no fillings, and a simple herb garnish. Whichever way you like it, this straightforward technique will turn you into an egghead in no time.
Cloud Eggs
We love turning to Pinterest for inspiration on how to change up kitchen staples like eggs. These simple cloud eggs, which involve whipping egg whites and baking them into soft meringues for that cloud-like appearance, are kid-friendly and so delicious.
Egg Salad
This is not your average cafeteria egg salad sandwich that always seems to have too much mayonnaise and not enough flavor. Lots of fresh herbs, lemon juice, and cracked black pepper are refreshing additions to this weekday lunch staple that we also love to meal prep.
This article was from Real Simple and was legally licensed through the Industry Dive publisher network. Please direct all licensing questions to legal@industrydive.com.