A homemade pie is one of life's great pleasures. With these key instructions, a handful of ingredients, and simple preparation, you'll be wanting to make this sweet dessert throughout the year.
For many people, pecan pie instantly invokes fond memories of the holidays and sharing a slice of sweet dessert with loved ones. While it is perfect for the holidays, it is a wonderful dessert to make at any time of the year. Pecan pie is surprisingly simple, requires minimal ingredients, and uses straightforward methods to create. Consisting of only pie crust, eggs, corn syrup, sugar, butter, vanilla, and pecans, you'll be amazed at how easy it is to create this pie for your next gathering.
Let's walk through the steps of creating the perfect pecan pie using this classic Pecan Pie recipe.
Step 1: Prepare Crust
The pecan pie begins with making a pie crust and rolling out the dough to fill a 9-inch round pie plate. Although making pie dough takes a little time to put together, start this aspect of the recipe early because it helps to give the dough some time to rest. As mentioned in this article about making pastries ahead of time, preparing your crust dough can be done a few days in advance to help save time.
With the number of eggs involved in the filling, pecan pie is similar to a sweetened custard and is quite loose before being baked. To ensure that your pie crust stays crisp and flaky, consider baking your pie crust before adding the filling (this is known as blind baking).
To blind bake your pie crust: Line your chilled crust in the pie dish with aluminum foil, pressing to the edges to ensure they don't slide down. Fill the crust with some weight – you could use dried beans, rice, or pie weights. Make sure you fill the pan to the top edge of the crust to prevent any shrinking. Bake in the oven for about 20 minutes at 400 degrees. The temperature might seem high, but using a higher temperature for this task ensures the crust will set quicker, preventing it from losing its shape.
To continue without blind baking: If you don't want to par-bake your crust, a few other options to consider are freezing your pie dough before adding the filling, baking your pie on the bottom rack of your oven, or using a baking stone underneath your pie as it bakes, with all these options helping to make sure that your pie crust stays crispy.
If you are short on time with making your pie crust, another option to consider is purchasing a frozen deep-dish pie shell. This is a great, quick alternative, with all the information listed above still applicable before adding your pie filling.
Step 2: Blend Pecan Pie Filling Ingredients
Pecan pie filling is as simple as blending all your liquid ingredients, including eggs, corn syrup, sugar, butter, and vanilla. Once the mixture is made, stir in the pecan pieces. While you can certainly use pecan halves for the entire recipe, it is a less expensive option to use pecan pieces for the filling. If you want a more ornate presentation, use pecan halves to arrange on the top of the filling in a decorative pattern before the pie goes into the oven. 
Flavor Tip: If you want a deeper caramel flavor for your pie, substitute dark brown sugar for granulated sugar in the recipe and use dark corn syrup instead of light corn syrup.
Step 3: Bake the Pecan Pie
Add your pecan pie filling to your pie shell and place it in your preheated oven. If you are worried about the filling spilling over the side as you guide the pie to the oven, you can also place the empty pie shell in the oven and add the pecan pie filling to avoid having to move the pie until it has baked. To help prevent excessive browning, use aluminum foil around the edges of the pie when starting your baking.
Bake the pie for about 25 minutes, remove the foil, and continue baking for another 20–25 minutes until the filling has been set. If you have a kitchen thermometer, the pie must reach an internal temperature of 200 degrees before it is finished baking. If you don't have a thermometer handy, some key indicators of the filling being set will be the edges of the pie filling has set, but the center should still have some movement. This pie will set more as it cools, so once finished baking, let the pie cool completely, or the filling could be runny.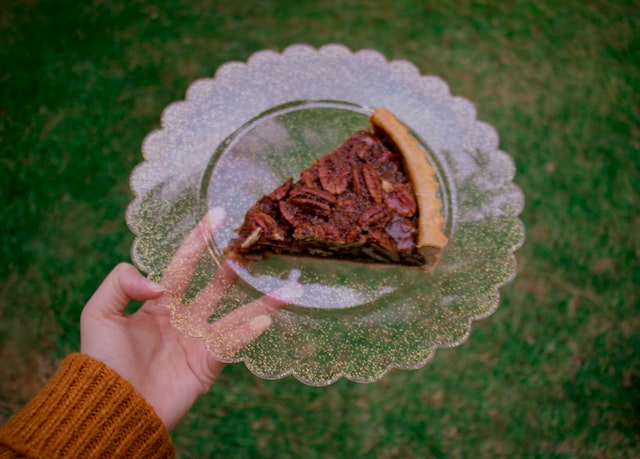 Photo by nikohoshi
Step 4: Serving and Storage
After baking, the pie needs extra time to set, so be sure to allow the pie to cool completely before serving.
Typically pies with egg-based fillings like this pecan pie should be refrigerated. If there happens to be any leftover pie, it should be covered and refrigerated, where it will easily keep for up to 3 days. If you'd like to store your pie for longer, it would be best to freeze it.
To freeze pecan pie, wrap it well with plastic wrap (or store it in an airtight container), and the pie can stay frozen for up to a month. To serve after the pie has been frozen, thaw it overnight in the refrigerator before bringing it to room temperature. If you like, warm it in the oven at 300 degrees for 10–15 minutes before serving to help make sure the pie crust is crispy. 
This article was written by Nik Pugmire from Better Homes and Gardens and was legally licensed through the Industry Dive Content Marketplace. Please direct all licensing questions to legal@industrydive.com.