As it gets closer to the holiday season there are staple foods that are a must have like green bean casserole. 
What Is Green Bean Casserole?
Homemade green bean casserole is best-known as a holiday side dish, traditionally served as a Thanksgiving recipe for dinner. Yet this classic comfort food also tastes wonderful year-round. Baked to perfection, the mouthwatering combo of green beans, cream of mushroom soup, milk, and French's Original Crispy Fried Onions is tough to top.
Today, you can emulate the original 1955 green bean casserole recipe created by Dorcas Reilly or make homemade green bean casserole from scratch. If you're hungry for green bean casserole with cheese or green bean casserole with fresh green beans, go for it! The choices are endless. Let's discover some of the best green bean casserole recipes you'll ever taste.
Homemade Green Bean Casserole: A Tasty Tradition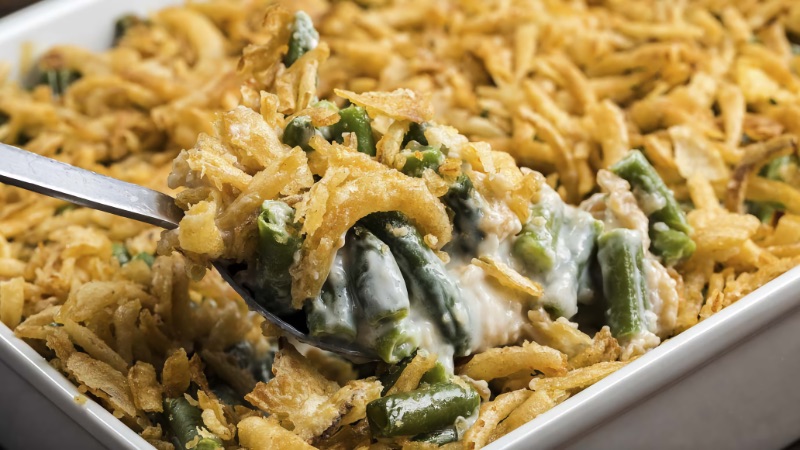 For anyone eager to learn how to make green bean casserole, our beloved French's Green Bean Casserole is a great starting point.
This easy green bean casserole recipe satisfies thousands of Americans annually at Thanksgiving dinner. It's a staple, like Classic Roast Turkey, Classic Herb Stuffing, and Classic Pumpkin Pie. For a spicy kick, simply double the amount of Ground Black Pepper.
Learn how to make French's Green Bean Casserole while preparing a slow cooker turkey with our how to video with Camille Ford.
Can You Make Green Bean Casserole Ahead Of Time?
Crunched on time and wondering if you can make green bean casserole ahead of time? Yes! Whether you're rushing to cook Thanksgiving dinner or planning a quick weeknight dinner, a green bean casserole make-ahead recipe is a wonderful asset.
With French's Green Bean Casserole, prepare it right up until the baking step (Step 2) and freeze it. Then thaw it in the fridge the night before baking or increase the bake time by 15-minute increments until the center reaches 160°F.
Celebrate With More Green Bean Casserole Recipes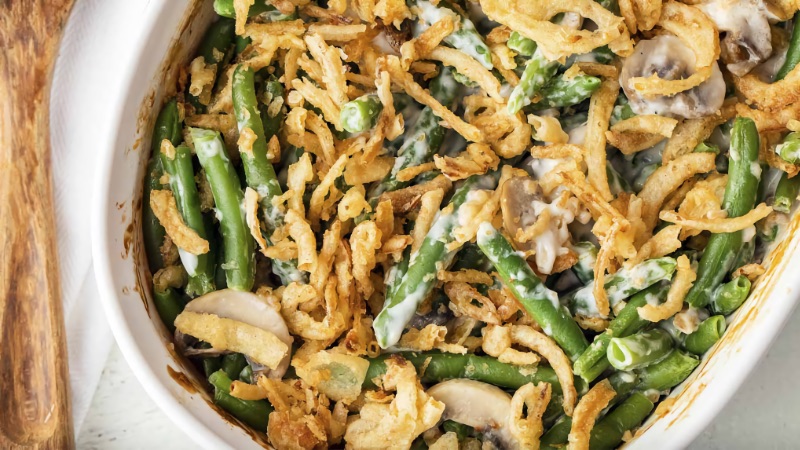 Got a big crowd coming for Thanksgiving dinner? Providing 30 servings, Green Bean Casserole for a Crowd is the answer to your prayers. For a side dish that's classy and crunchy, make Deluxe Mushroom Green Bean Casserole with butter and white wine.
Vegan Green Bean Casserole: Bring It On!
Vegetarian diners and veggie lovers, rejoice! Sliced white mushrooms, cashews, and oat milk highlight our scrumptious Vegan Green Bean Casserole. You can make the creamy mushroom sauce ahead of time, or mix things up using roasted mushrooms.
Enjoy Green Bean Casserole With Cheese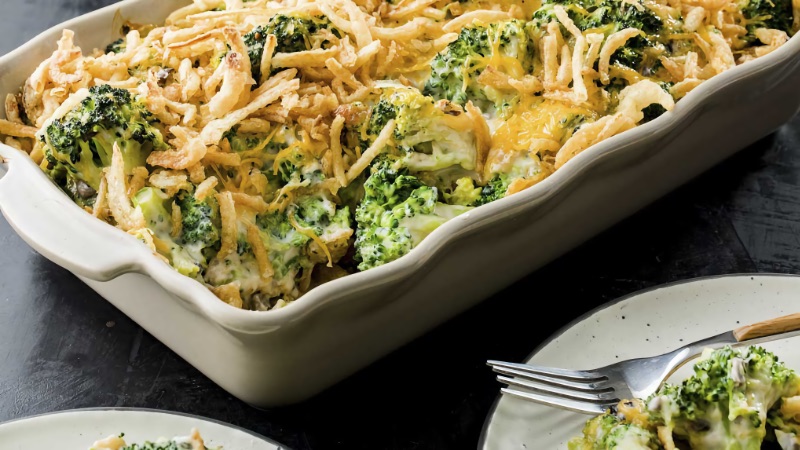 "Many's the long night I've dreamed of cheese," Robert Louis Stevenson wrote. If you're like the Treasure Island author, you'll treasure these recipes for homemade green bean casserole with cheese!
Broccoli Cheese Casserole With Crispy Fried Onions – a variation on traditional green bean casserole – gets you salivating with melted cheddar cheese and Ground Black Pepper. Craving green bean casserole with cream cheese? This Green Bean Casserole – including cubed cream cheese and Original Chicken Stock – is always a winner.
If shredded Monterey Jack cheese with jalapeno is calling your name, make Pepper Jack Green Bean Casserole. Or enjoy cheesy green bean casserole recipes like Swiss-Style Green Bean Casserole or Italian-Style Green Bean Casserole.
How To Make Green Bean Casserole From Scratch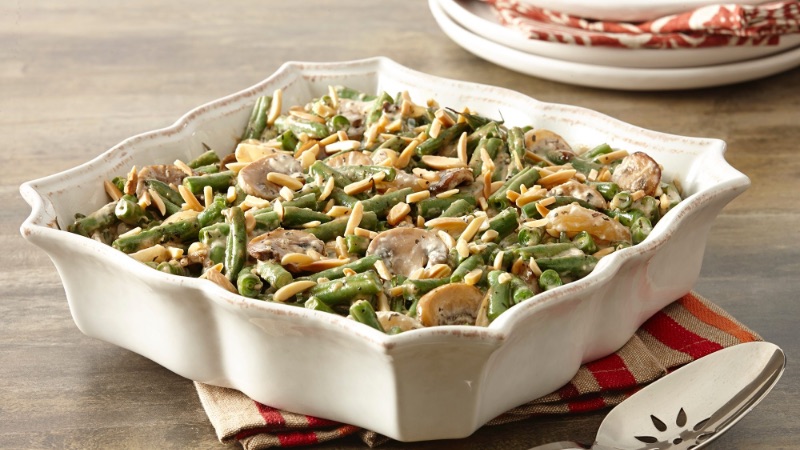 Hankering to make a green bean casserole recipe from scratch? That's popular with folks who love local, seasonal produce or prefer green bean casserole without mushroom soup. It can also help cut down on those green bean casserole calories.
Try our Gluten-Free Green Bean Casserole With Caramelized Mushrooms and Onions. With Basil Leaves and Onion Salt, the fresh green beans taste even better!
Recipe Twists On How To Make Green Bean Casserole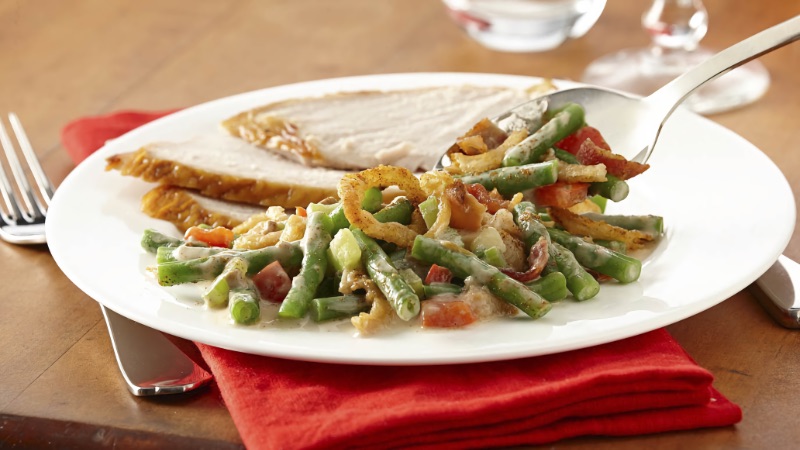 An unlimited variety of homemade green bean casserole recipes awaits you.
Want a taste of New Orleans? Loaded with bacon, onion, and red bell pepper, Cajun Green Bean Casserole features Perfect Pinch Cajun Seasoning.
For easy-to-serve individual portions, Mini Green Bean Casseroles with yummy buttermilk biscuits do the trick. Fans of chicken and green bean casserole devour Leftover Green Bean Casserole Pot Pie.
If you love easy pasta recipes, Crunchy Tuna Noodle Casserole is a great alternative way to enjoy French's Original Crispy Fried Onions. For more delicious variety, bake Green Bean Casserole Muffins or Green Bean Casserole Pizzas.
Other Holiday Recipe Favorites You Must Try
Holiday Meal Planning Tips 
Save your favorite green bean casserole recipes and organize your ingredients with our online meal planner.  You can also make holiday meal prep simple by creating a Flavor Profile, so you can store your favorite recipes and create grocery lists for easy shopping.