Flavor Profile
Of the herbs and spices that pack a hint of licorice—fennel, caraway, basil, tarragon—anise seed is the sweetest. It's an essential part of savory dishes such as pickling brines, sausages and shellfish stews. But thanks to its slightly citrusy edge, anise seed also stars in cakes and baked goods, such as Italian biscotti, German pfeffernüsse, Norwegian knotts, Peruvian picarones and more. We (along with the rest of the world!) love the flavor of anise seed in spirits, whether to drink or to cook with. However you refer to your favorite anise-flavored drink—ouzo, pastis, sambuca, arrak, raki—it's a traditional digestif in the Mediterranean, Middle East and Eastern Europe.
Usage
Italians have created an entire lexicon of anise-flavored sweets. You'll find anise seed in biscotti, anisette cookies, anicini, pizelle, angelonies and cancelle, all of which come in a fantastic variety of shapes and sizes. Anise seed finds its way into a variety of savory recipes, from seafood soups and stews to sauces for grilled fish to spices for pork sausage. And don't forget seasoning blends for pork roasts and veal!
If we included all the homemade variations, we'd have an uncountable number of anise-flavored liquors to try! A few to look for: Italian sambuka, Turkish raki, Greek ouzo, Mexican xtabemtún, French pastis and American Herbsaint.
Perfect Partners
The flavors of orange and anise are great companions. Use them together in baked goods like scones or quick breads, or in savory dishes like shrimp kebabs or pork stir-fry.
Anise seed appears in recipes for baked goods throughout Mexico and Latin America. It's sprinkled into breads, cakes and cookies, including Peruvian sweet corn fritters and Mexican pan de muertos, or Day of the Dead bread.
You can make your own anise-flavored liquor. You'll find many different recipes for it. We like to crush anise seed with fennel and coriander seed, then steep the mixture in brandy. Finish it off with simple syrup for a great no-cook gift.
Substitutes
Q: If I don't have anise seed on hand, what makes a good substitute?
A: Fennel seed is a little less sweet than anise seed, but it comes from the same family of herbs and shares anise's licorice flavor. Use it in equal measure. A few drops of anise extract can also be considered a good substitute.
Popular Recipe Recommendations
Sweet & Savory Pork Tenderloin Stir-Fry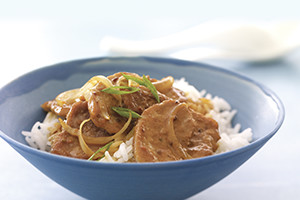 Cajeta Sauce with Anise (Mexican Caramel Sauce)