Thanksgiving Planning Season is officially upon is, and when you're coordinating a huge meal, every little bit of advance prep counts. I wouldn't start brining that turkey just yet, but it's never too early to stock your freezer with pie dough.
Depending on the type of pie you're making, how much free oven and refrigerator space you have, and the ambient temperature of your kitchen, making a pie from scratch can take all damn day—most of which is spent waiting around for the dough to chill. That's where your freezer comes in. Freezing pre-mixed, pre-portioned dough for later takes care of the worst of the waiting, so all you need to do on Pie Day is thaw, roll (and/or clobber), and bake. Plus, going through a freeze-and-thaw cycle basically guarantees that the pastry is fully rested, which will make it easier to roll out.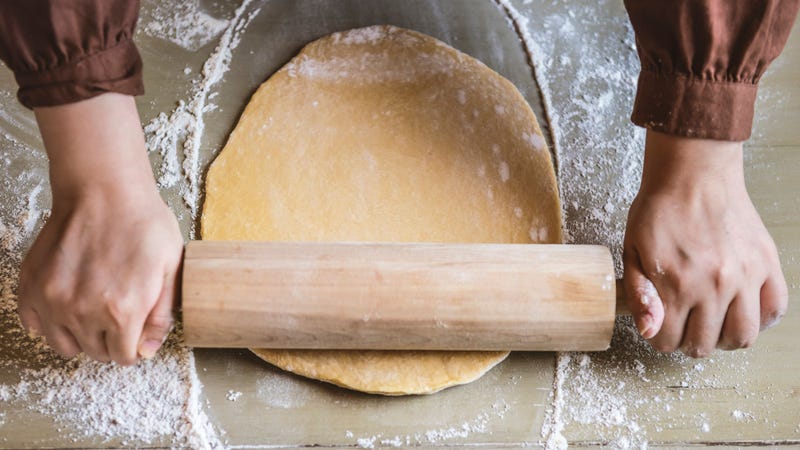 Photo: rawpixel (Unsplash)
Apart from a little foresight, all you need to pull this off is your go-to pie dough recipe—scaled up as needed—and some extra freezer-safe food storage. (If you're looking for a recipe, I swear by Stella Parks' and Smitten Kitchen's.) Once you've mixed the dough, separate it into single-crust portions, flatten those into chubby disks, and wrap tightly before freezing. Pie dough is roughly half butter, so take the same precautions you would when freezing butter to protect your crusts from off smells: I usually do two layers of plastic wrap followed by a layer of heavy-duty foil.
That's basically all there is to it. Transfer frozen disks to the fridge the day before you plan to roll them out, but if you forget, a couple hours at room temperature will do the trick. For extra credit, blind-bake a few shells in disposable tins, then wrap those tightly and freeze until needed; Future You will feel both seen and appreciated.
This article was written by A.A. Newton on Skillet and shared by A.A. Newton to Lifehacker from Lifehacker and was legally licensed through the NewsCred publisher network. Please direct all licensing questions to legal@newscred.com.