When it comes to nachos, I care way more about the melty cheese and mountain of toppings than I do about the chips themselves. If the same rings true for you, prepare to fall hard for this cheesy skillet dinner dip. This ingenious recipe is like nachos in reverse: Instead of piling tortilla chips with beans, veggies and cheese, the nacho fixings are baked until bubbling and served with chips for scooping. The result? Way more toppings, and no more soggy nachos!
This dip pleases the pickiest of eaters, is quick to pull together, and is the very best way to eat dip for dinner. Here's how to make it with whatever's in your pantry.
A nacho dip that starts in the pantry
If you keep your pantry stocked with just four cans — black beans, corn kernels, chopped green chiles and diced tomatoes — you'll be set to serve this savory skillet dip on short notice. But if you have to make a few swaps, that's OK too. This dip is as flexible as you need it to be, and by now we're all pros at adjusting recipes based on what groceries we have on hand. Here's how to make it work.
Substitute black beans with pinto beans.
Substitute corn with fire-roasted corn, fresh corn or frozen corn.
Substitute diced tomatoes with canned whole tomatoes (chopped), fire-roasted diced tomatoes, diced fresh tomatoes or chunky salsa.
Substitute green chiles with a can of diced tomatoes with green chiles, or fresh chopped jalapeno.
How to serve pantry nacho dip
Garnish the skillet with sour cream, sliced jalapenos, diced tomatoes, chopped cilantro, sliced avocado or anything else you expect from a mile-high nacho plate. Use tortilla chips to scoop the toppings directly from the skillet, spoon the dip onto a tortilla and eat burrito-style, or scoop onto crisp lettuce leaves and crush chips over the top.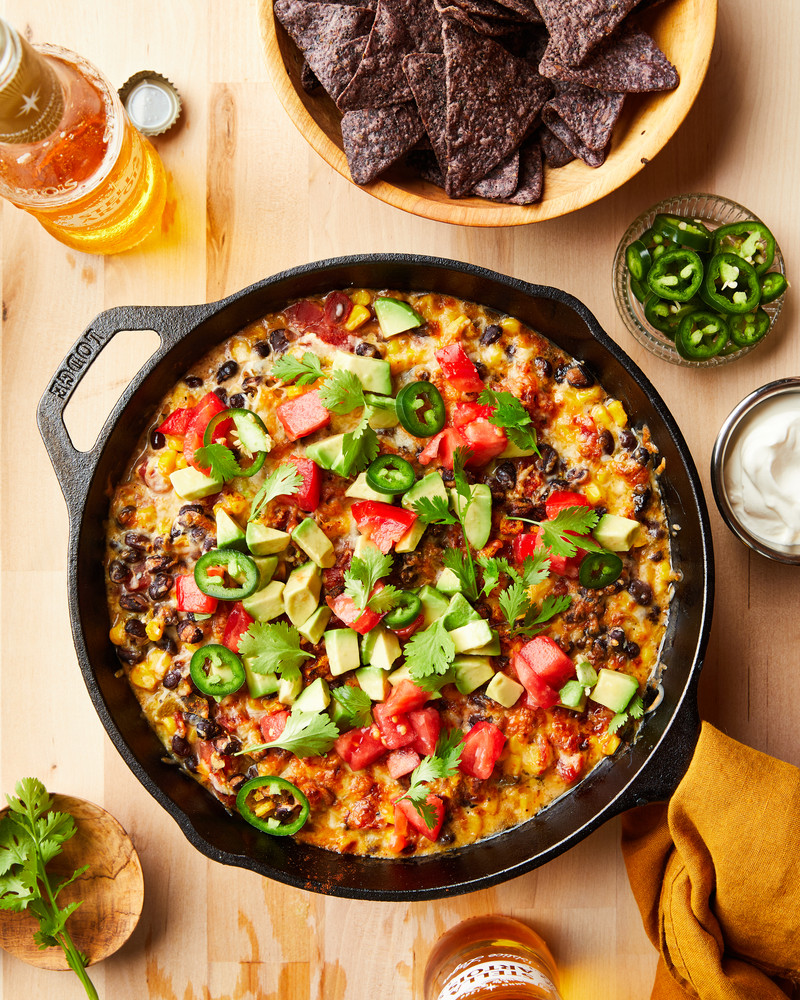 4-Can Skillet Nacho Dip
Serves 6 to 8
2 ounces cream cheese
1 1/2 teaspoons taco seasoning
1/2 teaspoon dried oregano
1/4 teaspoon kosher salt
6 ounces shredded Mexican-blend cheese (1 1/2 cups), divided
1 (15-ounce) can black beans
1 (15-ounce) can corn kernels
1 (14.5-ounce) can diced tomatoes
1 (4-ounce) can chopped green chiles
Topping options: diced tomatoes, diced avocado, sour cream, fresh or pickled jalapeños, fresh cilantro leaves
Tortilla chips, for serving
1. Arrange a rack in the upper third of the oven and heat the oven to 350 F.
2. Place 2 ounces cream cheese in a large microwave-safe bowl. Microwave on HIGH until very soft, about 30 seconds. Add 1 1/2 teaspoons taco seasoning, 1/2 teaspoon dried oregano, 1/4 teaspoon kosher salt and 2 ounces (1/2 cup) of the shredded Mexican-blend cheese, and stir to combine.
3. Drain and rinse 1 can black beans and transfer to the bowl. Drain 1 can corn and 1 can diced tomatoes and add to the bowl. Add 1 can chopped green chiles, and stir to combine.
4. Transfer the dip into a medium cast-iron skillet or 8-by-8-inch broiler-safe baking dish and spread into an even layer. Sprinkle with the remaining 4 ounces (1 cup) shredded cheese.
5. Bake until heated through and the cheese is melted, 20 to 30 minutes. Turn the broiler on to HIGH and broil until the cheese browns, 1 to 2 minutes. Top with desired toppings and serve with tortilla chips.
Recipe notes: Refrigerate leftovers in an airtight container for up to four days. You can substitute 1/2 teaspoon ground cumin, 1/4 teaspoon onion powder and 1/4 teaspoon garlic powder for the taco seasoning.
This article is written by Patty Catalano, TheKitchn.com from The Kitchn and was legally licensed via the Tribune Content Agency through the Industry Dive publisher network. Please direct all licensing questions to legal@industrydive.com.