There's just so much to love about meatballs. We all have our own recipes, and preferred spice or meat mix, but however we prepare them, they are always delicious.
And while National Meatball Day (March 9) may be behind us, any excuse is a good excuse to perfect our craft for an epic celebratory feast. Making a good meatball is all about technique, and putting a bit of soul into your mix. That's not hard to do when the results will be so tasty!
Use a good blend of meat
It's important to use a combination of meat so that the ball is not one note, but has a good mix of flavor throughout. "Use beef, pork and veal, all double ground so it's very fine," said Ainslie and Carroll Place Executive Chef John DeLucie 
Try Panade instead of bread crumbs
Panade is essentially stale bread soaked in milk. "This makes for a much softer meatball. Be sure to use real Reggiano Parmigiano and not a supermarket brand. Use wet hands to form meatballs," said DeLucie. This gives them a nice smooth texture for cooking. 
Make sure that the meat is mixed enough
The meat mixture is a careful balance. You need to mix enough, but not too much. "You need to work the meat with salt and seasonings to build up myosin which will allow the meatballs to keep their shape and not fall apart," said Joshua Resnick, lead chef and operations manager at the Institute of Culinary Education. Underworking them can lead to them falling apart and no one wants that.
Resnick likes to cook his onions and garlic (and cool them) before adding them to the meat mixture. While they cook, Resnick will add the seasonings to the mix so they bloom in the pan. "This way, the spices open up their flavor, spread evenly into the mixture and, in terms of the garlic and onion, I know that everything is evenly cooked," said Resnick.
Keep your mixture cold
The temperature is very important here. "Work with your mixing bowl over another bowl of ice. If the mixture gets too warm, the emulsion of meat and fat will break," said Resnick.
Go all out on seasoning
Making sure the meatball is properly seasoned is critical. "While making the mixture, I cook off little test samples to taste and I recommend others do the same given that seasoning is up to personal taste and there's a variety of things one can use, on top of traditional salt and pepper," said Chef George Pagonis (Kyma Hudson Yards, Top Chef season 12 fan favorite). This helps you determine whether you need to add more salt, pepper, oregano, and more. Pagonis adds, "Don't be afraid to play with other seasoning like something citrusy or saffron, too."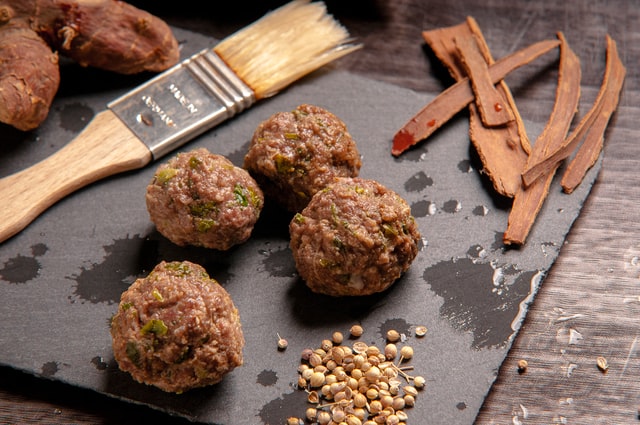 Photo by aliet kitchen on Unsplash
Taste the mix
Once you have all of the ingredients in the mix, take out a small piece and sear it so you can taste the seasoning of the mixture and adjust if necessary. "The last thing you want to do is form and cook the meatballs without tasting them and then find out at the dinner table that you needed more salt," said Resnick.
Always put your own personal spin
Cooking is all about playing around with ingredients and having some fun. Always add your own personal touch to your dishes. "As a Greek chef I like to put my own personal touch on a Greek inspired meatball, called keftedes, by replacing the pork with lamb which brings in not only flavor but a nice texture given the lamb's fat content," said Pagonis.
This article was written by Aly Walansky from Forbes and was legally licensed through the Industry Dive Content Marketplace. Please direct all licensing questions to legal@industrydive.com.