Now that Halloween is over and you handed out all the Reese's, the age-old question remains: What do you do with all the leftover candy? At least that is the question if, like me, you buy too much candy every year and just a couple kids in David S. Pumpkins costumes ring your doorbell. You could always just eat those Krackel bars one at a time for months, but the far superior option is to chop them up to make the mini sized chocolate candies in cookies.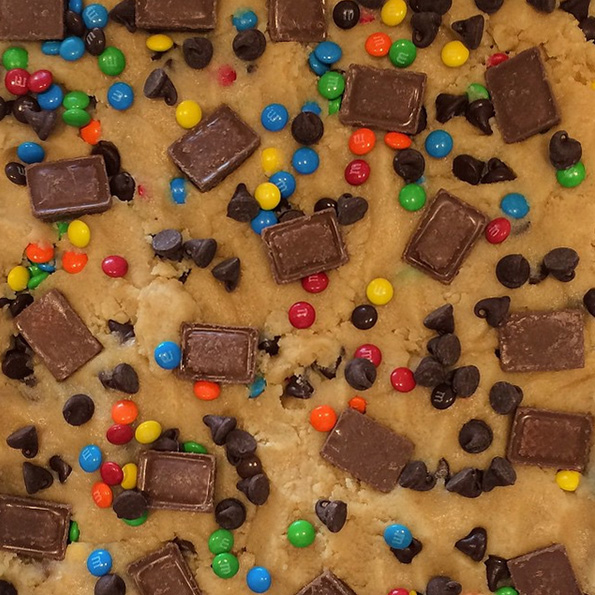 Leftover Halloween Candy Chocolate Chip Cookies
Makes about 3 dozen cookies
2 1/4 cup all purpose flour
1 teaspoon baking soda
1 teaspoon salt
1 cup (2 sticks) butter, at room temp
3/4 cup plus 2 tablespoons light brown sugar
1/2 cup plus 2 tablespoons sugar
2 eggs
2 teaspoons vanilla
2 cups mini chocolate chips
2 cups chopped leftover chocolate Halloween candy
Preheat oven to 375°
Line baking sheets with parchment paper.
In a medium sized bowl, whisk together flour, baking soda, and salt. Set aside.
In another bowl combine the butter and sugars. Beat on medium speed until light and fluffy.
Reduce speed to low and add in the vanilla and eggs. Beat until well mixed, about 1 minute.
Fold the flour mixture into the butter mixture until just combined.
Chop up leftover Halloween candy into small chunks. Stir the candy and chocolate chips into the dough.
Drop large tablespoon-size balls of dough about 2 inches apart on the parchment paper lined baking sheets.
Bake cookies until just golden around the edges but still soft in the middle, 8-11 minutes.
Remove from oven and let cool on a baking sheet from 1-2 minutes. Eat immediately.
This article was written by Phoebe Melnick from Food & Wine and was legally licensed through the NewsCred publisher network. Please direct all licensing questions to legal@newscred.com.