I am a big Ina Garten fan. Her food is simple to prepare and delicious. I love her approach to entertaining and how she incorporates international flair into her cozy comfort food.
When I got her new cookbook, "Go-to Dinners," I browsed through it and the "Overnight Mac & Cheese" caught my eye. Without reading the recipe, I envisioned a mac & cheese like an egg strata where you soak the raw pasta overnight and bake it the next day.
Ina's recipe is a little different than what I thought it was going to be, and calls for par-boiling the pasta. I don't know why, but I find par-boiling pasta for baked casseroles like lasagna and mac & cheese to be something that I don't want to do. I've made a no-boil spinach lasagna for as long as I can remember, and Ina's recipe inspired me to do the same for mac & cheese.
I used my "no-boil" baking technique – covering the casserole with heavy-duty foil to keep the steam in and cook the pasta – with the ingredients and proportions in Ina's recipe. I mixed pasta, heavy cream, grated cheese and seasonings together and let it sit overnight.
The next day, I baked it at 400°F as her recipe instructs, and it was good. The only problem was that the fat separated out when it was baked at that temperature, and the top of the dish had pools of oil on it. This won't bother some people and the breadcrumbs soaked it up, but I wondered if the recipe would work with milk instead of cream.
I tried it with both 2% and whole milk. The 2% version was a little too light for me, but if you don't like the richness of whole milk, you should try it with 2%.
After experimenting with different combinations of milk and cheese, I settled on a recipe made with shell pasta, whole milk, sharp cheddar and a cheesy top instead of breadcrumbs. If you want to make it a little richer, you can sub a cup of cream for one of the cups of whole milk.
The beauty of this recipe is that it is more of a technique than a recipe and you can adapt it to suit your taste. I added Dijon mustard and fresh grated nutmeg to my recipe, but if you don't like either of those, you can use your favorite spices. I personally think the nutmeg is key and would keep that with everything except a spicy jalapeño version of the recipe.
You may want to ask, is it as creamy as when you make a cheese sauce? No, it is not. But the result is so good that I will never make mac & cheese any other way. The fact that you can make homemade mac & cheese with about 2 minutes of hands-on prep time is a compromise that is worth it for me. All the ingredients are easy-to-find, and convenient. Because the milk, cheese and pasta sits overnight, this is one recipe where the pre-grated cheese from the grocery store works even better than hand-grated cheese.
Plus this recipe can be customized with any of your favorite cheeses and you can add your favorite mix-ins as well. Think sautéed wild mushrooms, cauliflower, Butternut squash, bacon, ham, etc.,
If you add a frozen vegetable "mix-in" like chunks of Butternut squash, you need to add it frozen to the overnight mixture just before you bake it. It will also add about 25 minutes to the total cooking time, but it is so worth it. This week, I made it and used a mixture of Gruyere, swiss and cheddar with a layer of the squash in the middle.
I made my overnight mix, and let it sit covered in a bowl in the refrigerator for a full day. When I was ready to bake it, I coated a 7 x 11 casserole dish with olive oil, poured half the mixture into the pan and added a layer of frozen chunked Butternut squash before pouring the rest of the overnight mixture on top. I covered the dish with heavy-duty foil and baked it at 375°F for a little more than an hour.
After an hour or so, the pasta should be cooked al dente and the squash is no longer hard. If it isn't, put the foil back on and bake for another 15 minutes. Once it is at the al dente stage, remove the foil and put the casserole back in the oven until it is begins to brown along the edges, about 10 minutes. At this point, add a layer of sharp cheddar – or your favorite cheese – to the top. Back in the oven it goes until it is GBD – Golden. Brown. Delicious – and then it's time to dig in.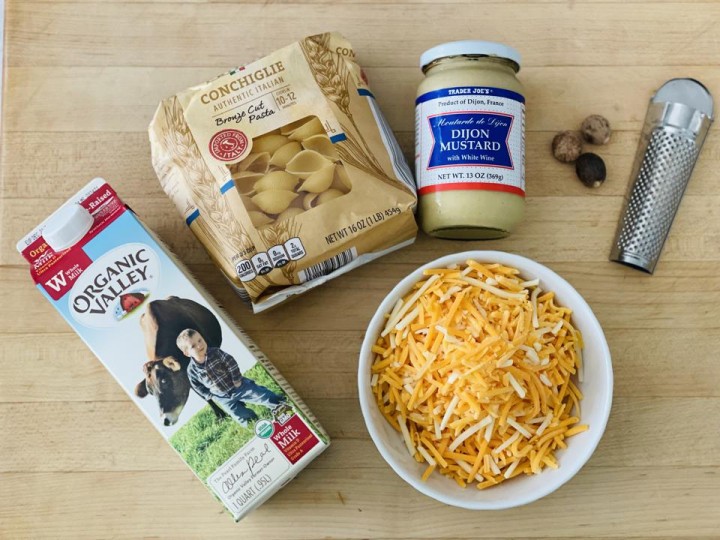 The base recipe of No-Boil Overnight Mac & Cheese is easy to customize with your favorite combinations of cheese and seasonings.
Elizabeth Karmel
No-Boil Overnight Mac & Cheese
Now that I've made this easy Mac 'n' Cheese, I don't think I'll ever make it any other way. It isn't as creamy as a cheese sauce, but it scratches the cheesy mac itch. With this base recipe, you can customize it with all your favorite versions of mac & cheese by adding your favorite seasonings, mix-ins and cheeses. Most importantly, you can make it anytime you have about 2 minutes seconds to stir it together, and you are patient enough to let it sit overnight in the refrigerator!
Serves 6
Ingredients:
3 ½ cups whole milk*, divided
2 teaspoons Dijon mustard
12 ounces shredded sharp cheddar cheese – you can mix up the cheese – divided
¼ teaspoon fresh-grated nutmeg
½ teaspoon fine-grain sea salt
¼ teaspoon white pepper
8 ounces dried pasta, such as mini Penne or shells
Olive oil
* if you want it to be a little richer, substitute a cup or so of cream or half and half for the milk
Method:
1. Pour ½ cup of milk in the bottom of a mixing bowl. Mix in the mustard until you no longer see any clumps of mustard. Add the rest of the milk and mix. Mix well and add the nutmeg, salt and pepper.
2. Add a generous 2 cups of the grated cheese and reserve the rest for the top when you bake the Mac & Cheese. Add the dry pasta and mix again. Set aside.
3. Coat the bottom of an 8" x 8" or 7" x 11" casserole dish with olive oil – only use enough to coat the bottom or the extra will float to the top once you add the pasta-milk mixture.
4. Pour the mixture into the dish and make sure all the pasta is submerged. If not, add a little more milk. It will absorb the liquid and expand. Cover tightly with aluminum foil. Store in the refrigerator for 24 hours.
Note: If adding a "mix-in" like frozen cubed Butternut squash to the dish, let the pasta-milk-cheese mixture sit overnight in a bowl as you need to add the frozen vegetable just before baking. When ready to bake, follow the instructions in step 3 and 4, adding the "mix-in." To the casserole.
5. When ready to bake: Preheat the oven to 375°F.
6. Bake the casserole covered with the aluminum foil for about an hour to an hour and 15 minutes. Check to make sure that the pasta is cooked and the cheese is melted and bubbling. It should be brown around the edges.
7. When you think the Mac & Cheese is almost done, remove the foil and let it bake for 10 minutes.
8. Remove from oven and sprinkle the reserved cheese on top. Bake for about 10 more minutes or until the cheese is lightly brown and slightly crusty. Let sit 5 to 10 minutes before serving.
This article was written by Elizabeth Karmel from Forbes and was legally licensed through the Industry Dive Content Marketplace. Please direct all licensing questions to legal@industrydive.com.