Kimchi is not just meant to be eaten as a condiment. It's the star of many traditional Korean dishes, and it makes appearances in all sorts of hearty stews. The fermented cabbage adds special umami, spice and heat all at once to any soup; consider it your MVP of winter stews. Use kimchi that is older (more aged, a.k.a. funkier) for the best flavor. Put a Korean twist on the French classic fish stew bouillabaisse—the caramelized kimchi brings extra deep savory flavor and melds perfectly with the mussel broth, for a super restorative meal.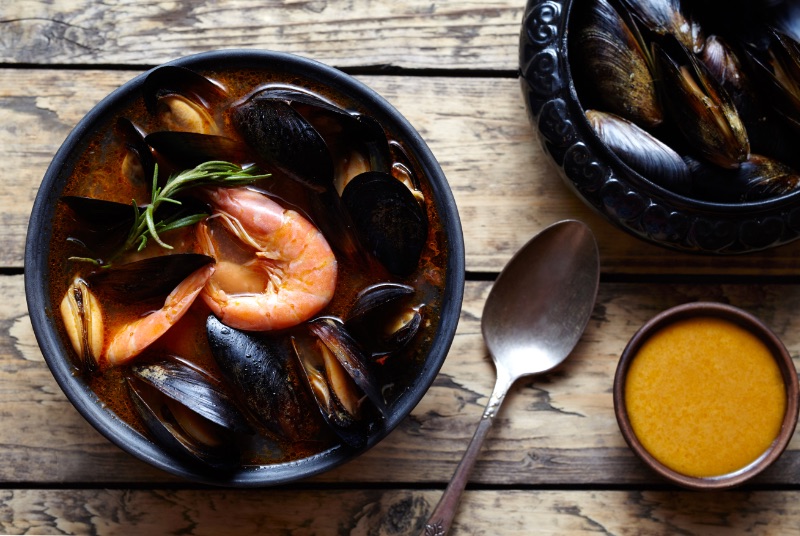 Kimchi-Mussel Bouillabaisse
Total: 1 Hr
Serves: 4
2 tablespoons canola oil
5 garlic cloves, thinly sliced
5 scallions, chopped
1 baking potato, peeled and chopped
1 cup chopped cabbage kimchi, plus 1/4 cup kimchi juice
1 zucchini, chopped
1 tomato, chopped
1 hot red chile pepper, sliced
1/2 cup dry white wine or beer
2 cups low-sodium chicken broth
3 pounds mussels, scrubbed and debearded
Crusty bread, for serving
In a large enameled cast-iron casserole, heat the oil. Add the garlic and 3 of the scallions and cook over moderate heat, stirring, until softened, 2 to 3 minutes. Add the potato and kimchi and cook, stirring occasionally, until lightly caramelized, about 8 minutes. Stir in the zucchini, tomato, chile pepper and wine and cook until all of the liquid is evaporated, about 5 minutes. Add the broth and kimchi juice, cover and cook until the potatoes are tender, about 10 minutes. Stir in the mussels and kimchi juice, cover and cook until the mussels open, about 3 minutes. Garnish with the remaining 2 scallions and serve hot with crusty bread.
This article was written by Kay Chun from Food & Wine and was legally licensed through the NewsCred publisher network. Please direct all licensing questions to legal@newscred.com.