Make a healthier pasta salad with this easy no-recipe formula that uses whole-grain pasta, fresh veggies, lean protein and a zingy homemade dressing to tie it all together.
There are endless healthy ways to make pasta salad. While pasta salad is a crowd-pleaser, traditional recipes typically weigh in at over 500 calories per serving. They also skimp on the good stuff like whole grains, crunchy vegetables, fresh herbs and lean protein. Our step-by-step guide includes lots of ideas for great flavor combinations to help you make a healthier pasta salad.
1. Choose & Cook Pasta
Whole-wheat pasta adds 2 grams of heart-healthy fiber per ounce of dry pasta versus white pasta. The amount of dry pasta to start with depends on the shape. To get 4 cups of cooked pasta, use 2 cups elbow macaroni, 2 1/2 cups shells, 3 cups bowties or fusilli. Cook pasta and drain (but don't rinse). Spread on a large baking sheet to cool.
Start with 4 cups cooked whole-wheat pasta:
Elbows
Bowties
Shells
Fusilli
2. Load Up on Veggies
Use as many cups of veggies (and/or fruit) as pasta. This keeps your pasta salad healthy and slashes the calories compared with typical versions that are made with mostly pasta.
Add 4 cups fresh vegetables and/or fruits:
Arugula
Artichoke hearts
Baby spinach
Broccoli
Fennel bulb
Melon
Mushrooms
Onion
Peas
Peppers
Tomatoes
Zucchini
3. Add Lean Protein
Adding lean protein to pasta salads helps make them more satisfying. To keep prep time to a minimum, use convenient proteins like canned beans or tuna, cooked ham or roasted chicken.
Add 1 to 2 cups lean protein:
Hard-boiled eggs
Cooked chicken breast
Cooked ham (reduced- or low-sodium)
Beans
Chunk light tuna
4. Add Ingredients to Boost Flavor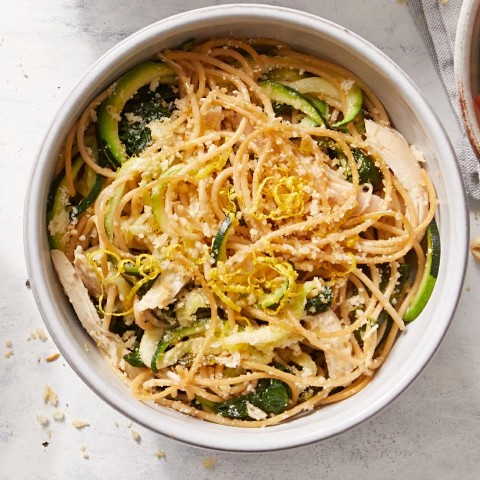 Pictured Recipe: Lemon Chicken Pasta
For the best flavorful pasta salad, don't forget to add a few higher-calorie or salty ingredients like cheese, cured meats or pickled vegetables. Chop them small so you get a little bit of big flavor in each bite.
Add 1/2 to 1 cup total:
Capers
Full-flavored cheeses
Olives
Pepperoncini
Prosciutto
Salami
Smoked sausage
Sun-dried tomatoes
5. Add a Homemade Dressing
Skip high-calorie creamy dressings and use a lighter version made with low-fat mayonnaise and buttermilk. Or try a heart-healthy vinaigrette made with olive oil.
Toss 8 cups pasta salad with 3/4 cup dressing:
Mash 1 clove garlic and 1/4 teaspoon salt in a bowl into a paste. Whisk in 1/2 cup buttermilk, 1/4 cup low-fat mayonnaise, 3-4 tablespoons chopped fresh herbs and 1 tablespoon distilled white vinegar until smooth. Makes about 3/4 cup.
Whisk 1/4 cup each extra-virgin ­olive oil, reduced-sodium chicken broth and red-wine vinegar in a bowl with 3-4 table­spoons chopped fresh herbs, 2 table­spoons finely chopped shallots and 1/4 teaspoon each salt and pepper. Makes about 3/4 cup.
This article was written by Stacy Fraser from EatingWell and was legally licensed through the Industry Dive Content Marketplace. Please direct all licensing questions to legal@industrydive.com.