Breaking the homemade Magic Shell might have been my favorite part.
Reviewed by Dietitian Jessica Ball, M.S., RD
I'll put chocolate on just about anything, especially if pumpkin is involved. Pumpkin Chocolate Chunk Cookies, Chocolate-Swirled Pumpkin Loaf Bread, Pumpkin Chocolate Chip Muffins – you name it, I'll find a way to add some melty, chocolatey goodness to it. So I knew what I had to do when I saw this Pumpkin Spice Magic Shell Yogurt Cup on Instagram.
Admittedly, I felt a bit skeptical about mixing yogurt and pumpkin together. In the recipe video, Monique from Ambitious Kitchen shares, "This is the best little fall snack treat situation [she's] ever had." Needless to say, now that I've tried it, I'm convinced. The combination of vanilla Greek yogurt, nut butter and pumpkin purée was simple but amazing. Then, the bitter, salted chocolate shell brings everything together with some delicious crunch and richness. 
And this little cup of deliciousness also packs a nutritional punch with over 20 grams of protein, 10 grams of healthy unsaturated fat and 3 grams of fiber. After devouring the cup, I was left feeling full and satisfied. I'm truly convinced that I need to keep canned pumpkin purée stocked yearound to make this snack-breakfast mashup on repeat. Here's how I made the dish that one fan commented, "is the only viral trend I am down for."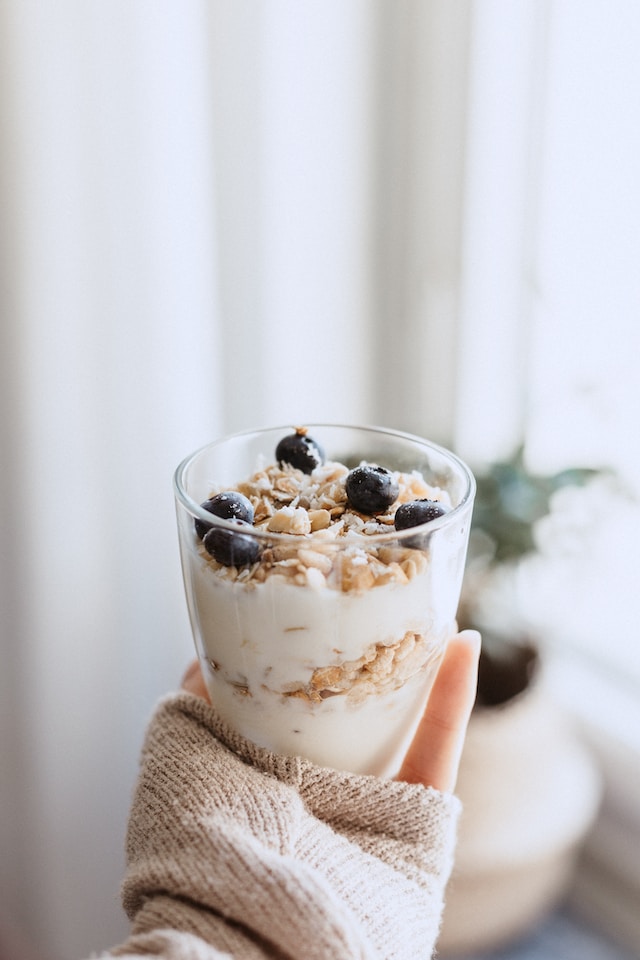 Ellie Ellien
Start with your favorite cup of vanilla-flavored Greek yogurt. Mix in one tablespoon of canned pumpkin purée, one tablespoon of almond butter and ¼ teaspoon pumpkin pie spice. I like to use Two Good's Vanilla Cup, as well as SunButter to avoid nut allergens for my partner.
Take one tablespoon of any kind of chocolate and melt it in the microwave in 30-second intervals, giving it a good stir each time. I used another allergen-friendly ingredient: Enjoy Life Dark Chocolate Morsels. Here, Monique suggests adding ½ teaspoon coconut oil if the melted chocolate is too thick to pour. This happens to be the exact ratio of our Magic Chocolate Drizzle that you can use on anything from this snack to ice cream.
Pour the melted chocolate atop the yogurt mixture and begin adding toppings. In the video, she adds chopped pecans, cinnamon and sea salt. I skipped the pecans and just added a dash of pumpkin pie spice and a pinch of coarse kosher salt. Freeze for 10 minutes or until the chocolate is solidified, and enjoy!
The thing I loved most about this recipe is the nostalgia and whimsicality of breaking into a hard shell. Just like the end of the Instagram reel, my chocolate broke into three big, satisfying pieces that complimented the tangy Greek yogurt and fall spices perfectly. Maybe I'll add some granola in the yogurt mix next time for even more crunch!
Of course, you can also play around with this recipe to fit your taste preferences. Maybe replace the pumpkin with a tablespoon of mashed banana or follow the suit of one commenter who says they'll try using salted caramel pieces melted on top. The world is your oyster – or your cup of yogurt.
You can also try some other fall-inspired recipes like our Pumpkin Oatmeal that's the perfect cozy breakfast or our Pumpkin Spice Dole Whip for a frosty 5-ingredient treat.
This article was written by Dillon Evans from EatingWell and was legally licensed through the DiveMarketplace by Industry Dive. Please direct all licensing questions to legal@industrydive.com.