If all you've ever known of peas is mushy peas or canned peas, you've never really tasted peas. The cool, crisp orbs you pop out of pods fresh off the vine are a completely different vegetable (not taxonomically speaking, but they might as well be).
Mostly, I recommend you eat fresh peas off the vine, as described above, without adornment, but it doesn't hurt to have a few recipes that showcase that freshness. Cold pea soups, both bisque and gazpacho, do just that.
Beyond peas, each recipe requires a few common and cheap ingredients. This keeps things easy-peasy, but it also keeps the focus on the peas. Neither recipe requires a heat source of any kind – a boon during the summer months – and both are naturally vegetarian. (The gazpacho is vegan, and the bisque can be made vegan if you use an alt milk.)
The key to both of these soups lies in the blending, so use the highest powered blender you have to get those peas as smooth as possible. Serve each at room-temperature or colder to highlight the freshness.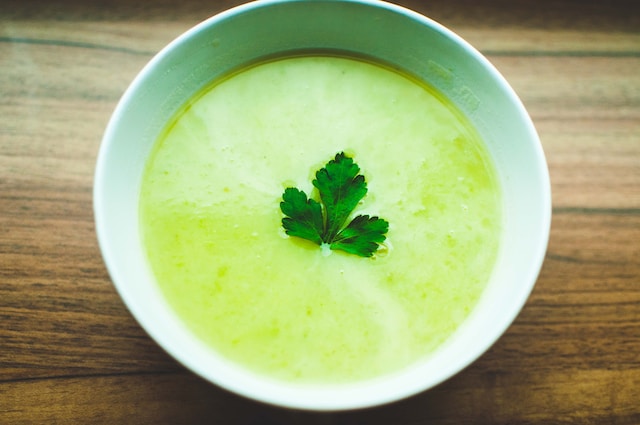 Photo by Aneta Pawlik
Cold pea bisque
Ingredients:
1 cup of fresh peas, shelled
1 cup of cream, half-and-half, coconut milk or other nut milk of your choice
Salt and pepper to taste
1 large radish, sliced
Shuck your peas. Throw them in your Vitamix. Now, I say Vitamix because it's the best way to get a really smooth finish. If you lack such a beast, blend and sieve afterward, no worries.
Once your peas are in, throw in the cream and blend until smooth. Once it has reached a really smooth consistency, season with salt and pepper, and if you choose, some sliced radishes. This will make one bowl of soup, but you can scale up as you please.
Fresh pea gazpacho
Ingredients:
1 cup of fresh peas, shelled
2 tablespoon champagne vinegar
½ cup of olive oil
1 thick slice or heel of crust bread, the staler, the better
A dash of hot pepper flakes, sauce or a sliver of hot pepper of your choice
1 small clove of fresh garlic
Salt and pepper to taste
Start this recipe the same way as above, with peas and vinegar in the blender, to get those peas as smooth as possible before adding the other ingredients. Once you've achieved a real smoothness, start adding the bread, pepper, and garlic and blend again. Now it's time to slowly drizzle in the olive oil while the blender is going, which will emulsify the soup. Once it has thickened, add salt and pepper to taste.
This article was written by Amanda Blum from Lifehacker and was legally licensed through the DiveMarketplace by Industry Dive. Please direct all licensing questions to legal@industrydive.com.