With the transition from winter to spring comes the desire for lighter meals. Yet for many of us, it still doesn't feel like spring outside. So while our brain is sending signals for spring-like food, our bodies are still craving meals that warm us up.
This curry is the perfect compromise. Sweet potato and chickpeas, both of which are hearty but won't weigh you down, are swimming in a creamy coconut milk broth that's rich with Thai red chili paste and spicy ginger.
A warming Thai curry for all
As long as you reach for a Thai red curry paste that doesn't contain fish sauce (we like the Thai Kitchen brand, which is easy to find at grocery stores), this meal is vegan. It's also naturally gluten-free. Yet, even if you eat meat, dairy, and gluten, this dish will satisfy. It's wholesome, just spicy enough, and begs to be served over steamed rice to soak up all the creamy sauce. Oh, and if you needed one more reason to make this curry ASAP, the whole thing comes together in less than 30 minutes.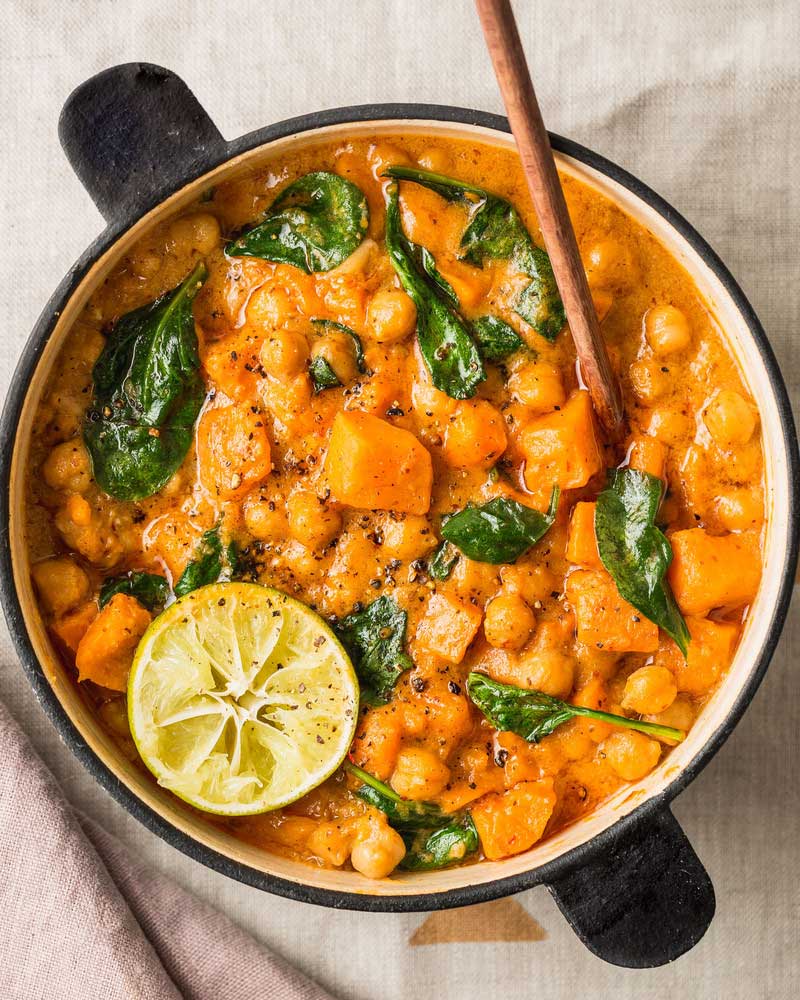 Sweet Potato Curry
Serves 4
1 tablespoon vegetable or coconut oil
1 tablespoon peeled and minced fresh ginger (from a 1-inch piece)
2 cloves garlic, minced
3 tablespoons vegan Thai red curry paste, such as Thai Kitchen
2 medium sweet potatoes (about 1 pound total), peeled and cut into 1/2-inch cubes
1 (15-ounce) can chickpeas, drained and rinsed
1 (13- to 14-ounce) can full-fat coconut milk
1/2 cup water
1 teaspoon kosher salt
1/4 teaspoon freshly ground black pepper
1 (5-ounce) bag baby spinach (about 5 packed cups)
Juice from 1 medium lime (about 2 tablespoons)
Cooked rice, for serving (optional)
1. Heat the oil in a large, deep skillet over medium heat until shimmering. Add the ginger and garlic and cook, stirring, until fragrant, about 1 minute. Stir in the curry paste, and saute for another minute.
2. Add the sweet potatoes, chickpeas, coconut milk, water, salt and pepper, and stir to combine. Bring the mixture to a simmer, cover, and cook until the sweet potatoes are tender and cooked through, about 15 minutes.
3. Stir in the spinach, and cook until just wilted, 1 to 2 minutes. Remove from the heat, and stir in the lime juice. Serve over rice if desired.
Recipe notes: Leftovers can be stored in an airtight container in the refrigerator for up to five days.
This article is written by Sheela Prakash from The Kitchn and was legally licensed via the Tribune Content Agency through the NewsCred publisher network. Please direct all licensing questions to legal@newscred.com.