Imagine the flavors of fire roasted s'mores -- crispy graham crackers, gooey marshmallow and creamy chocolate -- packed into a bar that includes a chewy cookie-like crust and the golden-crisp exterior of a fresh-roasted marshmallow all in one tidy bar that you could eat anywhere. S'mores bars have all the hallmarks of a classic cookie bar, partnered with the can't-beat flavor of this classic campfire treat.
The graham cracker cookie crust makes these bars
At this point I'm sure we've all encountered the classic graham cracker crumb crust that holds up key lime and cheesecake treats alike. This graham cracker crust is not that. Built on the back of a classic chocolate chip cookie dough (minus the chocolate and swapping the flour for graham cracker crumbs), this graham cracker crust is more cookie than crumb. The result is a bar that cuts easily and holds together well enough to take these s'mores bars anywhere.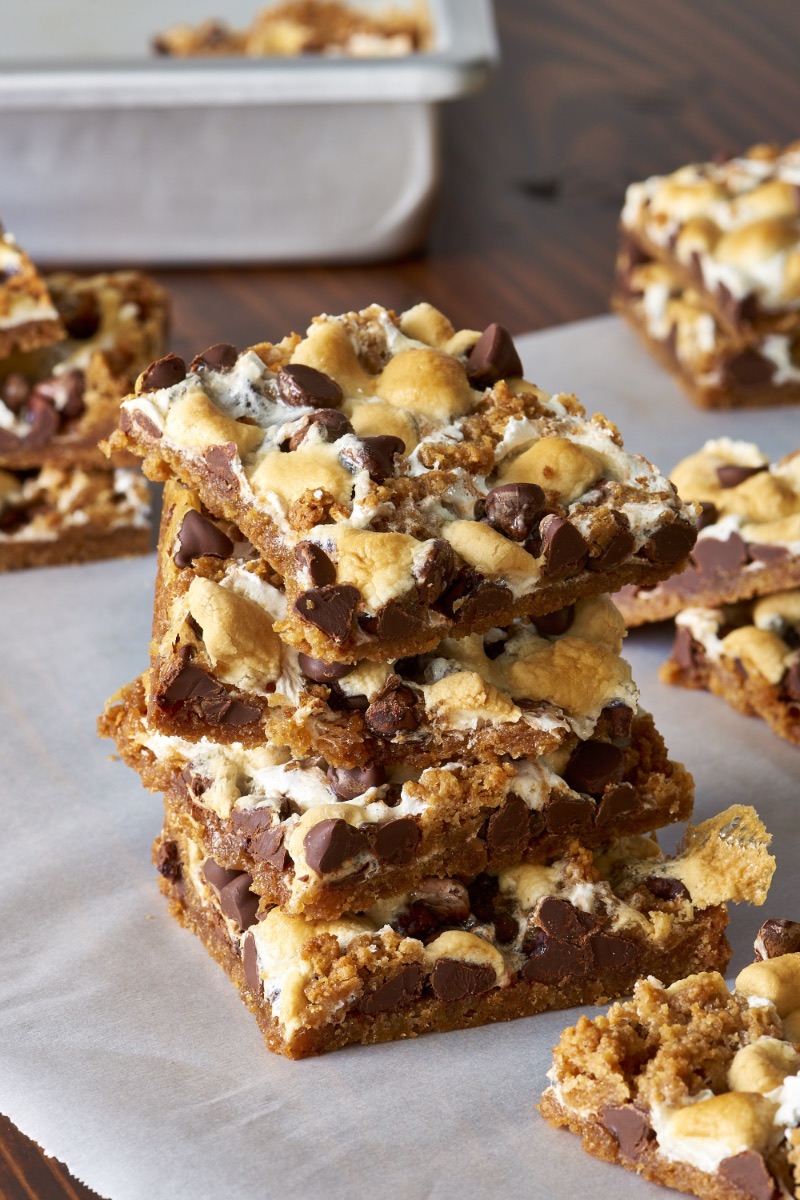 S'mores Bars
Makes 16 bars
For the crust:
Cooking spray
2/3 cup granulated sugar
8 tablespoons (1 stick) unsalted butter, at room temperature
1 large egg
1 teaspoon vanilla extract
2 2/3 cups graham cracker crumbs
1/3 cup all-purpose flour
1/2 teaspoon salt
For the filling:
7 ounces marshmallow cream
1 cup chocolate chips or coarsely chopped chocolate
1 cup mini marshmallows
Arrange a rack in the middle of the oven and heat to 350 F. Coat a 9-by-13-inch baking pan with cooking spray; set aside.
Place the sugar and butter in a stand mixer fitted with the paddle attachment. (Alternatively, use an electric hand mixer and large bowl.) Beat on high speed until lightened in color and creamy, about 3 minutes. Add the egg and vanilla, and beat on low speed until incorporated. While still on low speed, add the graham cracker crumbs, flour and salt, and beat until just combined.
Transfer 1/3 of the graham cracker mixture to a small bowl -- this will go on top of the bars before baking. Press the remaining 2/3 of the graham mixture evenly into the prepared pan.
Spread the marshmallow cream evenly over the graham cracker crust. Sprinkle with the chocolate chips, followed by the marshmallows. Sprinkle the bars with the reserved crust mixture.
Bake until the crust is dark brown and the marshmallows are golden-brown, 20 to 25 minutes. Cool for at least 1 hour in the pan before cutting into 16 bars for serving.
Recipe notes: Sore leftovers in an airtight container in the refrigerator for up to three days.
This article is written by Meghan Splawn from The Kitchn and was legally licensed via the Tribune Content Agency through the NewsCred publisher network. Please direct all licensing questions to legal@newscred.com.