If you're searching for a recipe that will satisfy all brownie-lovers, look no further. These vegan brownies strike the perfect balance between fudgy, cakey and chewy, and the ingredient that makes this possible is probably sitting on your counter right now: avocados! The cocoa powder camouflages the avocado's green color, but the fruit's creamy texture gives the brownies their crave-able chew and deliciously fudgy center.
They're so easy you'll have the recipe memorized after a single batch, even if you aren't dairy-free or vegan.
The secret ingredient
Traditional brownie recipes are a mix of melted chocolate or cocoa powder, butter, eggs, sugar, flour and leavening. This vegan brownie recipe relies on the smooth and creamy texture of avocado -- and its monounsaturated fats -- to take the place of both the butter and eggs.
That means you're left with a short and simple ingredient list: two ripe avocados, brown sugar for sweetness and chew, cocoa powder for chocolate flavor, baking powder to give the brownies a lift, and all-purpose flour to pull the batter together.
After a quick spin in the food processor, these brownies go from pantry to plate in less than an hour. You can even mix the batter by hand; just be sure to mash the avocado until completely smooth.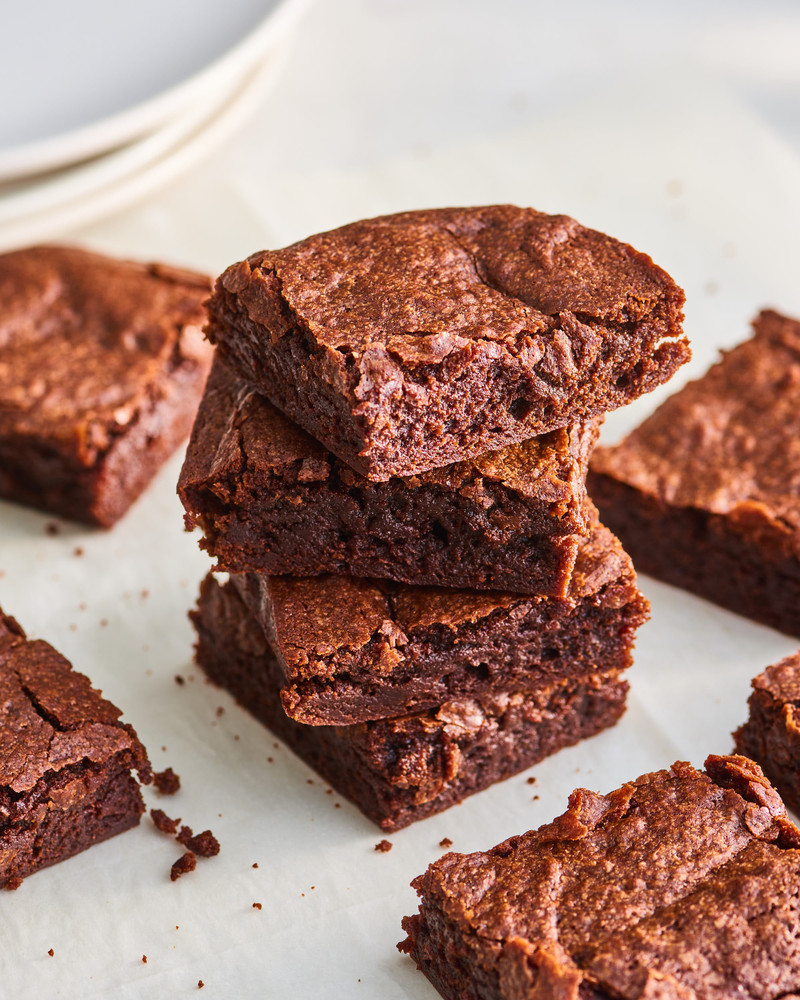 Avocado Brownies
Makes 16 brownies
Cooking spray
2 ripe medium avocados, diced
3/4 cup packed brown sugar
1/2 cup unsweetened natural cocoa powder
1 teaspoon baking powder
1/4 teaspoon kosher salt
1/2 cup all-purpose flour
1. Arrange a rack in the middle of the oven and heat to 350 F. Coat an 8-by-8-inch baking pan with cooking spray.
2. Place the avocados, brown sugar, cocoa powder, baking powder and salt in the bowl of a food processor. Pulse until smooth, 12 to 15 pulses. Add the flour, then pulse until the flour is completely incorporated, 8 to 10 pulses.
3. Transfer the batter to the pan, and spread into an even layer. Bake until the edges pull away from the sides of the pan and a thin knife inserted into the center comes out clean, about 45 minutes. Cool completely on a rack before slicing and serving.
Recipe notes: Store in an airtight container at room temperature for up to four days.
This article is written by Patty Catalano from The Kitchn and was legally licensed via the Tribune Content Agency through the NewsCred publisher network. Please direct all licensing questions to legal@newscred.com.