Whether we're talking falafel or deli ham, pockets of pita bread are one of my top choices for sandwiches. So portable! So neatly contained! So easy to eat! The pitas you make at home are worlds apart from the stuff you buy in stores, and watching them puff to glorious heights in your oven or on your stovetop is culinary magic at its best. Here's how we do it.
Pita is actually a very straightforward bread dough: water, flour, yeast, salt and that's about it. What makes it puff so impressively is the dual action of water turning to steam and the yeast becoming hyperactive when both are hit with the heat from the oven or stovetop. The pita has been rolled so thin that this action forces the top and the bottom of the dough to separate and balloon outwards.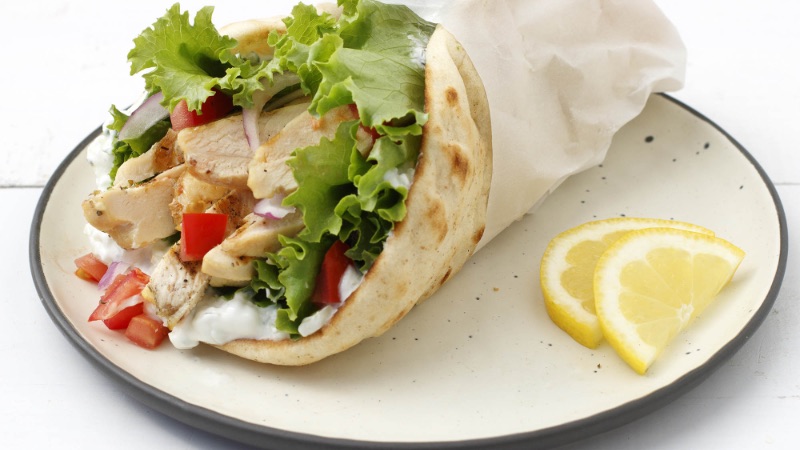 You can make pita bread either in the oven or on the stovetop, and there are advantages and disadvantages to both. In the oven, pitas puff up much more grandly and make softer pockets, but they stay pale-colored and fairly mild tasting. On the stovetop, you lose some of the impressive puffing but gain tasty and crunchy toasted spots on the surface of the dough. In an oven, you can make several pitas at once, whereas you can only make one at a time on the stovetop. Both methods work equally well, so the choice is yours!
Pita is also great make-ahead bread. I often prepare the dough through the first rise, punch it down, and then keep it refrigerated for up to a week. The flavor actually improves after a few days of chilling. You can bake the whole batch at once or cut off just what you need to make one or two flatbreads at a time.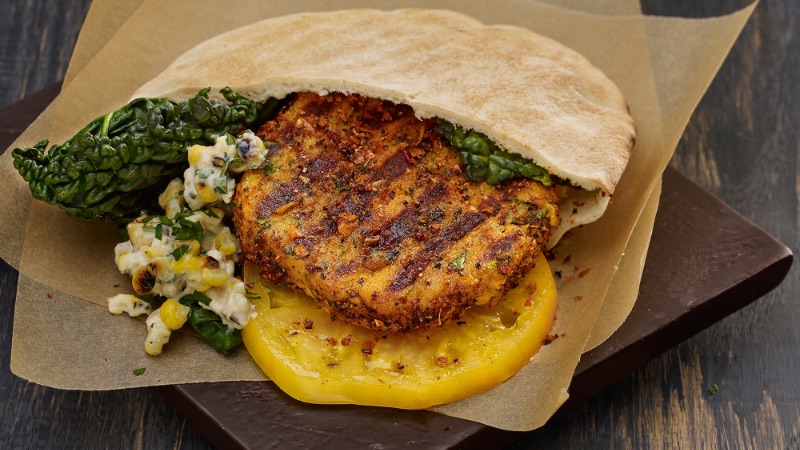 Homemade Pita Bread
Makes 8 rounds.
1 cup warm water (not hot or boiling)
2 teaspoons active dry or instant yeast
2 1/2 - 3 cups all-purpose flour
2 teaspoons salt
1-2 teaspoons olive oil (optional)
Equipment:
Mixing bowl
Rolling pin
Cast iron skillet (for stovetop baking)
Baking sheet or a baking stone (for oven baking)
1. Mix the water and yeast together, and let sit for about five minutes until the yeast is dissolved. Add 2 1/2 cups of the flour (saving the last half cup for kneading), salt and olive oil (if using). Stir until a shaggy dough is formed.
2. Sprinkle a little of the extra flour onto your clean work surface and turn out the dough. Knead the dough for about 5-7 minutes, until the dough is smooth and elastic. Add more flour as needed to keep the dough from sticking to your hands or the work surface, but try to be sparing. It's better to use too little flour than too much. If you get tired, stop and let the dough rest for a few minutes before finishing kneading.
3. Clean the bowl you used to mix the dough and film it with a little olive oil. Set the dough in the bowl and turn it until it's coated with oil. Cover with a clean dishcloth or plastic wrap, and let the dough rise until it's doubled in bulk, 1-2 hours.
At this point, you can refrigerate the pita dough until it is needed. You can also bake one or two pitas at a time, saving the rest of the dough in the fridge. The dough will keep refrigerated for about a week.
4. Gently deflate the dough and turn it out onto a lightly floured work surface. Divide the dough into 8 equal pieces and gently flatten each piece into a thick disk. Sprinkle the pieces with a little more flour and then cover them with a kitchen towel or plastic wrap until you're ready to bake them.
5. Using a floured rolling pin, roll one of the pieces into a circle 8-9 inches wide and about a quarter inch thick. Lift and turn the dough frequently as your oll to make sure the dough isn't sticking to your counter. Sprinkle with a little extra flour if its starting to stick. If the dough starts to spring back, set it aside to rest for a few minutes, then continue rolling. Repeat with the other pieces of dough. (Once you get into a rhythm, you can be cooking one pita while rolling the next one out.)
6. While shaping the pitas, heat the oven to 450 F. If you have a baking stone, put it in the oven to heat. If you don't have a baking stone, place a large baking sheet on the middle rack to heat.
Place the rolled-out pitas directly on the baking stone or baking sheets (as many as will fit), and bake for about 3 minutes. I've found it easiest to carry the pita flat on the palm of my hand and then flip it over onto the baking stone. The pita will start to puff up after a minute or two and is done when it has fully ballooned. Cover baked pitas with a clean dishtowel while cooking any remaining pitas.
To Bake Pitas on the Stovetop: Warm a cast iron skillet over medium-high heat until a few bead of water sizzle immediately on contact. Drizzle a little oil in the pan and wipe off the excess.
Lay a rolled-out pita on the skillet and bake for 30 seconds, until you see bubbles starting to form. Flip and cook for 1-2 minutes on the other side, until large toasted spots appear on the underside. Flip again and cook another 1-2 minutes to toast the other side. The pita should start to puff up during this time; if it doesn't, or if only small pockets form, try pressing the surface of the pita gently with a clean towel. Keep cooked pitas covered with a clean dishtowel while cooking any remaining pitas.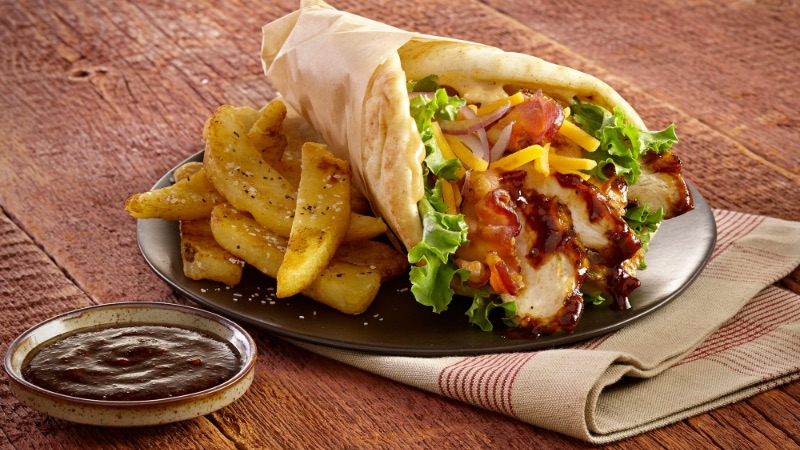 Additional notes:
Storing the pitas: Pitas are best when eaten immediately after cooking. Leftover pitas will keep in an airtight bag for several days and can be eaten as they are or warmed in a toaster oven. Baked pitas can also be frozen with wax paper between the layers for up to three months.
Storing the dough: Once it has risen, the pita dough can be kept refrigerated until it is needed. You can also bake one or two pitas at a time, saving the rest of the dough in the fridge. The dough will keep refrigerated for about a week.
Sometimes you get pitas that won't puff. The problem is usually that the oven or the skillet isn't hot enough. Make sure oven or skillet is thoroughly pre-heated before cooking. Even pitas that don't puff are still delicious and can be used wraps or torn into pieces for dipping in hummus.
(Emma Christensen is a writer for TheKitchn.com, a nationally known blog for people who love food and home cooking. Submit any comments or questions to kitchn@apartmenttherapy.com.)
This article is written by Emma Christensen and TheKitchn.com from The Kitchn and was legally licensed via the Tribune Content Agency through the NewsCred publisher network. Please direct all licensing questions to legal@newscred.com.