Kung pao chicken has a lot going for it. The Chinese takeout favorite boasts tender chicken, crisp veggies, crunchy roasted peanuts, and a spicy, savory sauce coating each and every bite. With a few basic stir-frying techniques, you can make this satisfying dish at home anytime the craving strikes. Here's how to do it.
What is kung pao chicken?
Kung pao chicken originated in Sichuan, although you can now find it all over China. The traditional version is a combination of chicken, peanuts, leeks, fried Sichuan peppercorns, and dried chiles, but the version that has become popular in Chinese-American restaurants (think P.F. Chang's and Panda Express) is milder, and features a wider array of vegetables -- sometimes bell peppers and onions, other times chunks of zucchini. Our version here takes inspiration from the latter, calling for easy-to-find ingredients and pantry staples to keep it simple and weeknight-friendly.
What are the key ingredients?
Dark meat chicken. Boneless, skinless chicken thighs readily absorb the marinade and stay tender and juicy throughout the high-heat cooking process. While you can use chicken breasts, I find them to be less flavorful, and they dry out more quickly.
Vinegar and spice. Asian chile-garlic paste or sambal oelek give this kung pao its spicy kick, meaning you don't have to track down dried chiles or Sichuan peppercorns. Feel free to decrease or increase the amount depending on your desired spice level. A tablespoon of vinegar (either rice vinegar or Chinese black vinegar work here) balances out the soy sauce and chile paste.
A variety of veggies. You'll need two bell peppers, so choose your favorites. I find red and orange to be sweeter, but you can also swap in a green one for color. Celery adds crunch, but you can sub in half a diced onion.
Roasted peanuts. Peanuts are the fun, key ingredient here that makes kung pao sing. You can use salted or unsalted, but make sure they're roasted for the deepest flavor.
How do I cook kung pao chicken?
Kung pao chicken is a stir-fried dish, which means you need to prep everything before you turn on the stove since things happen quickly over high heat. To streamline the measuring and prep, make a marinade for the chicken, then set some of it aside and add a few more ingredients to the leftover marinade to form the sauce that coats and glazes everything at the end.
Are there other ways to kung pao?
If chicken isn't your thing, there are lots of other ingredients you can sub instead. Try medium shrimp or thinly sliced flank steak or pork chops -- they can be marinated in the same sauce and cooked the same way (just know that the stir-fry time will vary). If you'd like to keep the kung pao vegetarian, try kung pao cauliflower or use frozen edamame to make kung pao quinoa bowls. Another easy option is to shred up half a head of cabbage or buy some coleslaw mix and stir-fry that instead of the chicken for a kung pao that verges on egg roll-filling territory.
How do I serve it?
This saucy dish is great over steamed rice or noodles, but would also be delicious as lettuce cups if you're feeling like something lighter.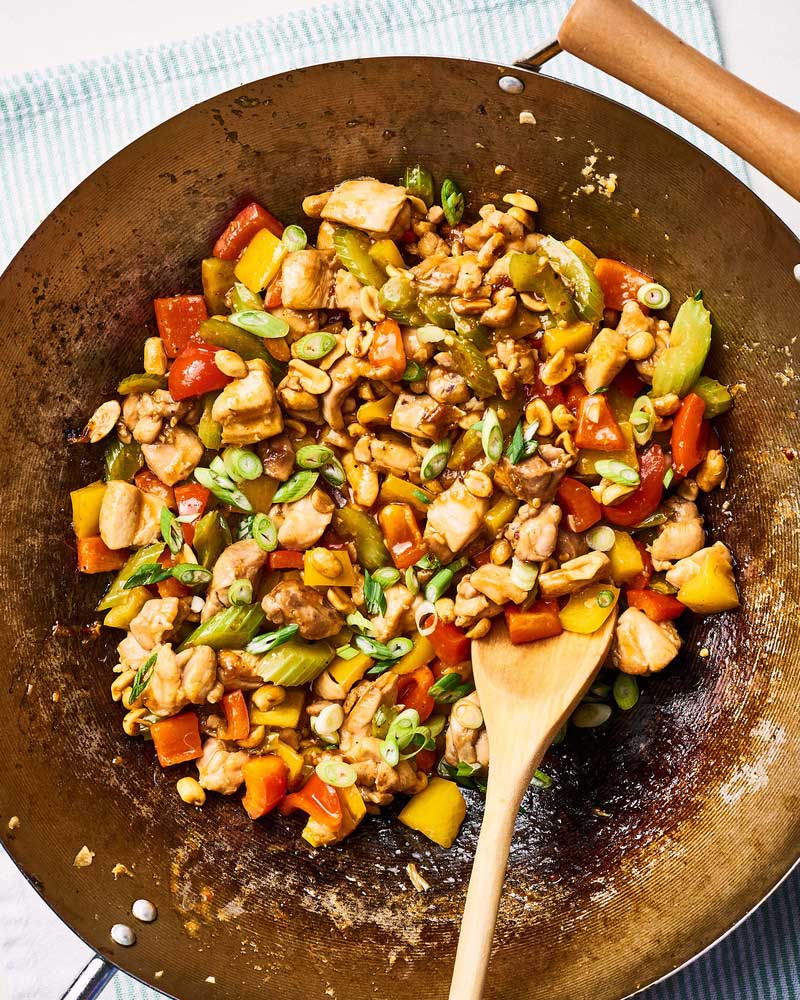 Kung Pao Chicken
Serves 4
For the chicken and sauce:
1 1/2 pounds boneless, skinless chicken thighs, cut into 1-inch chunks
1/4 cup tamari or soy sauce
1 tablespoon Shaoxing wine or dry sherry
1 tablespoon cornstarch
1 1/2 teaspoons toasted sesame oil
1/2 teaspoon kosher salt
1/4 teaspoon freshly ground white or black pepper
1 tablespoon Chinese black or rice vinegar
1 tablespoon granulated sugar
1 tablespoon sambal oelek or chile-garlic paste
For the stir-fry:
3 tablespoons vegetable oil, divided
2 medium bell peppers, large dice
2 medium celery stalks, thinly sliced on a slight diagonal
Kosher salt
2 cloves garlic, minced
1 tablespoon peeled and minced fresh ginger (from a 1-inch piece)
1/2 cup roasted peanuts
2 medium scallions, thinly sliced (optional)
Steamed rice, for serving (optional)
1. Marinate the chicken. Place the chicken in a medium bowl. Place the tamari or soy sauce, wine or sherry, cornstarch, sesame oil, salt and pepper in a small bowl, and whisk until the cornstarch is dissolved. Drizzle 2 tablespoons of the mixture over the chicken, and toss to combine; set the chicken aside.
2. Make the sauce. Add the vinegar, sugar and sambal to the remaining marinade, and whisk until the sugar is dissolved; set this sauce aside.
3. Stir-fry the vegetables and aromatics. Heat a flat-bottomed wok or large frying pan over medium-high heat until very hot (a flick of water should sizzle and evaporate right away), about 2 minutes. Drizzle in 1 tablespoon of the oil, add the bell peppers and celery, and season with salt. Stir-fry with a metal spatula until crisp-tender and browned in spots, about 4 minutes. Add the garlic and ginger and stir-fry until fragrant, about 30 seconds. Transfer to a plate.
4. Stir-fry the chicken. Drizzle the remaining 2 tablespoons oil into the pan. Add the chicken and spread into an even layer. Let cook undisturbed until golden-brown and seared on the bottom, 3 to 4 minutes. Stir-fry until just cooked through, 2 to 3 minutes more.
5. Return the vegetables to the pan and stir-fry with the sauce. Add the reserved vegetables and peanuts to the pan. Re-whisk the reserved sauce to dissolve the cornstarch. Pour into the pan and stir-fry until the sauce thickens, is glossy, and evenly coats everything in the pan, about 1 minute more. Sprinkle with the scallions, if using, and serve immediately with rice.
Recipe notes: Leftovers can be refrigerated in an airtight container for up to four days.
This article is written by Christine Gallary from The Kitchn and was legally licensed via the Tribune Content Agency through the NewsCred publisher network. Please direct all licensing questions to legal@newscred.com.