Chocolate chunks, chopped walnuts and banana chips -- once I got the idea in my head to make a cookie version of Ben & Jerry's Chunky Monkey ice cream, I couldn't stop obsessing. With all the ingredients in my cupboard, why prolong the inevitable?
Since "chunky" is our aim with these cookies, hand-mixing is our game. I've discovered over the course of making a great many cookies that cookies spread less and stay chunkier when mixed by hand than when using a mixer. (This said, if you prefer to use a mixer, that's fine; your cookies will probably spread a little more, but they'll still be tasty.)
The banana chips give these cookies an occasional surprise of banana flavor and an interesting crunchiness, but don't overwhelm the cookies with banana flavor. I like this balance, but if you love banana flavor, then add a dash of banana extract to amp it up a bit. Look for banana chips in bulk bins or with the dried fruit (I found mine at Trader Joe's). Banana extract can be found at most kitchen supply stores or online.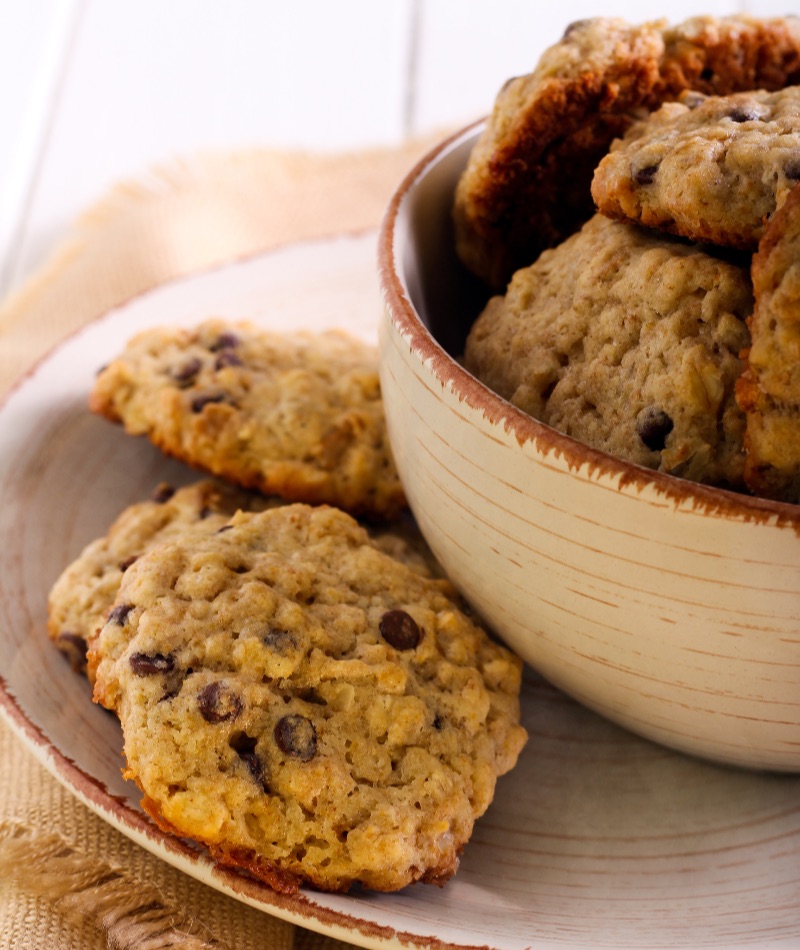 Chunky Monkey Cookies
Makes about 36 cookies
3/4 cup walnuts
3/4 cup granulated sugar
3/4 cup packed brown sugar
8 tablespoons (1 stick) unsalted butter, softened to room temperature
2 large eggs
1 teaspoon vanilla extract
1/2 teaspoon banana extract, optional for stronger banana flavor
1 teaspoon salt
1 teaspoon baking soda
2 1/4 cups all-purpose flour
1 cup semi-sweet chocolate chunks (or 1 6.5-ounce chocolate bar, roughly chopped)
3/4 cup banana chips, roughly chopped (see Recipe Note)
Heat the oven to 375 F. Scatter the walnuts over a baking sheet and toast in the warming oven until fragrant, 10 to 15 minutes. Roughly chop the walnuts while they're still warm and set aside.
Combine the granulated sugar and brown sugar in a large mixing bowl. Mix with a spoon or spatula until thoroughly combined and no lumps of brown sugar remain. Add the softened butter to the bowl and work it into the sugar until you form a gritty, sugary paste. Mix in the eggs, one at a time, until no more egg whites remain. Stir in the vanilla extract.
Whisk together the salt, baking soda and flour in a small bowl. Add this to the wet ingredients in the mixing bowl, and stir gently until you've formed a thick dough and you see no more dry flour. Add the chocolate chunks, banana chips and chopped walnuts, and use a folding motion to incorporate them into the dough. It's OK if some of the chunky pieces fall out.
Use a cookie scoop or tablespoon measure to portion ping pong ball-sized gobs of dough (roughly 2 tablespoons) onto a parchment-lined baking sheet, spaced an inch or so apart. If any chunky pieces fell out while you were making the dough, press them gently into the tops of the cookies (or just use some extra leftover pieces if you'd like a chunkier appearance). Bake for 10 to 12 minutes, until the cookies look puffed and the edges are turning a darker shade of toasty brown.
Let the cookies cool for about 5 minutes on the baking sheet, then transfer them to a cooling rack to cool completely. As they cool, the cookies will collapse into craggy, cracked, chunky cookies. Continue baking the cookies in batches until all the dough has been used.
These cookies are best the day they are made but will keep in an airtight container for about a week.
Recipe notes: To freeze unbaked cookie dough, portion the cookies out onto a baking sheet, freeze until solid, then transfer to a freezer container. Freeze for up to three months.
This article is written by Emma Christensen from The Kitchn and was legally licensed via the Tribune Content Agency through the NewsCred publisher network. Please direct all licensing questions to legal@newscred.com.