The promise of crispy, juicy, oven-baked chicken is one that kept me rushing home as a kid. Mostly we felt like we won the dinner lottery when our mom made Shake'N Bake instead of her usual Hamburger Helper or tuna-noodle casserole. My own children pine for chicken nuggets (they mostly know the freezer kind), but the premise is the same: Coat chicken in crispy breadcrumbs, and be a champion of dinner.
While this technique isn't quite as simple as shaking chicken with breadcrumbs in a bag, the results are worth the minimal extra effort. Toasted panko breadcrumbs give the chicken a golden, crispy exterior, while a paste of eggs and mayo keeps the chicken juicy.
This recipe is not a play on oven-fried chicken -- it's more an homage to the baked, crumb-coated chicken of our youth, whether you grew up with Shake'N Bake or cornflake-crusted chicken cutlets. It's also the answer to a quick dinner when the drive-thru might otherwise call your name.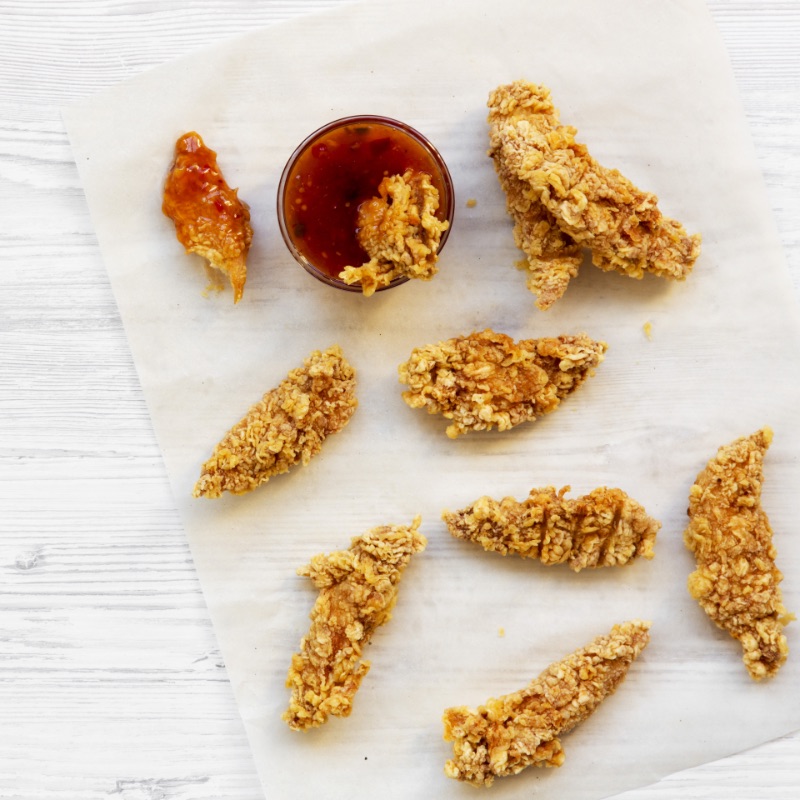 The secret to juicy, quick-cooking chicken
As you know, chicken breast comes in all different shapes and sizes. Pounding the chicken into thin, even pieces is the key to keeping this crispy oven chicken juicy while it cooks. If pounding sounds more time-consuming than therapeutic to you, use my favorite hack: Pound the chicken inside a gallon-sized zip-top bag. The bag contains all the mess and won't slip and slide under the mallet or rolling pin.
The crispy chicken play-by-play
Toast the breadcrumb coating. Toasting the panko breadcrumbs in the oven not only adds a ton of flavor and even more crunch, but it also gives the chicken a golden hue. Cover the baking sheet in foil so you can remove the foil after the panko is toasted and use it as a sort of tray for coating the chicken.
Pound the chicken. Place each chicken breast inside a gallon-sized zip-top bag and pound to about a 1/4-inch thickness. You can use the flat side of a meat mallet or a rolling pin, or even a heavy glass or empty wine bottle.
Coat the chicken with egg and mayo. An egg coating is pretty traditional, but combining the egg with mayo helps the coating stick to the chicken and stay moist in the oven.
Bake the chicken on a wire rack. This is the secret step that makes baking the chicken even faster and juicier. Elevate the chicken on a wire rack set inside a baking sheet to create airflow and circulation to efficiently cook it.
Serving crispy oven chicken
We love this chicken as an alternative to chicken fingers served with roasted broccoli and apple sauce on super-busy weeknights, but you can also dress it up and pair it with a salad and a nice sparkling wine. Chop it up to add to salads or serve over pasta -- dinner hero achievement unlocked!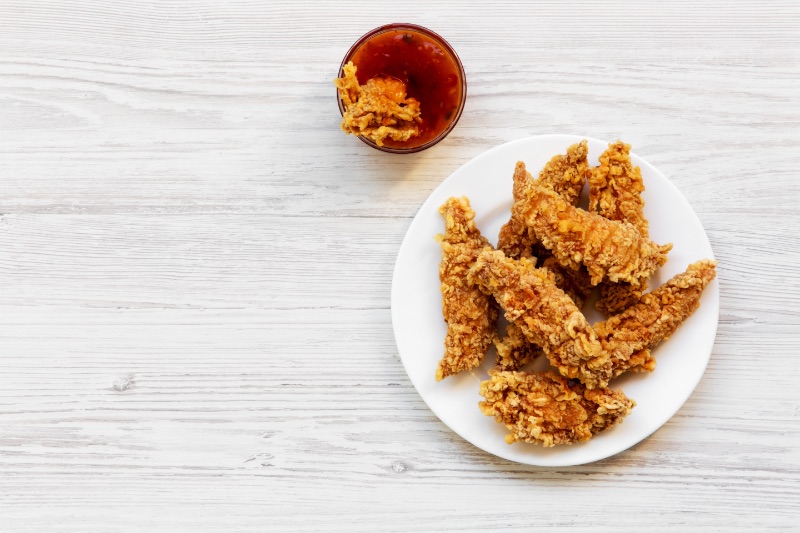 Crispy Chicken
Serves 4
Ingredients:
2 cups panko breadcrumbs or saltine cracker crumbs
2 tablespoons vegetable oil
1 large egg
1/4 cup mayonnaise
1 teaspoon kosher salt
1/4 teaspoon garlic powder
1 1/2 pounds boneless, skinless chicken breast (about 4)
Equipment:
Measuring cups and spoons
Knife and cutting board
Gallon-sized zip-top bag
Meat mallet or rolling pin
Aluminum foil
Rimmed baking sheet
Wire rack
Mixing bowls
Paper towel
Arrange a rack in the middle of the oven and heat to 425 F. Line a rimmed baking sheet with aluminum foil.
Spread the panko or cracker crumbs out onto the baking sheet, add the oil, and toss to coat. Toast, stirring halfway through, 3 to 4 minutes; set aside to cool.
Place the egg, mayonnaise, salt, garlic powder, and pepper in a large bowl and whisk until smooth; set aside.
Working with 1 chicken breast at a time, place the chicken inside a gallon zip-top bag and pound with the flat side of a meat mallet or rolling pin to an even 1/4-inch thickness. Set the flattened chicken breast aside and repeat with remaining breasts.
Pat the chicken dry on both sides with paper towels. This is just a little extra insurance that the coating will stick well.
Transfer the chicken to the egg mixture and toss with tongs until well coated; set aside.
Move the foil with the panko on it off of the baking sheet. Fit a wire rack into this baking sheet.
Working with 1 piece of chicken at a time, press the chicken into the panko on all sides. Move the coated chicken to the wire rack. You may have leftover breadcrumbs.
Bake until the chicken is cooked through and golden-crisp, 15 to 20 minutes.
Recipe notes: The panko can be toasted, cooled and stored in an airtight container at room temperature for up to two days. Leftovers can be stored in an airtight container in the refrigerator for up to four days.
This article is written by Meghan Splawn from The Kitchn and was legally licensed via the Tribune Content Agency through the NewsCred publisher network. Please direct all licensing questions to legal@newscred.com.