Lasagna is a true labor of love that requires slow cooking a sauce, boiling noodles, and layering the ingredients all before it even goes in the oven. While I appreciate a well-constructed lasagna, it's not feasible for weeknight dinners.
Here's how you can skip the oven entirely and still have a lasagna that's loaded with a savory sausage and mushroom red sauce, tender noodles that are cooked right in the sauce, and, of course, three kinds of cheese to meld and hold everything together. Cooked in just one skillet on the stovetop, this is truly a weeknight lasagna that you can add to your dinner rotation.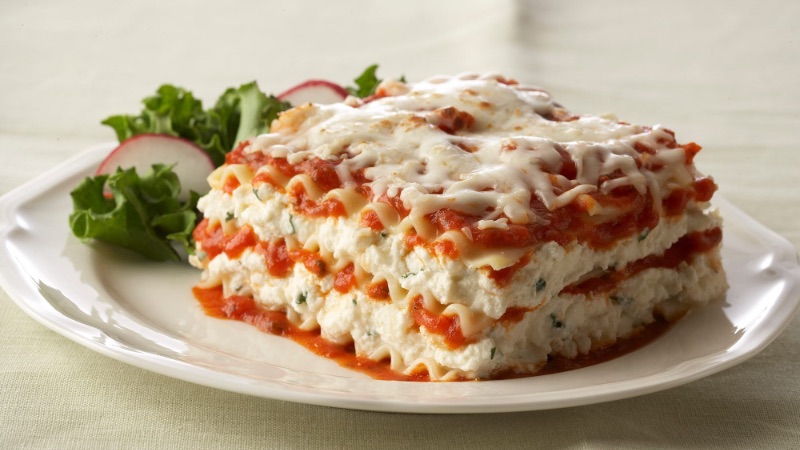 Cottage cheese to the rescue!
Since this recipe doesn't make the usual large pan of lasagna, buying a whole tub of ricotta cheese (which seems to be the only size it comes in) seems like a waste if you don't really need to keep extra ricotta on hand. Cottage cheese to the rescue! It has tender curds, a creamy texture, and, best of all, can be found in single-serving containers.
Make sure the cottage cheese sits out and warms up slightly while you prepare the lasagna so it will meld and melt into the rest of the lasagna. Trust me -- you won't even miss the ricotta and will probably fool most of your guests with this substitute.
As much as I love the calming feeling of putting together the layers on a traditional lasagna, it requires extra time that I don't have on a busy weeknight. Skip the layering by starting a meat sauce that has chicken broth in it. The broth helps to cook the dry lasagna noodles; as the noodles cook, they in turn release starch to thicken the sauce. It's a win-win situation. This lasagna is so tasty you won't miss the distinct layers.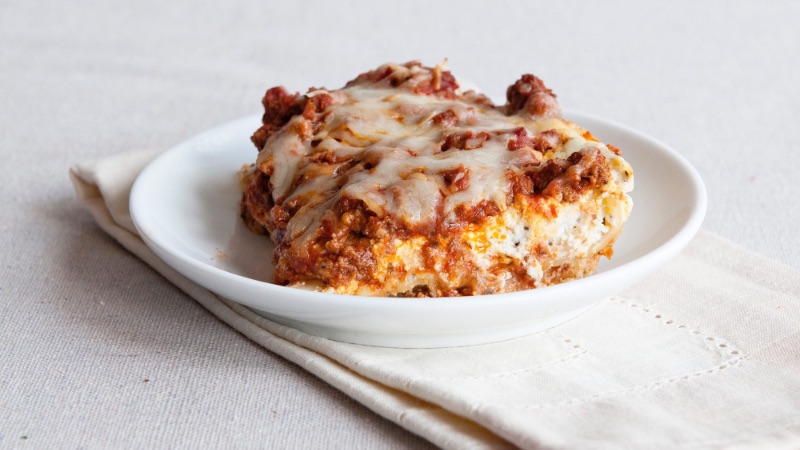 Weeknight Skillet Lasagna
Serves 4 to 6
1 tablespoon olive oil
1/2 medium yellow onion, diced
8 ounces uncooked Italian sausage, casings removed
8 ounces white or cremini mushrooms, sliced
1 (24- to 26-ounce) jar marinara sauce (about 3 cups)
1 1/2 cups low-sodium chicken broth
8 ounces dry lasagna noodles (about 10)
1 cup cottage cheese (about 8 ounces), at room temperature
Salt
1 cup shredded mozzarella cheese
1/4 cup grated Parmesan cheese
Coarsely chopped parsley, for garnish (optional)
If you'd like a browned lasagna top, heat the oven to broil and use an oven-safe skillet.
Heat the oil in a 12-inch or larger regular or cast iron skillet over medium-high heat until shimmering. Add the onion and sausage and cook, breaking the meat up into small pieces with a wooden spoon, until the sausage is cooked through, about 6 minutes. Add the mushrooms and saute until tender, about 5 minutes.
Add the marinara and broth, stir to combine, and bring to a simmer. Using your hands, break the lasagna noodles into 1 1/2- to 2-inch pieces and add to the pan. Stir to combine and spread into an even layer, making sure as many of the noodles are submerged in liquid as possible. Reduce the heat to medium and simmer briskly uncovered (small bubbles all over), stirring occasionally, until the noodles are just tender and the sauce has thickened slightly, about 25 minutes (add water 1/4 cup at a time as needed if the noodles have absorbed all the liquid before they're cooked). Make sure the noodles are always submerged in sauce.
A minute or 2 before the noodles are ready, dollop the cottage cheese over the lasagna with a small spoon and do not stir anymore. Taste and season with salt as needed.
Remove the pan from the heat and sprinkle with the mozzarella and Parmesan. Cover and let sit until the cheese is melted, about 5 minutes. (Alternatively, for a browned top, place the pan under the broiler for a few minutes until the cheese is golden-brown in spots.) Sprinkle with the parsley if using and serve.
Recipe notes: This lasagna can be made vegetarian. Skip the sausage, use 1 pound of mushrooms rather than 8 ounces, and use vegetable broth instead of chicken broth. Leftovers can be stored in an airtight container in the refrigerator for up to four days.
This article is written by Christine Gallary from The Kitchn and was legally licensed via the Tribune Content Agency through the NewsCred publisher network. Please direct all licensing questions to legal@newscred.com.