I've been praising the versatility of eggs for as long as I can remember, but honestly potatoes should really be getting lauded. Just when I thought I'd prepared the budget-friendly tuber in every possible way -- baked, fried, boiled, mashed, even melted -- I stumbled upon a shiny new method that quickly rose to the top of my ranking.
Crash hot potatoes are like a cross between a fluffy baked potato and a greasy, golden french fry. You get all the creamy, buttery goodness of a baked tater, packaged in a super-crispy, crackly shell that's glistening with oil and sparkling with salt. It's the sexiest side dish I know how to make.
What is a crash hot potato?
Crash hot potatoes are Australia's answer to smashed potatoes, which are essentially small potatoes that are crushed to maximize their surface area and baked until crisp. I first encountered crash hot potatoes on Ree Drummond's website. Also known as The Pioneer Woman, Drummond credits Australian food writer and cookbook author Jill Dupleix with the inception of this preparation.
After studying their recipes, along with a handful of others, I determined that for a potato to be given the (highly esteemed) title of a crash hot potato, it must be boiled until tender, smashed on a baking sheet, tossed with oil (or, in some cases, butter) and roasted at high heat. The type of potato, the seasonings and the exact oven temperature was all up to me.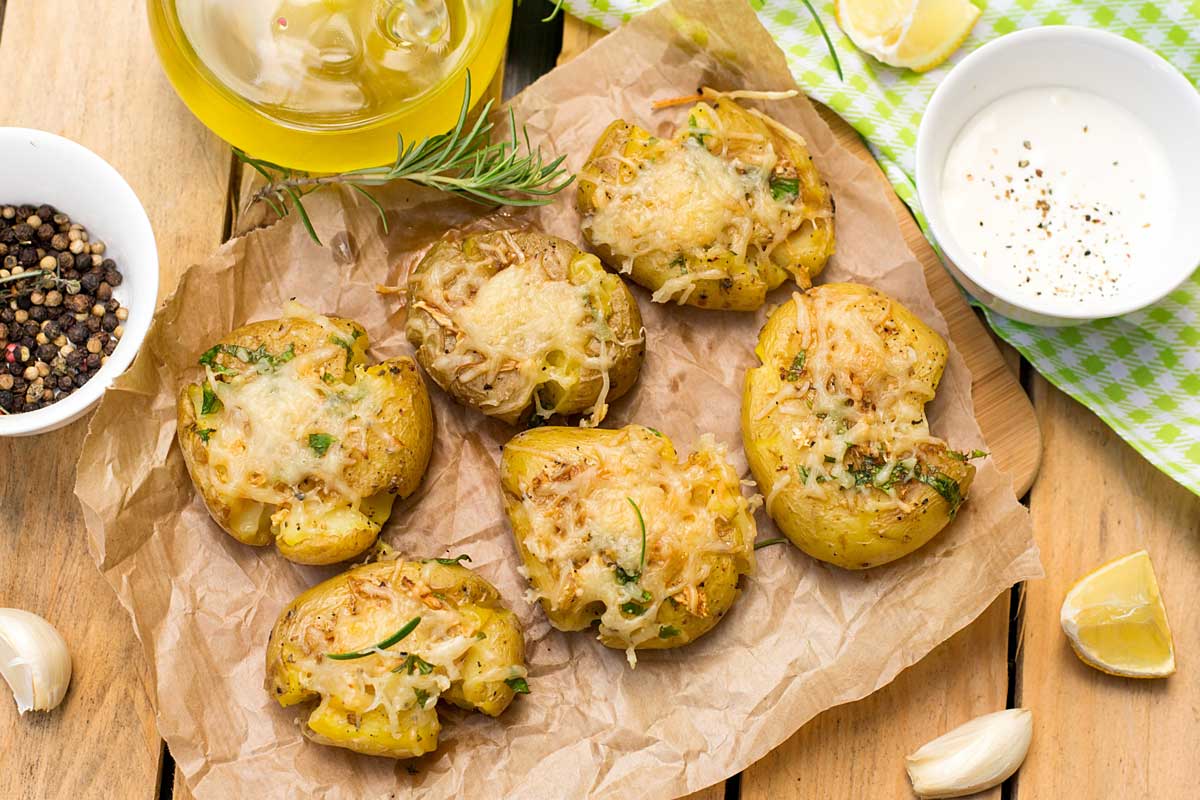 Making crash hot potatoes with any type of potato
Once I had devoured my first batch, I wanted to tell everyone I knew to go straight home and do the same. What I didn't want was for them to have to go scavenger hunting at their local grocery stores until they found the right kind of potato. So I came up with a method that works with almost any variety, with the only difference being how long they take to boil.
Start with 1 1/2 pounds of any of the following potatoes, and then follow the recipe below, using these boiling times.
--Micro potatoes (about 36): Boil 7 to 10 minutes
--Baby red potatoes (12 to 16): Boil 12 to 17 minutes
--Baby Yukon Gold potatoes (10 to 14): Boil 20 to 25 minutes
--Red potatoes (about 6): Boil 25 to 30 minutes
--Yukon Gold potatoes (about 4): Boil 30 to 35 minutes
Although the time estimates are helpful, the best way to determine whether a potato is tender is to pierce the largest potato in the pot with the tip of a sharp knife. If it slides in easily with no resistance, the potatoes are done. Don't pull them out too early, or you'll have a tough time smashing them. (The time they later spend in the oven is more about crisping and less about cooking).
When cooked and drained, the rest of the process is simple: Spread onto an oiled sheet tray, toss to coat in the oil, and then smash them with a measuring cup, drinking glass or potato masher. Season generously with salt and pepper, and then transfer them to a 500 F oven, which is the secret to the crispiest, crackliest potatoes. (This is also the point where you can add minced garlic, grated cheese or any other seasonings. But, really, you don't need to.)
You'll start them on the lowest oven rack so the undersides of the potatoes form a deeply golden crust, then finish them up top where the exposed smashed surface gets a turn near the heat. Serve warm, and prepare to make more tomorrow.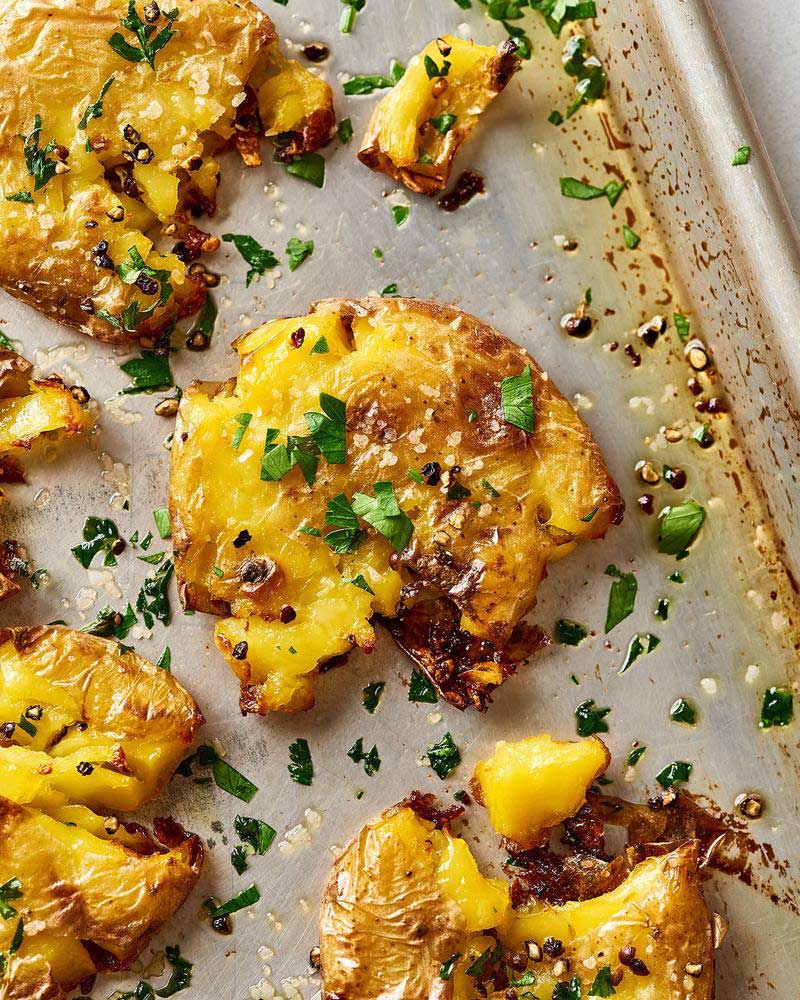 Crash Hot Potatoes
Serves 4 to 6
Prep time: 10 minutes; cooking time: 30 minutes to 1 hour
1 1/2 pounds baby Yukon Gold potatoes (10 to 14 potatoes, about 2 inches in diameter)
2 tablespoons plus 3/4 teaspoon kosher salt, divided
3 tablespoons olive oil, divided
1/4 teaspoon freshly ground black pepper
Finely chopped fresh parsley leaves, for garnish (optional)
1. Scrub the potatoes clean and place in a large saucepan. Add enough cold water to cover potatoes by about an inch.
2. Stir in 2 tablespoons of the salt, place over high heat, and bring to a boil. Reduce the heat and simmer until the potatoes are very tender and can be easily pierced with a sharp knife with no resistance, 20 to 25 minutes. (See above for cooking times for other types of potatoes.)
3. Drain the potatoes in a colander and return to the pot to dry off and cool. Meanwhile, heat the oven.
4. Arrange two racks to divide the oven into thirds and heat to 500 F. Drizzle a rimmed baking sheet with 2 tablespoons of the oil.
5. When cool enough to handle, transfer the potatoes to the baking sheet, and turn to coat in the oil (or, if you're using small potatoes, simply shake the tray to coat the potatoes).
6. Using the bottom of a lightly greased drinking glass or measuring cup, press down on each potato until it splits open and is flattened to between 3/4 inch and 1 inch thick, depending on the size of potato.
7. Drizzle the potatoes with the remaining 1 tablespoon oil. Season with the pepper and remaining 3/4 teaspoon salt.
8. Roast on the lower rack until the bottoms are golden-brown, about 10 minutes. Move to the higher rack and roast until the tops are brown and crispy, 10 to 15 minutes more. Serve warm, sprinkled with the parsley if desired.
Recipe notes: The potatoes can be boiled and refrigerated for up to two days before roasting. Leftovers can be refrigerated in an airtight container for up to four days.
This article is written by Grace Elkus from The Kitchn and was legally licensed via the Tribune Content Agency through the NewsCred publisher network. Please direct all licensing questions to legal@newscred.com.