Ever order a piece of seared chicken, beef, or pork at a restaurant and wonder why the same seemingly simple dish is nowhere near as good when you make it yourself? The difference between the nice piece of seared pork you make at home and the entree you crave from a restaurant is as simple as the pan sauce. Being able to whip up a restaurant-quality pan sauce is a skill that can take weeknight cooking to a new level, make holiday dinners a little extra, and even salvage a piece of meat cooked a little past the ideal temperature. Luckily, the art of making a delicious pan sauce is easy to learn. And once you master the technique, making different pan sauces using wine, stock and other liquids will become intuitive; you'll learn how to adjust the flavors to your preference on any given night. Here is a simple process for pan sauces you can make in just a few steps:
Use a Skillet that Is Not Nonstick
The basis for pan sauces is the fond, or browned bits that stick to the bottom of your pan while you cook the protein. This rich brown coating will melt into your sauce and provide deep, rich flavors. Nonstick pans do not allow that fond to build up, so pan sauces made in them will never get the same intensity of flavor.
Pour Off the Extra Fat
After you have browned your piece of protein and removed it from the pan to either rest or to finish cooking in the oven, your next step is to pour off excess fat from the pan, leaving just a thin coating. Too much fat left behind will make your sauce greasy.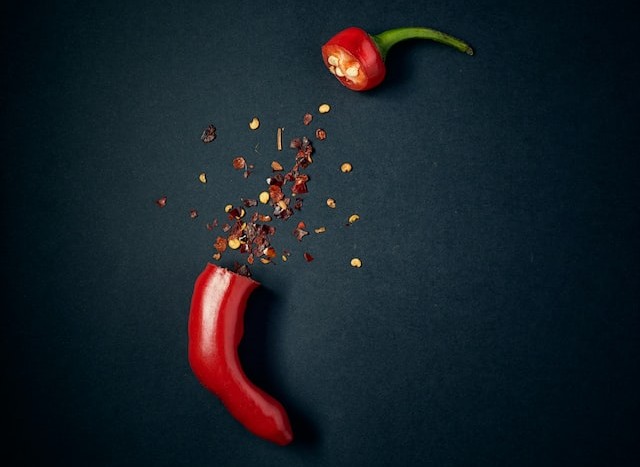 Add Aromatics
A chopped shallot, a minced clove of garlic, some chopped ginger, a pinch of chile flakes, or a combination of all of these ingredients sauteed in the last bit of fat you have left in the pan is where you start to add flavor. Aromatics will add mid-palate flavor to your sauce, balancing the grounding umami notes with the high tones of the wine you will add next, ensuring that the flavor of your sauce is exciting and complex. Cook the aromatics over low-medium heat, until they are fragrant and tender, but haven't taken on much color. As they cook, the aromatics will add to the fond on the bottom of the pan, but be careful not to let them burn. If you want to add dried herbs or sturdy, woody herbs like thyme or rosemary, add them now.
Deglaze with Wine
Increase the heat to high, then add a good glug (or four!) of wine to your pan once the aromatics are fragrant. This is called deglazing. Essentially, it releases the fond stuck to the bottom of the pan so it melts into your sauce. You can use any table wine, or a fortified wine like marsala, madeira, sherry, port, or even vermouth to deglaze. The alcohol will burn off during the cooking, but if you prefer to not use alcohol, a mild vinegar or stock will work for this step. Don't use any wine you would not drink, or a vinegar you wouldn't dress your salad with. Add the liquid, then use a wooden spoon to quickly scrape the fond into the sauce. Then reduce the heat to medium and let the liquid simmer until it has reduced down to a thick glaze. 
Add Stock or Water
Now is when you add more liquid to create the base for your sauce. Stock is the traditional choice here. Chicken stock works well with just about any protein, but you can use more flavorful beef or veal stocks for richer gravies. If you don't have stock on hand, use plain old water; the flavor from the fond, aromatics and wine will provide enough oomph for your sauce. Simmer the sauce again over medium and let it reduce about halfway, until your sauce is slightly thickened.
Whisk in Cold Butter
Next, whisk in a couple of pieces of cold butter. Whisking in butter will fully emulsify it, so the butter will thicken your sauce, and also round out the flavors and give the sauce a terrific mouthfeel from the fat. How much butter to add is up to you; start with two pats of butter, then taste the sauce and decide if you want more. You'll want to add a lot of butter for a really rich sauce, or just a few pats to make your sauce glossy and complete. Be sure you use only cold butter, whisking constantly so the butter doesn't just melt into the sauce and make it greasy.
Finish With Herbs or Acid
Now it's time for the final touch. You want the first thing you taste to be vibrant and bright, so finish your sauce with a bit of chopped fresh herbs, a little grated lemon zest, a squeeze of fresh lemon juice, or a small spoonful of Dijon mustard. This last addition is just a bit of something extra to make your sauce sing, and your dinner even better.
This article was written by Stacey Ballis from Food & Wine and was legally licensed through the Industry Dive Content Marketplace. Please direct all licensing questions to legal@industrydive.com.