Each Mother's Day I try to look for a dish that will make Mom feel special. I've made more egg dishes than I can count, along with coffee cakes, scones and muffins that have delighted Mom each year. This year I thought I would shake it up with a traditional peasant dessert from the Limousin region of France. I've served it usually as a festive and light dessert for many occasions. As I recently tucked into it at a dinner party, I thought this would make a splendid brunch dish for Mother's Day.
Instead of the classic dish with cherries this variation is made with apples that are first baked and then the custardy pancake-like batter is poured on top and cooked with the fruit. As the clafoutis bakes, the batter bubbles up and cooks around the fruit.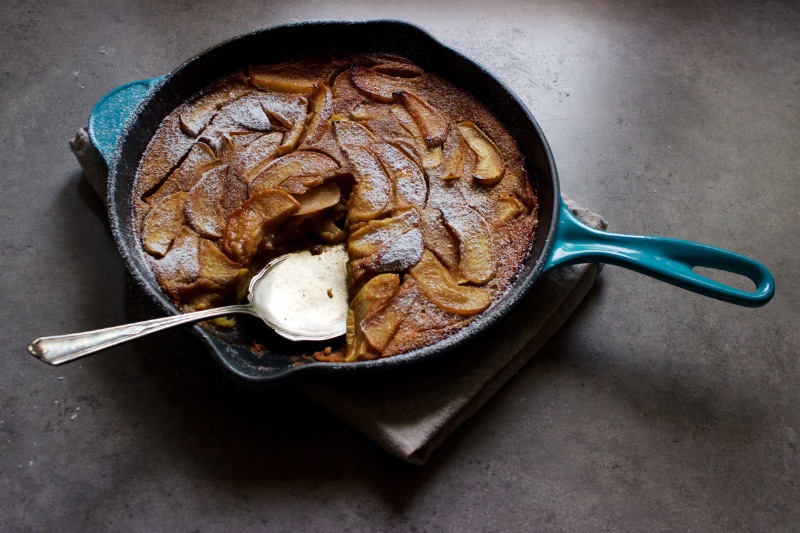 Feel free to personalize this dish with the addition of blueberries or blackberries. I like to think of this dish as a cross between a pancake and flan. For a pretty presentation, use a quiche dish or porcelain pan. For a rustic presentation, serve it right from an iron skillet. If you don't have either one, a Pyrex pie plate will work.
I think Mom will be thrilled with this slightly unusual comforting dish, with its custard yet crepe-like consistency. I like to serve it right from the oven when it is puffed up and golden brown. Try serving this with crisp bacon strips or cooked breakfast sausage for a complete meal. For a festive touch, serve prosecco with a touch of elderflower liqueur (St. Germain) along with brunch. Happy Mother's Day!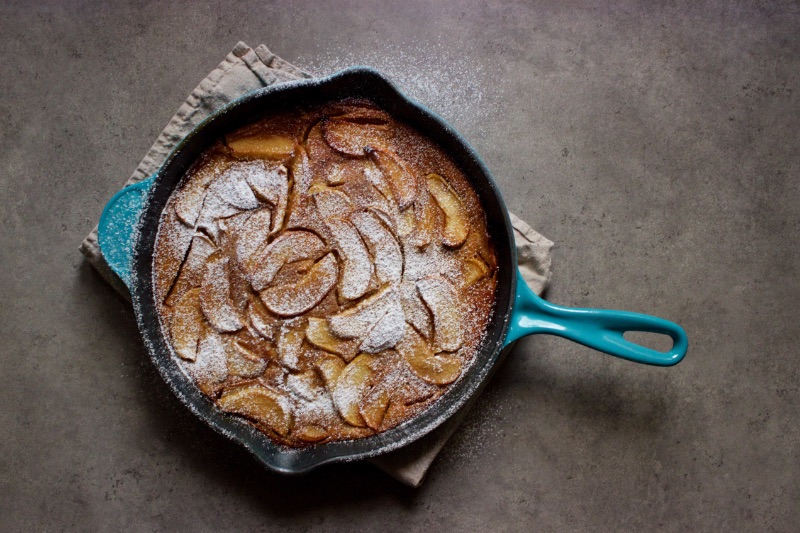 Apple Clafoutis
Serves 6 to 8
1 teaspoon plus 2 tablespoons unsalted butter, softened
2 large Gala or Pink Lady apples, peeled, cored and cut into 1-inch pieces
1 cup sugar
1 cup all-purpose flour
1 teaspoon baking powder
Pinch salt
1/2 teaspoon cinnamon
4 eggs
1 3/4 cups half and half
2 teaspoons vanilla extract
Powdered sugar, for dusting
1. Heat the oven to 425 F. Butter a large baking dish (a 9-by-13-inch dish works well). Place the baking dish on a baking sheet. Sprinkle the apples on the bottom of the pan, and then mix with 2 tablespoons butter and 2 tablespoons sugar until nicely coated.
2. Bake for 20 minutes, stirring occasionally so that the apples cook evenly. Remove from the oven.
3. Meanwhile, combine the flour, baking powder, salt and cinnamon on a large sheet of wax paper. In a large bowl or in the blender beat the eggs with 3/4 cup sugar for a minute or until blended. Add the flour mixture, alternating with the half and half. Add the vanilla, and mix to combine.
4. Pour the batter over the fruit. Sprinkle with the remaining sugar. Bake for about 30 minutes or until puffed and golden brown. Sprinkle with powdered sugar. Serve immediately. This goes well with a dollop of whipped cream.
Advance preparation: This may be made two hours ahead through Step 1, covered and kept at room temperature. Preheat the oven just before baking.
This article is written by Diane Rossen Worthington from Seriously Simple and was legally licensed via the Tribune Content Agency through the NewsCred publisher network. Please direct all licensing questions to legal@newscred.com.