America is filled with holidays, some of which come from different countries (think Mardi Gras, Cinco de Mayo and St Patrick's Day). For me, holidays are always centered on what I might want to cook up to celebrate them.
When St Patrick's Day rolls around, I usually make a corned beef and cabbage entree and serve it with Irish soda bread. Dessert might be shortbread cookies with green icing or mint chocolate chip ice cream with hot fudge sauce. This year I am making an intense chocolate cake that expresses the Irish influence with a healthy dose of Irish stout in the cake and the glaze.
Years ago I enjoyed a dessert that was a shot glass of dark beer and a tiny espresso cup of hot chocolate. I never forgot how the flavors worked so beautifully together. The contrast of the slightly bitter stout and the dark cocoa also brings together a wickedly rich chocolate cake.
For ease in releasing the cake, choose a nonstick 3-quart Bundt pan. Hershey's Special Dark Cocoa is the key to the deep rich chocolate flavor. This cocoa is a mixture of natural cocoa and Dutch cocoa. Dutch-process cocoa powder is a darker color and has less acidity.
Choose a stout like Guinness or Murphy's with its roasted barley flavor that complements the deep dark cocoa. This will be a fitting finale to any St Pat's menu. And don't forget the scoop of vanilla ice cream and a shot of stout on the side. The only problem with this cake is that one slice is never enough!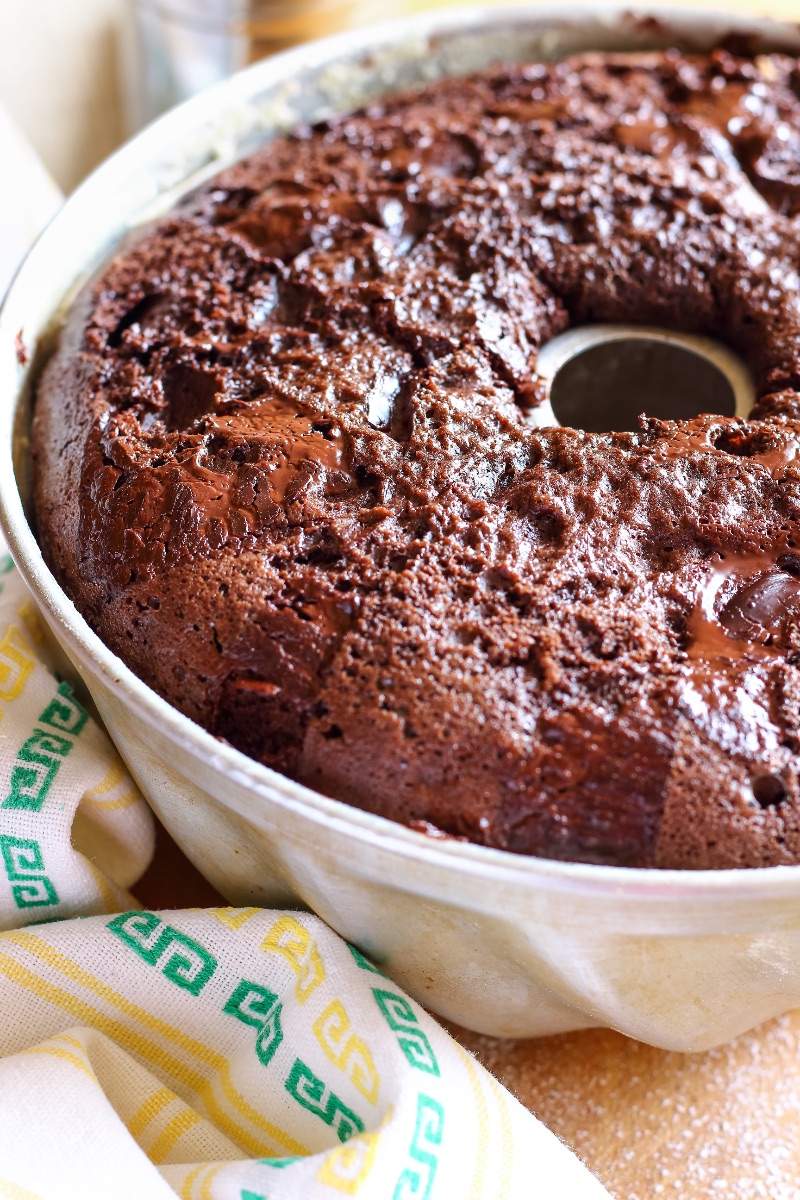 Chocolate Stout Bundt Cake
Serves 12
For the cake:
4 ounces of bittersweet chocolate
2 cups all-purpose flour
1 cup Hershey's Extra Dark Cocoa
1 1/4 teaspoons baking soda
1/2 teaspoon salt
2 sticks (1 cup) unsalted butter, softened
1 cup sugar
1 cup dark brown sugar
2 large eggs
1 teaspoon vanilla
3/4 cup buttermilk
3/4 cup stout
For the glaze:
1/2 cup heavy cream
4 ounces bittersweet chocolate
2 tablespoons Stout, at room temperature
On the side:
Vanilla ice cream
Chilled stout
1. Preheat oven to 325 F. Melt the chocolate in a microwave for 1 minute. Cool and reserve.
2. Sift together the flour, cocoa, baking soda, and salt in a large bowl. Reserve.
3. Butter and flour a 3-quart Bundt pan. Dust the inside of the pan with cocoa powder evenly and set aside.
4. With an electric mixer, beat the butter and sugars until the mixture is light and fluffy. Add the eggs one at a time, beating well after each addition. Add vanilla and cooled chocolate to the batter and mix until well blended.
5. Combine the buttermilk and the stout in a measuring cup or bowl and stir to combine.
6. Add the flour mixture to the batter in two batches, alternating with the buttermilk mixture. Transfer into the prepared pan, scraping out the batter with a rubber spatula.
7. Bake for 50 to 55 minutes, or until a toothpick comes out clean. Let cool completely.
8. While cake is baking make the glaze: Pour the cream into a small saucepan and bring the cream to a boil. Add the chocolate and remove from the heat; stir the chocolate into the cream until it is completely blended. Pour the stout into the glaze and mix to combine. Reserve.
9. When the cake is cool, loosen with knife and turn out onto a wire cake rack, carefully. Place the cake on the rack onto a foil covered baking sheet. Spoon glaze over cake evenly. With spatulas, carefully transfer the cake to a cake platter. Serve with a scoop of vanilla ice cream and a shooter of stout.
This article is written by Diane Rossen Worthington from Seriously Simple and was legally licensed via the Tribune Content Agency through the NewsCred publisher network. Please direct all licensing questions to legal@newscred.com.