I am always surprised when another dessert book lands on my desk. Many of the books are compilations of classic desserts. So, when I received a copy of "Sweet Sugar, Sultry Spice" by Malika Ameen ($30, Roost Books) I found myself captivated with her take on desserts.
Adding spices to sweet desserts ups their flavor and intrigue. Spices can add a subtle finishing note or a surprising punch to your desserts. Consider fluffy ricotta muffins enhanced with orange blossom water; chocolate doughnuts tinged with juniper berries; or peanut brittle laced with smoky paprika, cayenne and Vietnamese cinnamon. These are all clever, original takes on classic desserts.
This is a book I can heartily recommend for any dessert lover or maker. Beautiful photographs are interspersed throughout, along with personal anecdotes and professional wisdom.
With peach season upon us, I thought one of Ameen's recipes would be a perfect dessert for summer outdoor menus. She adds Vietnamese cinnamon and freshly grated nutmeg to a sweet American classic: peach cobbler.
All of own my cobbler recipes finish with the dough on the top, but in Ameen's recipe she starts with scooping the cobbler dough on the bottom of the dish. First, she cooks brown butter and pours it into the pan and then the dough goes on top. Then the cooked peaches and blueberries are scattered on top with a final finish of sprinkled sugar and nutmeg. This is a good example of taking a simple dessert and embellishing it with deep flavors like brown nutty butter, aromatic cinnamon, turbinado sugar (with its rough texture and molasses flavor) and fragrant freshly grated nutmeg.
A tip: Roasting or baking makes summer peaches even sweeter and caramelizes the natural sugars, deepening the fruit's flavor. This is an easy dessert that comes together quickly but tastes like it took lots of time to prepare.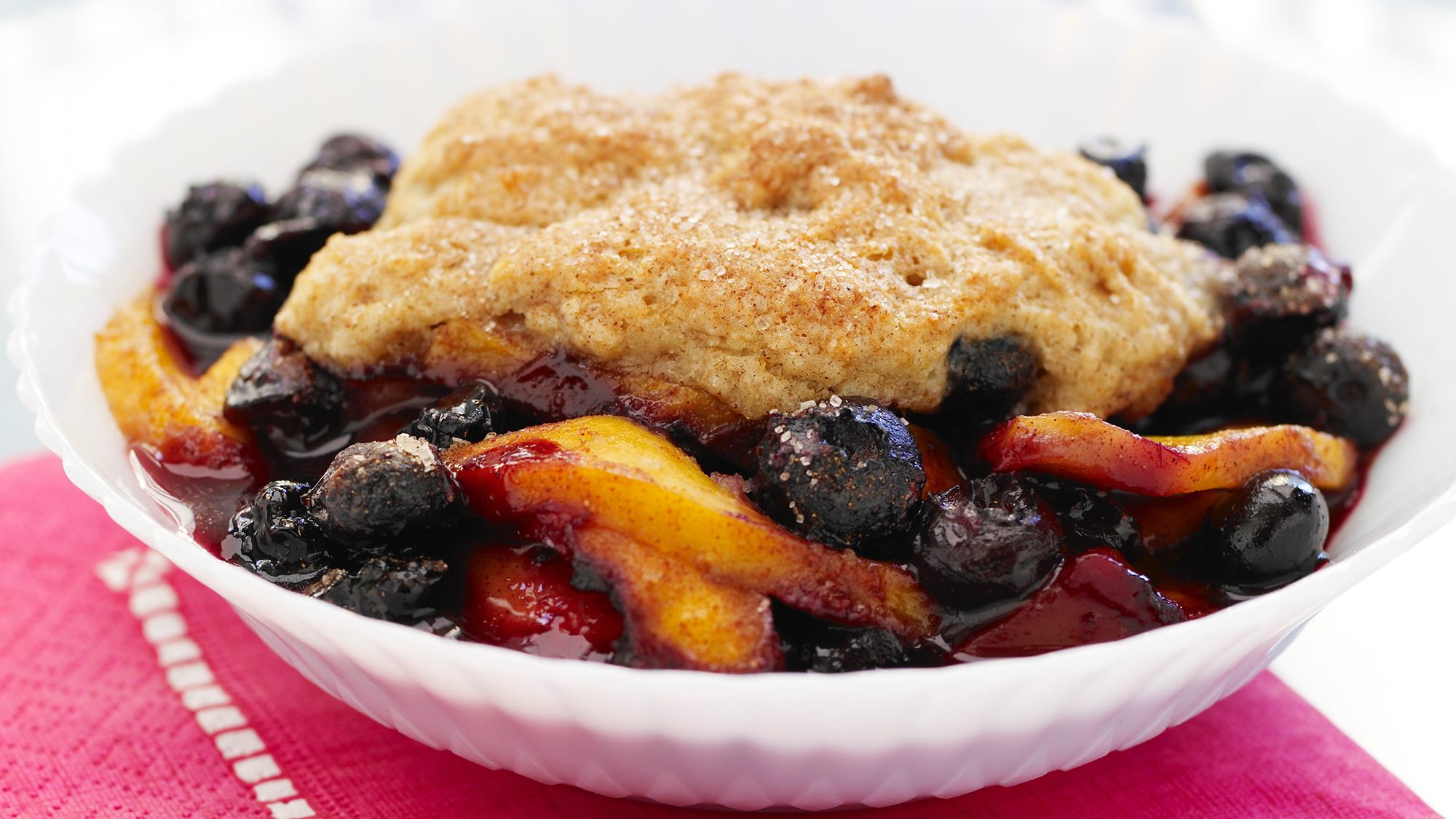 Crunchy Top Peach Cobbler
Serves 6 to 8
1 pound peaches, pitted and cut into 1/2-inch slices, with skins on
3/4 cup granulated sugar, divided
1 teaspoon freshly squeezed lemon juice
Seeds from 1/2 vanilla bean
1 1/2 teaspoons tapioca flour
4 tablespoons (2 ounces) unsalted butter
3/4 cup all-purpose flour
1 1/2 teaspoons baking powder
1/2 teaspoon ground Vietnamese cinnamon
1/4 teaspoon kosher salt
3/4 cup buttermilk, at room temperature
1 teaspoon vanilla extract
1 cup blueberries
2 tablespoons turbinado sugar
1/4 teaspoon freshly grated nutmeg
Vanilla ice cream, to serve
1. Preheat the oven to 350 F. Line a baking tray with parchment paper to catch any drips and place a 9-inch pan on it.
2. In a large saucepan over medium heat, combine the peaches, 3 tablespoons of the granulated sugar, the lemon juice, and vanilla bean seeds. Bring to a simmer and cook for 1 minute. Remove from the heat and allow it to cool.
3. In a small bowl, whisk together 1 tablespoon of the granulated sugar and the tapioca flour. Set aside.
4. In a small saucepan, melt the butter over medium-high heat and continue to cook until it begins to smell nutty, about 2 minutes. Swirl the pan and continue to cook until the butter is golden and dark brown flecks begin to appear, about 3 more minutes. Pour the browned butter into the 9-inch round pan.
5. In a medium bowl, whisk together the flour, the remaining half cup of granulated sugar, the baking powder, cinnamon and salt. Add the buttermilk and vanilla extract, and whisk just until batter forms. Using an ice cream scoop, deposit dollops of the batter in the round pan. You don't want to mix the dough with the brown butter, but it's OK if some butter seeps through.
6. Add the tapioca-sugar mixture to the peaches in the saucepan and toss to coat. Scatter the peaches and juices over the dough. Scatter the blueberries on top of the peaches.
7. Bake for 25 minutes. While the cobbler is baking, mix the turbinado sugar and nutmeg together in a small bowl. Remove the pan from the oven and sprinkle the nutmeg sugar over the cobbler. Return the pan to the oven and bake for another 25 to 30 minutes, until golden brown. Serve warm or at room temperature with vanilla ice cream.
Photo and recipe from "Sweet Sugar, Sultry Spice" by Malika Ameen reprinted by arrangement with Roost Books.
This article is written by Diane Rossen Worthington from Seriously Simple and was legally licensed via the Tribune Content Agency through the NewsCred publisher network. Please direct all licensing questions to legal@newscred.com.