Summer soups are usually served cold to offset the hot weather. But there is always an outlier. This vegetable soup is that one.
The hardest part of making this soup is the chopping the vegetables. You can even do it a day before finishing the recipe, and I prefer to do it early while it is still cool in the house. I cut the veggies in a small dice for easy eating, but you can chop them in larger pieces if you prefer.
Look for a good store-bought pesto or make it from scratch. You can alter it with different veggies or herbs like spinach leaves, arugula, fresh cilantro and thyme. Just a few tablespoons of any of those ingredients will add an extra flavor dimension to classic basil pesto. One other reminder: Look for the freshest vegetables you can find, and feel free to add corn kernels or other veggies you love to this soup.
This my husband's favorite summer soup, a fine example of what he calls "real food." Although it can be served hot, I think it is best at room temperature because it brings out the full flavor of the vegetables and herbs.
Orzo, a tiny, almond-shaped pasta, is added for its unusual shape and texture. But what makes this minestrone so special is the pesto cream, which is swirled in just before serving.
The recipe makes more pesto cream than you will need for the soup. Use the remainder as a salad dressing or sauce. (It will keep for up to a week.)
Offer the soup as a simple, yet elegant first course before grilled chicken or fish. I also like to serve large bowls of this as a main course after a salad of mixed greens and warm goat cheese croutons. A chianti or pinot noir would be a nice accompaniment.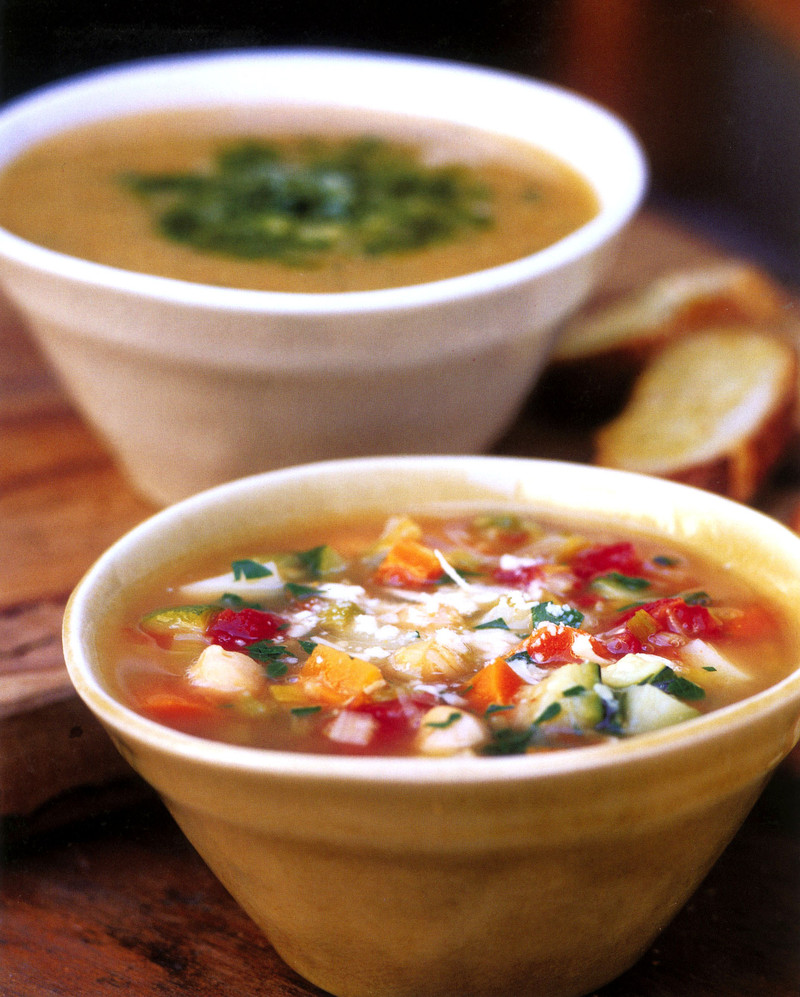 Summer Minestrone with Pesto Cream
Serves 6 to 8 as a first course, or 4 as a main course
For the soup:
2 tablespoons olive oil
2 medium onions, finely chopped
4 medium carrots, peeled and cut into 1/2-inch pieces
1/2 pound white or red rose potatoes, peeled and cut into 1/2-inch pieces
1 large zucchini, cut into 1/2-inch pieces
1 large yellow crookneck squash, cut into 1/2-inch pieces
1 Japanese eggplant or 1/2 small globe eggplant, cut into 1/2-inch pieces
1/2 small cabbage, shredded
1 cup peeled and pureed fresh tomatoes
6 cups vegetable or chicken stock
2 medium garlic cloves, minced
1 tablespoon finely chopped fresh basil
Salt
Freshly ground black pepper
1/4 cup orzo
1 cup well-drained canned white beans like cannellini
For the pesto cream:
1/2 cup favorite pesto (see following recipe or use favorite store-bought)
1 tablespoon red wine vinegar
1/2 cup sour cream or crème fraîche
Salt
Freshly ground black pepper
1. In a large soup pot over medium heat, warm the olive oil. Add the onions and saute, stirring occasionally, until softened, 3 to 5 minutes.
2. Add the carrots, potatoes, zucchini, crookneck squash and eggplant and saute until slightly softened, about 3 minutes. Add the cabbage and saute just until softened, about 3 minutes.
3. Raise the heat to medium-high, add the tomatoes, chicken stock, garlic, basil, and salt and pepper to taste, and bring to a boil. Reduce the heat to medium-low and simmer, uncovered, until the vegetables are tender, about 25 minutes. The soup will be slightly thickened.
4. Fill a separate saucepan three-fourths full of water and bring to a boil. Add the orzo and cook just until al dente, about 10 minutes. Drain and add to the soup. Add the white beans, stir, and taste for seasoning. Let cool to room temperature.
5. To make the pesto cream, combine all the ingredients in a small bowl, including salt and pepper to taste, and whisk until smooth. Cover and refrigerate.
6. To serve, ladle the soup into bowls and swirl a tablespoon of the pesto cream into each serving.
Advance Preparation: The soup and pesto cream may be prepared two days in advance and refrigerated. Bring both to room temperature before serving.
Basil Pesto
Makes about 1 1/4 cups
2 medium garlic cloves
2 cups medium-packed fresh basil leaves (about 2 medium bunches)
1/2 cup parsley leaves
2 tablespoons pine nuts
1/2 cup olive oil
Freshly ground black pepper
3/4 cup freshly grated Parmesan cheese
1. While the motor is running, add the garlic cloves to a food processor fitted with the metal blade. Process until pureed. Add the basil and parsley and process until finely chopped. Add the pine nuts and finely chop.
2. With the blades turning, slowly pour in the olive oil in a fine stream. Add pepper.
3. Just before serving, add the cheese and process until well blended. Taste for seasoning. Refrigerate the pesto in a tightly covered container until ready to use.
Recipe notes: The pesto can be prepared one week ahead through Step 2, covered in an airtight container and refrigerated. Add cheese just before serving.
A classic basil pesto, try it on pasta, fish, chicken, a garnish in vegetable soups or even in salad dressing.
This article is written by Diane Rossen Worthington from Seriously Simple and was legally licensed via the Tribune Content Agency through the NewsCred publisher network. Please direct all licensing questions to legal@newscred.com.