My late friend Barbara Windom was a great cook who produced delicious food that's short on preparation time and long on taste and presentation.
She loved putting together creative flavor combinations for new twists on chicken dishes. Her Asian chicken can be served on a moment's notice as long as you have the ingredients in your pantry.
We are lucky that there are many types of chicken processing varieties to choose from today. I prefer air-chilled chickens because they are firmer and tastier than water-chilled chickens that have extra water added to the bird. Kosher chickens, which are salted to keep them moist, can be a good alternative. Organic chickens are always delicious since the birds are fed organic food and given no antibiotics. It's fun to try different varieties so you can discover your personal favorite.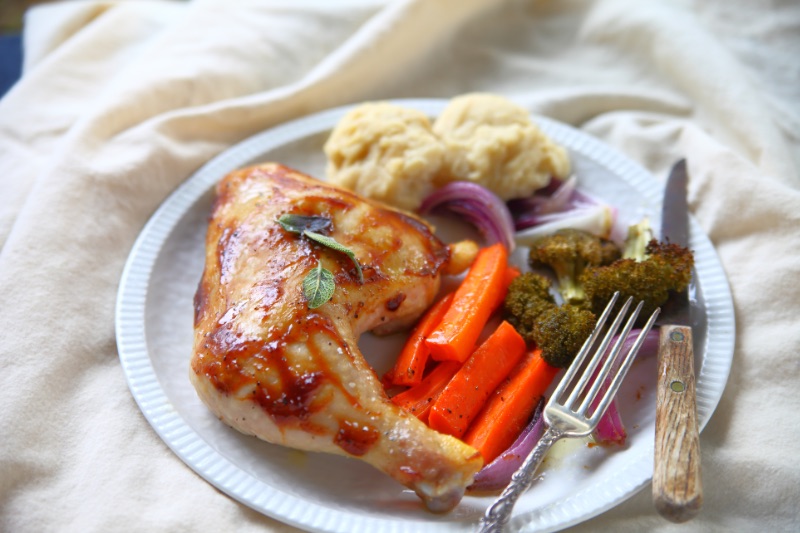 I like to cook the chicken in a shallow roasting pan (like a half-sheet pan) so that the chicken browns and stays juicy. A high-sided baking pan can steam the chicken.
For a casual dinner, serve the chicken right in the pan. I have used the marinade in the following recipe for all different cuts of chicken: quarters, breasts, thighs and drumsticks. It really is a versatile dish. Just make sure that each cut of chicken is cooked through and no pink remains. And for this dish, make sure to have the skin and bones attached for the best flavor. Bone-in chicken is always juicier.
Glazed orange-hoisin chicken is superb right from the oven for dinner or chilled and served for lunch. If you're serving this warm, accompany the chicken with a simple vegetable-rice pilaf with roasted peanuts. If you're serving the chicken cold, consider a platter of assorted grilled or roasted vegetables, a cold grain salad and a simple green salad as side accompaniments. I like to serve this with a Zinfandel, Syrah, or Pinot Noir to complement the sweet flavors of this dish.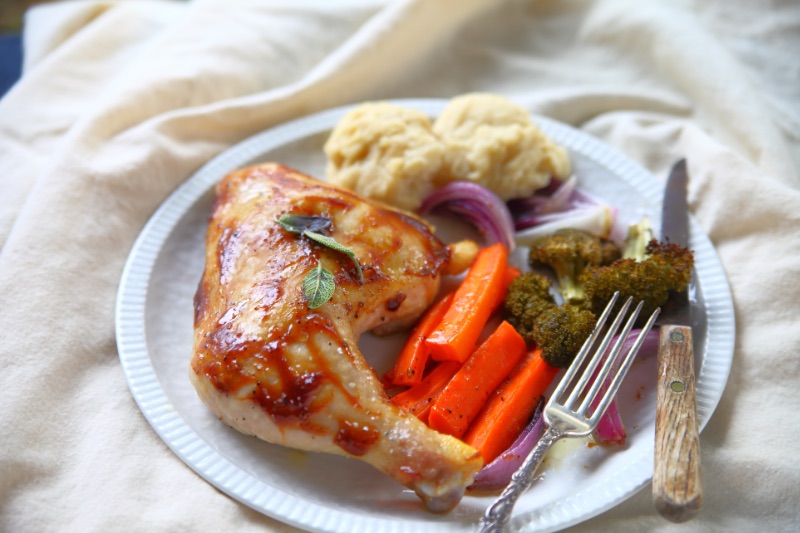 Glazed Orange-Hoisin Chicken
Serves 4 to 6
For the marinade:
3 tablespoons hoisin sauce
1 teaspoon chile paste with garlic
1/3 cup soy sauce
1 tablespoon honey
1 tablespoon dark sesame oil
2 tablespoons finely chopped fresh ginger
1/4 cup Dundee orange marmalade (or any orange marmalade that is not too sweet)
For the chicken:
1 (3 1/2- to 4 1/2-pound) fryer chicken, cleaned, patted dry, and cut into quarters or 4 bone-in breasts and 4 thighs
Optional garnish:
2 tablespoons finely chopped scallions
Orange slices
1. Combine all the marinade ingredients except the marmalade in a large nonaluminum bowl. Add the marmalade last, and whisk the marinade well. Taste for seasoning.
2. Add the chicken quarters to the marinade and coat all the pieces evenly. Cover and marinate the chicken for 30 minutes to 2 hours in the refrigerator, turning it once or twice.
3. Preheat the oven to 425 F. Place the chicken quarters or parts skin side up in a large shallow roasting pan and roast for 50 to 55 minutes or until the chicken is golden brown and you don't see any pink when you cut into the chicken. Baste the chicken with the juices once or twice while it is roasting.
4. To serve, remove the chicken from the pan and degrease the drippings. Arrange the chicken on a large serving platter, spoon some sauce over it, and garnish with scallions and orange slices (if using). Serve immediately.
Advance preparation: The dish can be prepared one day ahead, refrigerated and served chilled. Or prepare it up to 2 hours ahead through Step 2 and refrigerate.
(Diane Rossen Worthington is an authority on new American cooking. She is the author of 18 cookbooks, including "Seriously Simple Parties," and a James Beard Award-winning radio show host. You can contact her at www.seriouslysimple.com.)
This article is written by Diane Rossen Worthington from Seriously Simple and was legally licensed via the Tribune Content Agency through the NewsCred publisher network. Please direct all licensing questions to legal@newscred.com.