Too much asparagus might be the definition of a fancy problem, but there I was, looking down at three hefty bunches I impulse-bought on sale. My usual move when faced with a surfeit of veg is to blitz it into a puréed soup, but then I wondered – could asparagus be transformed into a silky, pastel-green sauce for pasta? 
The answer, I discovered through trial and error, is a resounding "yes," especially when you blend peas into the sauce and keep it nice and green by adding a handful of fresh arugula (asparagus, I remembered while testing, isn't the prettiest shade when cooked). 
Morels, shallots, lemon zest, Pecorino – these are the add-ins I wound up loving the most, since they play well together and all but scream spring. Enjoy this asparagus pasta recipe hot – and then (if you're like me), enjoy it even more the next day straight from the fridge, with an extra squeeze of lemon juice and a generous drizzle of olive oil.
Yield: 4–6 Time: 50 minutes
1½ lb. Asparagus (see footnote), bottom inch removed
Kosher salt and freshly ground black pepper
2 Tbsp. extra-virgin olive oil, plus more for garnish
8 oz. Mushrooms, such as morels, chanterelles, or shiitakes, cleaned, trimmed, and sliced ¼-in. thick (3 cups)
6 Tbsp. unsalted butter, divided
⅔ cup finely chopped shallots
2 cups packed arugula leaves
1 cup peas, fresh or frozen
1 lb. Farfalle (bowtie) pasta
1 cup packed finely grated Pecorino Romano, plus more for garnish
2 tsp. finely grated lemon zest
¼ cup fresh lemon juice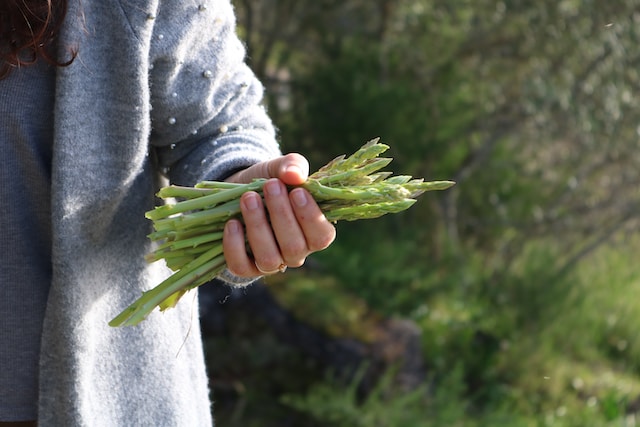 Duarte Nunes
Instructions
Peel the bottom half of the asparagus stalks down to the white flesh. Remove and reserve the tips, then coarsely chop the stalks.
To a large pot set over medium-high heat, add the oil. When it's shimmering and hot, add the mushrooms and asparagus tips and season with salt. Cook, stirring occasionally, until tender and browned, about 7 minutes. Add 2 tablespoons of the butter, stir until melted, then scrape into a bowl and set aside.
To the empty pot, add 2 tablespoons of the butter, the shallots, and asparagus stalks and turn the heat to medium. Cover and cook, stirring occasionally, until the stalks are al dente, about 8 minutes. Add 4½ cups of water and bring to a boil. Add the arugula and peas and boil for 1 minute more. Using an immersion (or regular) blender, process until it's as smooth as possible. Add salt to taste (it should be assertively seasoned).
Add the farfalle, turn the heat to medium, and cover. Boil, stirring and scraping the bottom of the pot every 2 minutes on the dot to prevent sticking, until the pasta is nearly al dente, about 9 minutes.
Uncover, turn the heat to medium-high, and cook, stirring every 15 seconds, until the sauce has thickened and the pasta is al dente, 3–5 minutes more. Add the Pecorino, lemon zest and juice, remaining 2 tablespoons of butter, and half of the mushroom-asparagus mixture and cook for 1 minute more. Season with black pepper to taste.
To serve, divide the pasta among 4–6 bowls. Garnish each with the remaining asparagus-mushroom mixture, then drizzle with oil and sprinkle with Pecorino.
Note: Seek out asparagus that are ½ inch thick (thinner asparagus can be stringy, and thicker can be woody). Peeling the stalks in step 1 is essential as fibrous bottoms make for a far less creamy sauce.
This article was written by Benjamin Kemper from Saveur and was legally licensed through the Industry Dive Content Marketplace. Please direct all licensing questions to legal@industrydive.com.