And it only requires a baking sheet to make!
Reviewed by Dietitian Jessica Ball, M.S., RD
Your day is busy. You've got to get the kids to school, or you need to get yourself to work. Then somehow, you also need to complete countless tasks and chores. At some point, usually towards the end of the day, the realization that dinner is fast approaching hits. If you're a perfect planner, you're not sweating it. But if you live life a little more on the edge (or if the day hasn't gone according to plan), this can be a stressful time. You need a meal that comes together quickly and doesn't require much brain power. That's where these Sheet-Pan Chicken Fajita Bowls come to the rescue.
The weeknight "oh no, what's for dinner" debacle happens even to me, a devoted meal planner and registered dietitian. I know it happens to you, too, because when counseling clients, I hear similar stories. I listen to their tales of how the day got away from them, drive-through won out and made them feel like they failed. But I'm here to tell you that fast food doesn't have to be your default. Relying on it heavily can be expensive and leave you feeling not your best, too. So, what is the solution? Sheet-pan meals!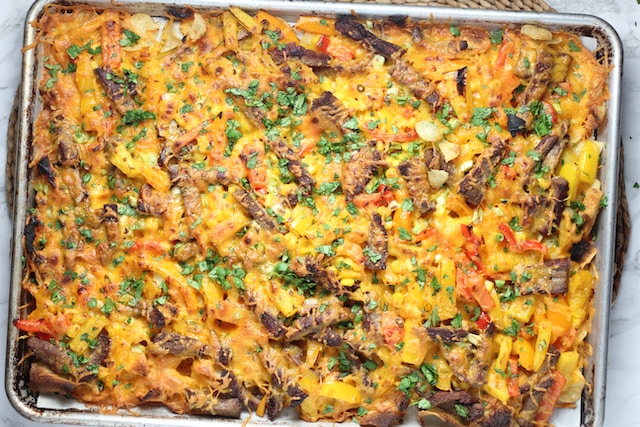 The sheet-pan meal is nothing new. People have been using baking sheets for decades to prepare and cook their food. Thanks to social media and the internet, the baking sheet recently became the "it" tool for making delicious, nutritious, balanced meals without much fuss. They're as simple as they sound. Everything for the meal gets cooked on one (sometimes two) baking sheet. There's nothing not to love about that. Easy food and easy clean-up for the win!
I agree that this method is awesome. Mostly because there are countless ways to create meals using a sheet pan, but also because there's only a bit of hands-on time and only a few dishes to clean. These Sheet-Pan Chicken Fajita Bowls are my favorite for serving a crowd, but I also make them for myself to have for lunch during the week.
The recipe starts with making a simple spice blend. It works double-duty in the recipe. First, it's used to season the chicken tenders and vegetables and then again to make a dressing. The chicken and vegetables are tossed in the spices, then added to a sheet pan and roasted. The mixture is given a quick stir and then kale and black beans are added to the pan. While that finishes cooking, a simple dressing is made using the remaining seasoning, plain Greek yogurt and lime juice.
The recipe is a winner for several reasons. First, chicken tenders are lean and cook quickly. That means you can roast them alongside the peppers and onions without worrying about over-cooking them. The recipe is also packed with vegetables, so you'll be getting your fair share of fiber as well as a variety of vitamins and minerals. Finally, it's super flavorful. The spice blend ensures this dish is anything but boring.
So the next time it's 5:15pm and you're starting to sweat about what's for dinner, try this delicious and easy sheet-pan meal. Bottom line, skip the drive-through, you've got this!
This article was written by Sara Haas and Rdn from EatingWell and was legally licensed through the DiveMarketplace by Industry Dive. Please direct all licensing questions to legal@industrydive.com.