One-pot meals make life so much easier. Take this recipe for vegetarian chili. Whether you make a batch to eat throughout the week or to gobble up on game day, all you have to do is combine the ingredients and let it simmer. That leaves time for more important things, like catching up on Empire or adjusting your Fantasy Football lineup. (We're always looking out for you.)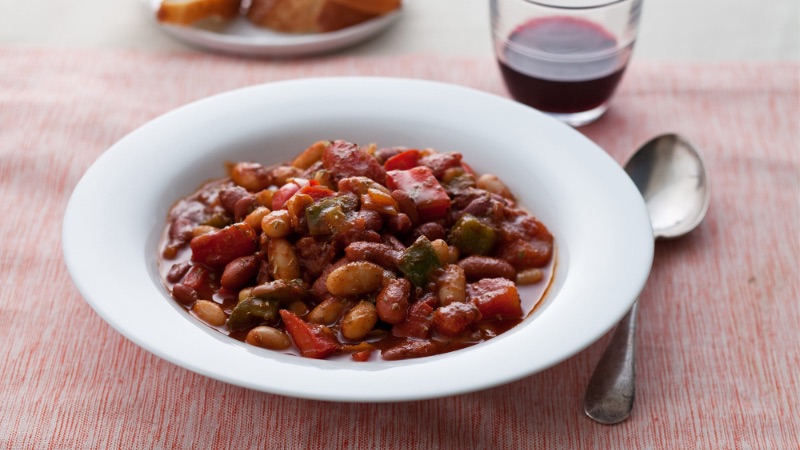 2 tablespoons extra-virgin olive oil
1 large white onion, diced
2 large (or 4 small) poblano peppers, seeded and diced
1 large sweet potato, peeled and diced
4 garlic cloves, minced
1 tablespoon chile powder
2 teaspoons ground cumin
1 teaspoon ground coriander
¾ teaspoon cayenne pepper
Salt and freshly ground black pepper
4 cups vegetable broth
One 15-ounce can chickpeas
One 15-ounce can black beans
2 cups frozen corn, thawed
Sour cream, for garnish
1 avocado, diced, for garnish
3 tablespoons chopped fresh cilantro, for garnish
1. In a large pot, heat the olive oil over medium heat. Add the onion, poblano pepper and sweet potato, and sauté until the onion is translucent, 6 to 8 minutes. Add the garlic and continue to cook until fragrant, 1 minute more.

2. Add the chile powder, cumin, coriander, cayenne, salt and pepper, and cook until fragrant, 1 to 2 minutes. Stir in the tomatoes and broth. Bring the mixture to a simmer over medium heat. Reduce the heat to low and simmer until good flavor develops and the vegetables are very tender, 30 to 35 minutes.

3. Stir in the beans, chickpeas and corn, and simmer for 2 to 3 minutes.

4. To serve, ladle the soup into bowls. Garnish with a dollop of sour cream, 1 to 2 tablespoons avocado and 2 teaspoons cilantro. Leftover chili will keep in the refrigerator for up to a week.
This article was from PureWow and was legally licensed through the NewsCred publisher network. Please direct all licensing questions to legal@newscred.com.