Let's be serious for a moment: without that crackling, crystalized sugar crust on top, crème brûlée would just be custard. It would be very good custard, but that torched sugar is what makes it special. Brûlée-ing however, is not an act that should be reserved for crème. You can brûlée all sorts of foods, bringing a touch of decadence to every meal.
Take heed, I am not suggesting you brûlée these things instead of crème; this advice is additive. Here are some foods that would be improved upon by a sprinkling of sugar, followed by a bit of flame: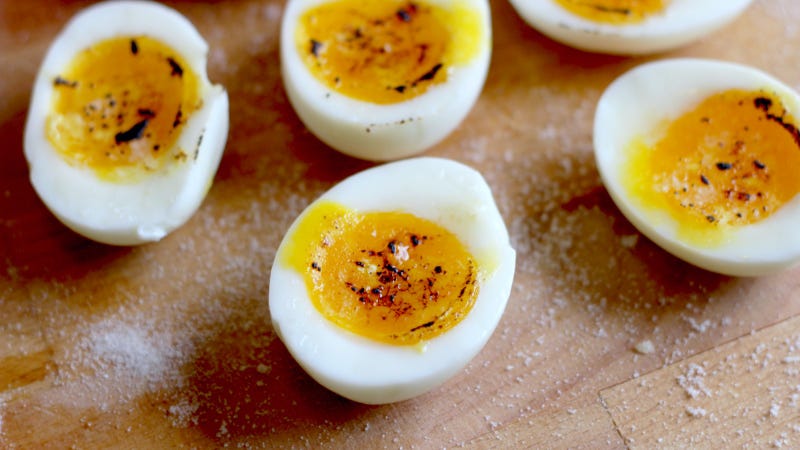 Eggs
If there is one food thing I wish I had invented, it is Alvin Cailan's brûléed egg. Brûléed eggs are sweet, savory, fudgy, and just a tad charred, and they are quite easy to make. Simply boil one for six minutes, peel it, slice it in half, and sprinkle it with a generous pinch of salt on each half, followed by a dusting of sugar. Torch with a low flame until it bubbles and caramelizes, serve with the saltiest, crispiest bacon.
Oatmeal
Though I love beige food, I'm not the biggest fan of oatmeal. However, if you cover a bowl of buttery, creamy oats with a crunchy sugar crust, I would eat it, especially if you got some fresh berries involved. Brûlée your oatmeal like you would anything; sprinkle it with sugar (white or brown) and torch it.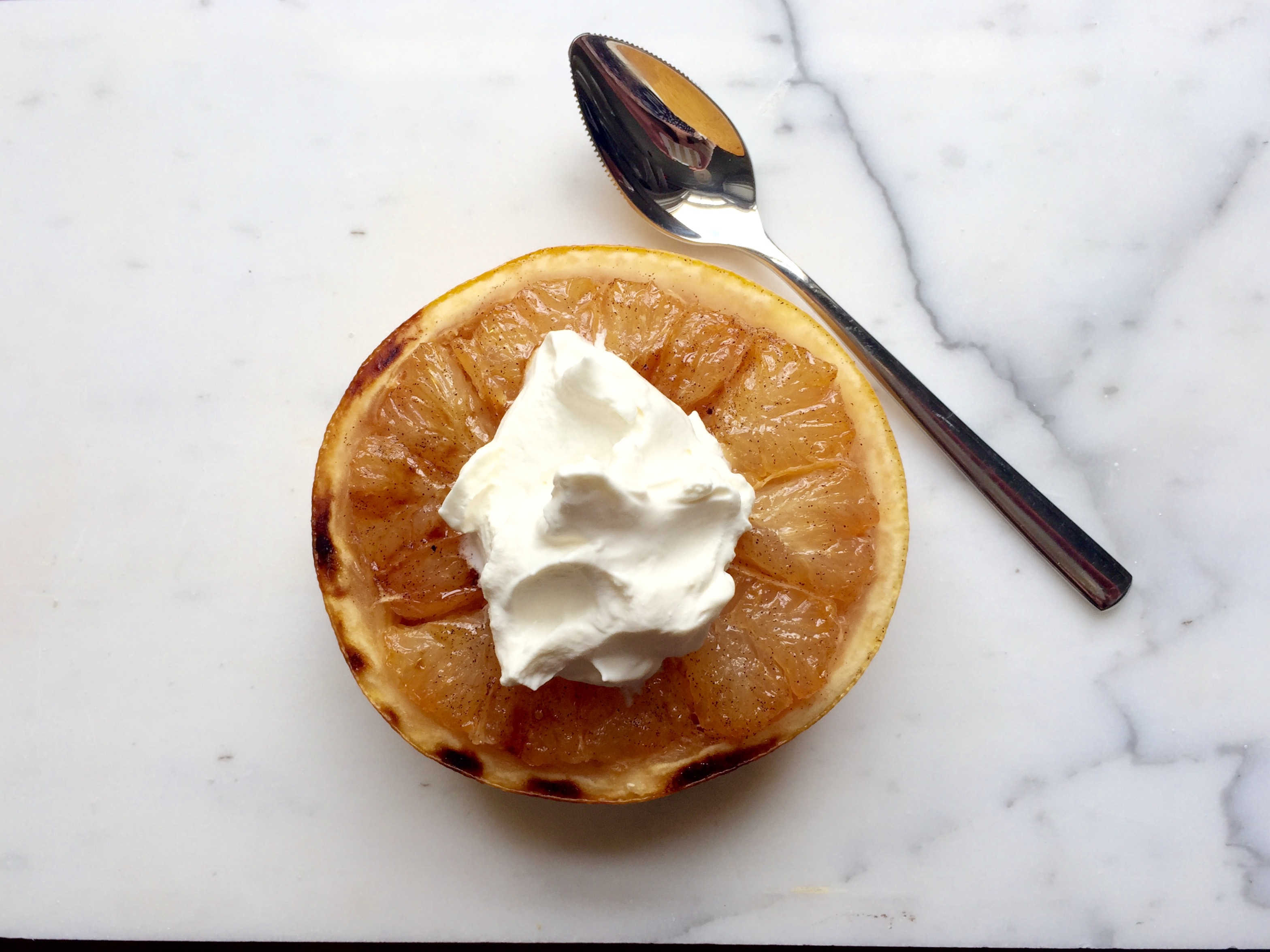 Grapefruit
This tart fruit is rendered slightly less aggressive once brûléed. Again, all you need to do is torch some sugar you've sprinkled on there. (You can also use a broiler for this one.) Actually, there's no reason to limit yourself to just the grapefruit; all citrus would work quite well. (Hello, Meyer lemon.)
Pork belly
You could go full Keller and make Thom's crème brûlée pork belly confit, or you could take any pork belly recipe and, after crisping the skin up a bit in a cast iron, sprinkle on a healthy layer of sugar and give that a good, but low and slow torching.
Brie
Baked brie already ranks pretty high in terms of decadence, but a crunchy, sweet shell of caramelized sugar on top of a gooey, creamy, slightly pungent cheese is literally all things that are good. Just remove the top part of the rind from the wheel, bake it at 350℉ until it's completely warm (10-12 minutes), then—altogether now—sprinkle it with some plain white sugar and gently torch it.
Cupcakes and other confections
Frosting is good, but frosting topped with crunchy caramelized sugar is better. Cakes, pies, and any custardy, pudding type situation brûlées quite well. I don't think I need to walk you through the process at this point.
As I'm thinking about it, there seems to be an endless supply of foods that would do well under the torch. Williams Sonoma even brûléed a cappuccino. Perhaps there is a "Will It Brûlée?" series in our future. Only time will tell.
This article was written by Claire Lower on Skillet and shared by Claire Lower to Lifehacker from Lifehacker and was legally licensed through the NewsCred publisher network. Please direct all licensing questions to legal@newscred.com.