When we hear the word "eggs" the majority of us likely think, "Ah, yes, breakfast food." But this mighty protein has been unjustly categorized. With so many differing ways to prepare eggs, we should change our instinctual views and consider egg dishes to be great lunch or dinnertime meals as well. Not to mention, they are an extremely healthy protein alternative with only approximately 70 calories for one large egg. If you think about it, an egg contains all the nutrients needed to create a chicken when it's fertilized. That includes vitamins, A, B12, D, E, and K, as well as calcium and zinc. It's truly a superfood that is more versatile than most give it credit for. Now that you know a bit about its health benefits, let's delve into some of the ideal egg-centric options that can take you beyond breakfast.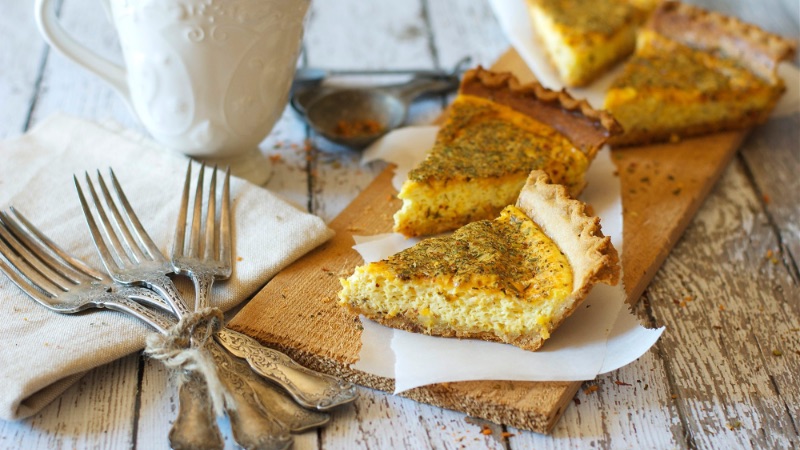 Quiches: Bridging the Gap
If you've never eaten a quiche, chances are you have at the very least heard of or seen them on a brunch menu. Many of us know of quiche as a classic dish of French cuisine, but its actual origin hails from Germany. Consisting of a flaky crust filled with an egg custard mixture, it is essentially a savory egg pie. Fillings can include bacon or smoked ham for the famed quiche lorraine, to more unorthodox ingredients such as goat cheese, salmon, or asparagus. A benefit to making quiche is that you can come up with your own recipe for a unique way to include vegetables and protein for an all-encompassing meal. It's the perfect segue entree to bridge your standard breakfast egg into the land of lunch fare.
Quiche Tips
Here are some excellent examples of quiches and a few suggestions on how you can make simple modifications to turn them into healthy entrees.
• Quiche lorraine: Includes piecrust, bacon, onion and heavy cream. To lighten up this classic dish, try using a premade whole-wheat piecrust, turkey bacon, substituting half the eggs for egg whites and using reduced-fat milk.
• Vegetarian quiche: Forget the meat and load up on veggies instead. Include greens such as spinach or kale, tomatoes, onions, mushrooms, and asparagus.
• Mexican-style quiche: Kick it up a notch with a spicy twist using jalapeños, pepper jack cheese, tomatoes, and chorizo sausage. Don't forget to garnish with some cilantro for that extra Latin flair.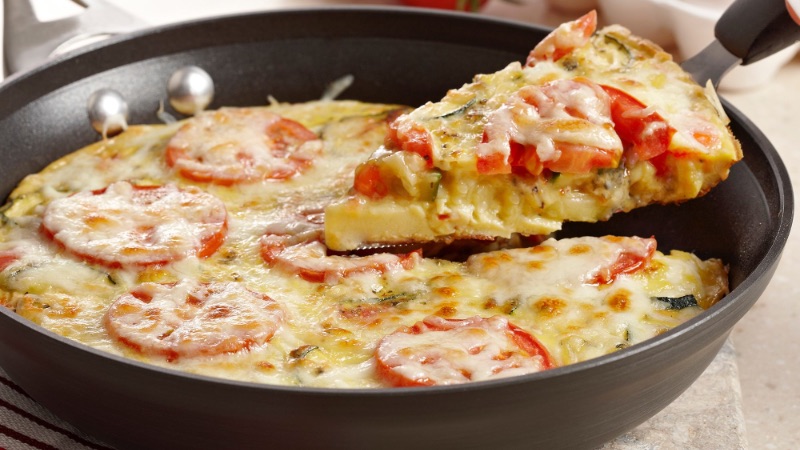 I'm a Frittata, Not an Omelet
It can be easy to mistake a frittata for an omelet. At first glance, all you see is a massive circular whipped egg with toppings scrambled in, versus the half-moon we are familiar with in an omelet. While they are similar in nature, what makes a fritatta stand apart from its counterpart is the way it is cooked and served, and where it came from. Where the omelet originated in France, the frittata is Italy's answer to this hearty egg dish. Preparing a frittata starts with a whipped egg mixture where ingredients are mixed into raw egg batter before being transferred into the skillet. Cooking starts on the stove top, but is finished in the broiler and served by the slice. Thicker in nature, it can include fresh vegetables such as tomatoes, spinach, mushrooms, or leeks, and proteins such as pancetta, sausage, or ham. The frittata's filling quality makes it an excellent low-fat lunch or dinnertime meal option.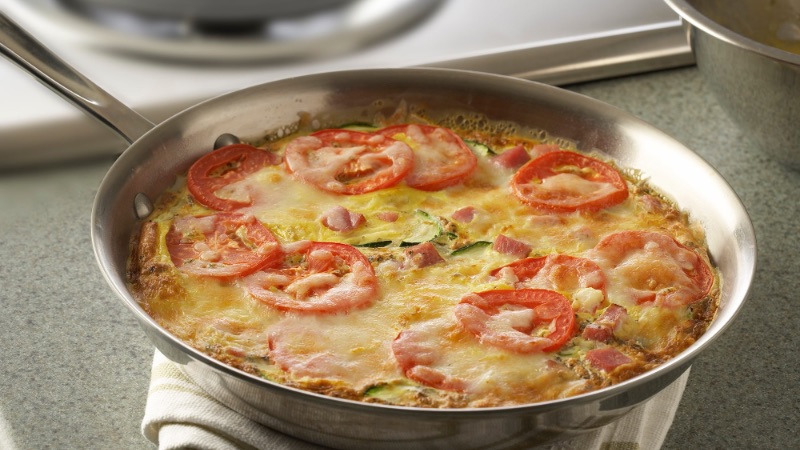 Frittatas All Around
Showcase your creativity with your frittata fillings—just be wary of any ingredients that contain more moisture such as squash and tomato, as they could cause your idyllically fluffy frittata to deflate.
• Broccoli and cheese frittata: To lighten up this version, choose low-fat or fat-free cheddar cheese and omit the milk in your egg mixture. While many traditional recipes call for the use of milk to make the dish fluffy and less dense, you can still get great flavor without using it.
• Vegetable frittata: Add deseeded tomatoes, bell peppers, and zucchini for a filling meal. Fresh herbs such as thyme, rosemary, basil, and garlic can add an abundance of aromatic flavor; you won't even miss the meat.
• Low-fat frittata: Use low-fat or fat-free cheeses, skim milk, or no milk at all, a prepackaged egg substitute, and, of course, all the fresh vegetables you'd like to incorporate.

Source: Fix.com Blog
What's the Strata with You?
Strata is not a dish that is widely known for most consumers of eggs; however, that doesn't make it any less delectable. It is essentially an egg casserole with a base of stale bread or hash browns chilled overnight. Because you can prep a strata in advance and just pop it into the oven, it is an easy way to showcase an egg dish outside of the realm of morning meals. Often served as a savory main course or side dish, there are even recipes for sweeter versions. Stratas are also an excellent way to repurpose leftover foods, saving both time and money. With the endless combinations, you can create the perfect lunch or dinner strata to start your journey of making eggs a food for all occasions.
Easy Stratas
Casseroles have been a favorite on tables across the globe for centuries, and the best part is that they are so easy to prepare and can be done with so many variations. The ideal fare for serving large groups, the sky's the limit when it comes to styles.
• Mexican hash brown strata: Using hash browns as a base, layer ingredients such as cooked ground turkey taco meat, roasted poblano peppers, fat-free cheddar or pepper jack cheese, green onions, bell peppers, and cilantro.
• Sweet strata: Incorporate seasonal fruit such as strawberries, raspberries or blueberries for a sweeter version, and try using honey or agave syrup as a natural sugar substitute.
• Alternative strata ingredients: Sweet potatoes, which are high in antioxidants, are a great replacement for potatoes or hash browns. Whole-wheat bread, skim milk, fat-free cheese, and lean meats like turkey or chicken breast can also be exchanged for items that may be higher in caloric value.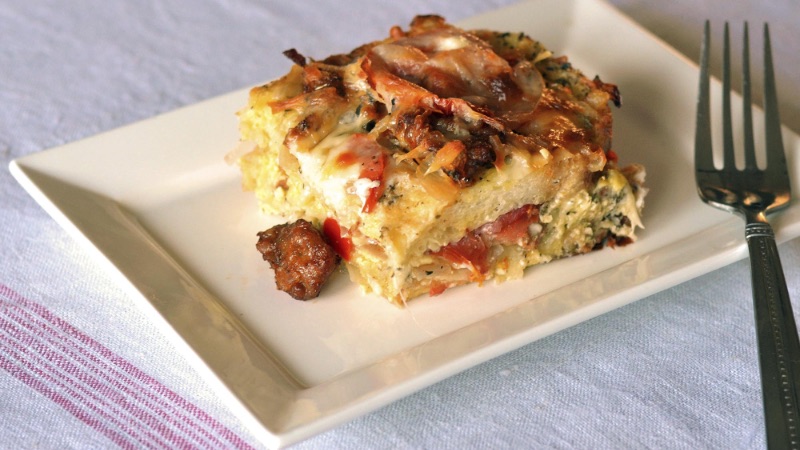 Now that you've seen some of the different ways eggs can be incorporated into your diet beyond the standard scrambled or sunny-side up, maybe you'll think of them just a bit differently. The next time you're looking to entertain or feed your family in a hurry, don't forget about your little friend, the egg. He's high in protein and essential vitamins, inexpensive, and, best of all, delicious any time of day or night.
This article was written by Maggie Unzueta from Food & Wine and was legally licensed through the NewsCred publisher network. Please direct all licensing questions to legal@newscred.com.