Make your Thanksgiving as successful as possible by using the ingredients, techniques, and tools that chefs swear by to execute delicious, disaster-free Thanksgiving dinners.
1. Duck fat
"It's available at most specialty stores. It's a poultry item like turkey, but has a lot more flavor. Add some to the stuffing or put it under the skin of the turkey before cooking. You can use it to cook roast vegetables and in the gravy. It will add a ton of flavor to anything and has all the thanksgiving characteristics you're looking for." - Anthony Zappola, Chef/Owner, The Rice Shop at Ohio City Galley
2. An electric knife
"I have an incredible collection of knives at home, but I'll admit I love using an electric knife to carve the turkey. They get the job done so quickly and have a high amusement factor." - Nicholas Houlbert, Executive Chef, Bluebird London
3. Labels
"Several days before the big meal, pull out all the platters and plates that you will need for the dinner and label them. The last thing you need to do when you are trying to get dinner on the table is to be thinking about what dish goes on what plate. Total time sink." - Sara Moulton, Chef, Cookbook author, and host of "Sara's Weeknight Meals"
4. A good meat thermometer
"How do you know if your meat thermometer still works? Dip it into a pan of boiling water and if it registers 212°F, you know you are good to go." - Sara Moulton
5. Porcini powder
"Porcini powder is a great weapon to have in the pantry for a burst of umami enriching flavor. A little added to stuffing or the turkey gravy will boost both to the next level." - Michael Brannock, Executive Chef, PDQ
6. Turkey someone else cooked
"Don't hate me, but I think preparing the turkey yourself is the biggest waste of time. Cooking a turkey involves several methods that a lot of home cooks may only practice once or twice a year. It's not only time consuming, but stressful, and the holidays should be quality time with family and friends. There are also pans and equipment that only get pulled out of storage when the time comes in November. Find a local BBQ spot who smokes turkeys or a restaurant offering fried or roasted varieties. They are all experts in smoking, frying and roasting, so let them take that load off your shoulders. You won't have to worry anymore if the turkey's going to be dry or juicy when the carving knife hits it. Let your own sides, desserts and other accompaniments shine around the turkey." - Michael Brannock
7. Champagne
"Veuve Clicquot – ice cold." - Linton Hopkins, Chef + Co-owner | Holeman & Finch, H&F Burger, C. Ellet's, Restaurant Eugene + Hop's Chicken
8. Panaché
"Mix sparkling lemon soda (preferably Fever Tree) mixed with a lager of your choice. It's refreshing, delicious, and light in alcohol so you can enjoy it while cooking and not feel like you over-indulged before you sat down to dinner." - Katie Button, Executive Chef + Co-Owner of Cúrate, Nightbell
9. Al Green
"I love getting up early and cooking at my own pace. My secret weapon is to drive the playlist to keep everybody in the right mood. Al Green is my secret weapon." - Joshua Gentry, Little Donkey
10. A sharp Japanese knife
"Nothing makes prep easier and less stressful when cooking for 30 to 50 people than a knife that's sharp and lightweight. Makes everything way more enjoyable than fighting an old dull heavy blade to crank out prep." - Jacqueline Blanchard, Owner of Coutelier
(Pro-tip: Here are some knives that are great for carving Thanksgiving turkey.)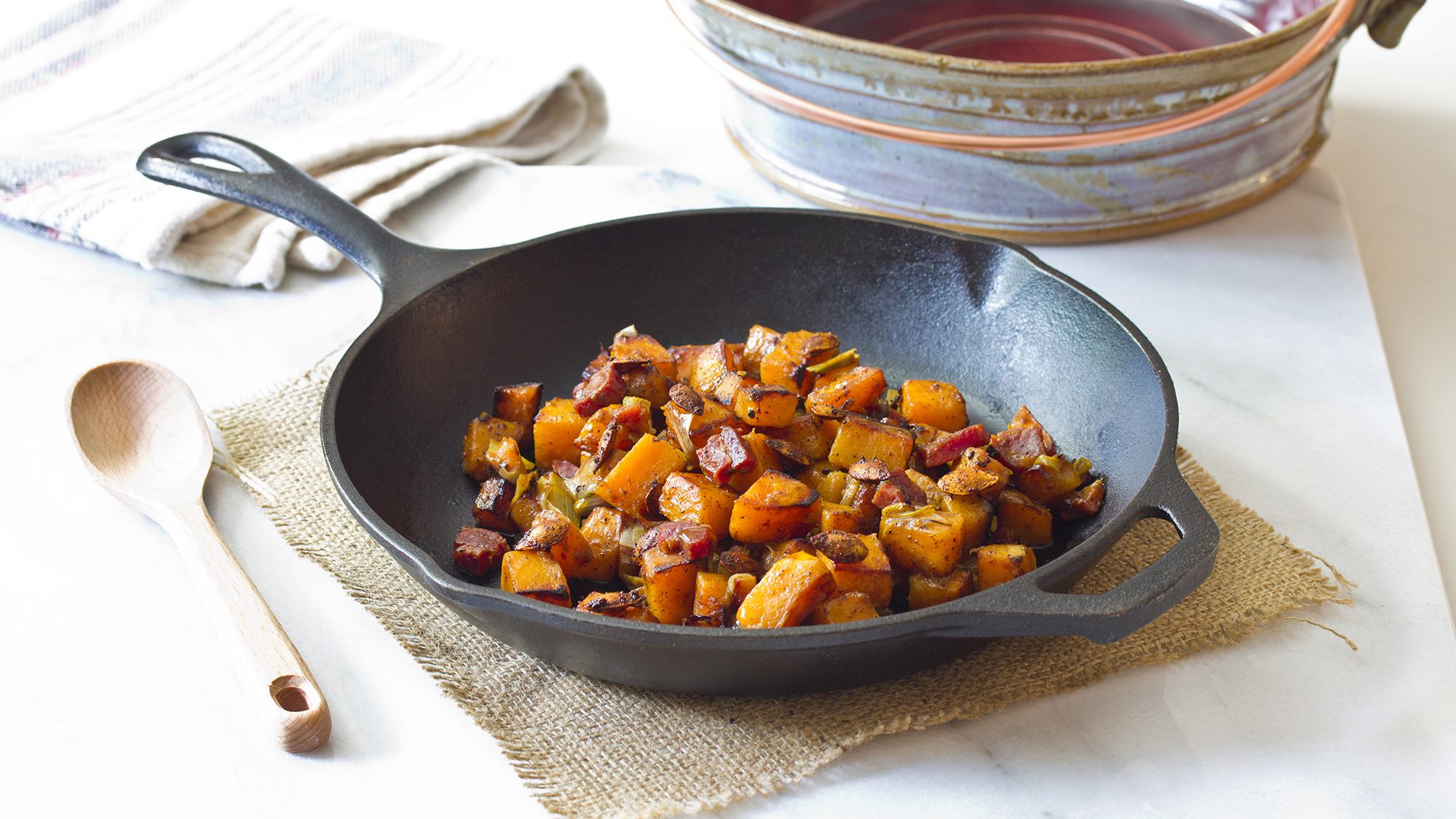 Photo: McCormick
11. Butter
"You have to have a good ratio of butter to potatoes in the mashed potatoes and when you think it's a good ratio you should probably add some more." - Dave Anoia, Chef/Owner of DiAnoia's Eatery
12. Chestnuts
"I love using them in stuffing. Roast fresh ones, easy to peel, easy to chop, and adds lots of flavor to the stuffing." - Glenn Rolnick, Executive Chef Carmine's Italian Restaurant
13. A food mill
"A food mill is my secret weapon. Mashed potatoes are one of the most crucial Thanksgiving dishes, and who doesn't love a perfectly silky-smooth potato purée without any chunks? It's an easy, but often overlooked, tool that can really elevate everyone's favorite side dish." - Jim Stein, McCrady's
This article was written by Maria Yagoda from Food & Wine and was legally licensed through the NewsCred publisher network. Please direct all licensing questions to legal@newscred.com.