While the origins of Florida's state pie date back to the 19th century, the exact details are a little murky. Depending on who you talk to, the recipe was first created by a Key West millionaire's cook named Aunt Sally, or sponge fishermen working off the coast of the Keys who had access to shelf-stabilized condensed milk (a hot new invention at the time), eggs, and an abundant supply of local limes. Either way, key lime pie holds a solid place in the pantheon of iconic American desserts.
At the Ritz-Carlton in Naples, Florida, thousands of slices of key lime pie are sold each week, and the resort's French executive pastry chef oversees them all. Sebastien Thieffine hails from a small town outside Reims, but has spent the last 22 years in the U.S., with stints in Palm Beach, Philadelphia, Chicago, and Maui. Inspired by his grandfather, a baker, the chef began a culinary apprenticeship in France at age 15. "My whole family cooked," he says. "My grandma always had something on the table—cake or tarts or jam."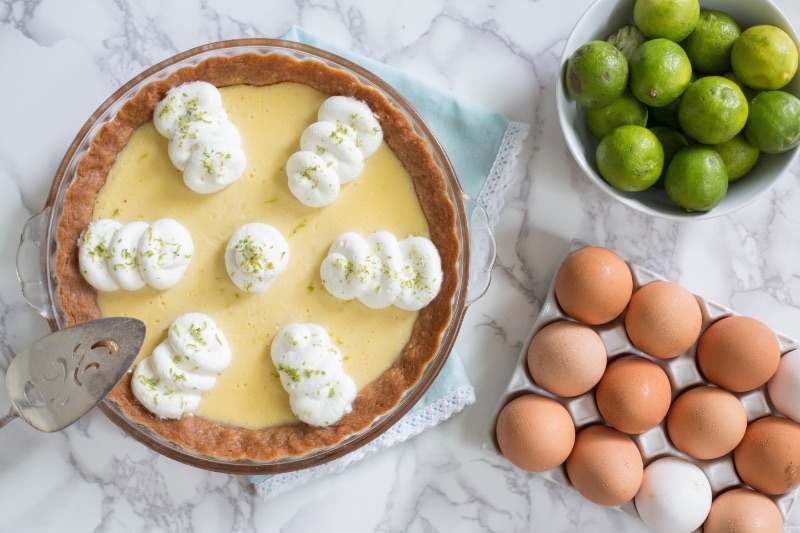 Of course, Thieffine didn't create the classic recipe, but he's responsible for ensuring each pie is perfect. "Everybody will most likely have a piece of key lime pie during their stay here," he says. The staff even shuttles slices to local restaurants that don't offer it on the menu.
And while the pastry chef whips up plenty of his own recipes, from hand-painted chocolates and towering tiered cakes to delicate fondant creations, he takes the straightforward classics seriously, too. "I find it challenging to make really well what people grew up on," he says. "Being in America, every person has grown as a kid, with grandma or mom making cookies, apple cobblers, cheesecakes, and those have to be made better, because everyone has an expectation of what it should be. And it may never be as good as mom or grandma, but if it's good, it's good."
With a decade of making this quintessential Florida dessert under his belt, it's fair to say Thieffine's key lime pie is, indeed, good. Below, find the pastry chef's foolproof tips for making yours good, too.
There are only five essential ingredients, so be picky.
While some recipes call for extras like cinnamon or cream of tartar, there are only five ingredients in a traditional key lime pie, so make them count. Thieffine uses Nellie & Joe's Famous Key West Lime Juice to yield that signature pale, creamy yellow color, and for the crust, butter with a high fat content— at least 82 percent. "If it's not 82 percent fat, that means it has extra water inside," he says.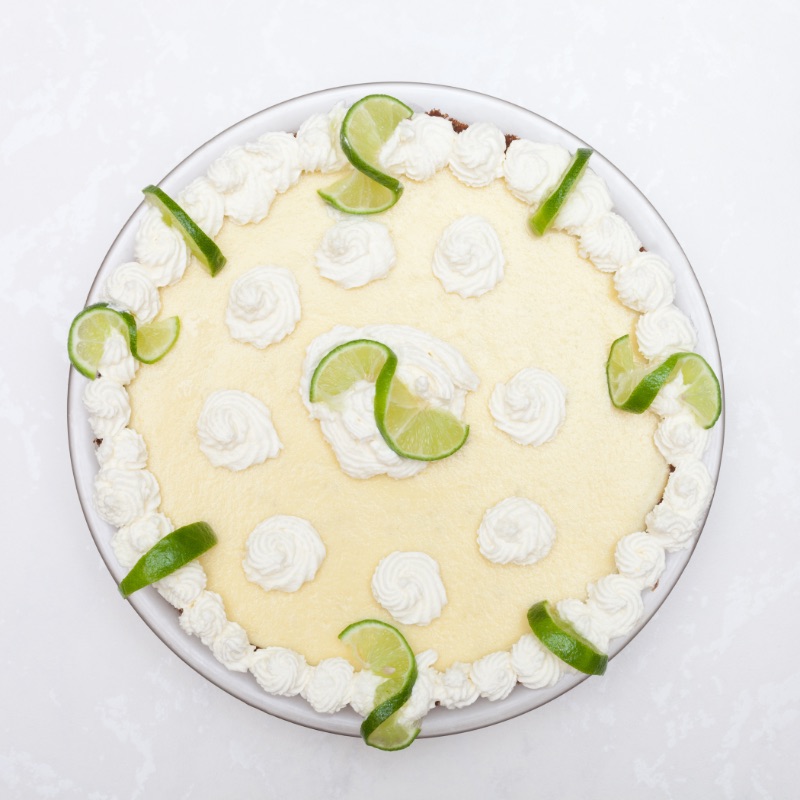 Make your mix the day before.
Don't over-whip the egg yolks, key lime juice, and condensed milk, cautions the chef. To get rid of any extra air, though, Thieffine recommends making the mixture the day before baking. "Let it rest overnight, because sometimes you can incorporate air, and you want it to dissipate." If you don't have the time, though, let it sit in the refrigerator for at least three to four hours.
Cook it low and slow.
To avoid key lime scrambled eggs (which, to be honest, doesn't sound so bad), bake the pie in a 200 degree oven for up to an hour. "Things boil at 212, so at 200 degrees, you have a safety net, and it never boils," says the chef. "I bake my cheesecake this way, I don't do water bath, I do 200 degrees in a convection oven. Crème brulée, too. These are high in eggs, and you don't want the eggs to coagulate and boil."
Gently press the middle of the pie, and according to the chef, it's done when the mix doesn't stick to your finger.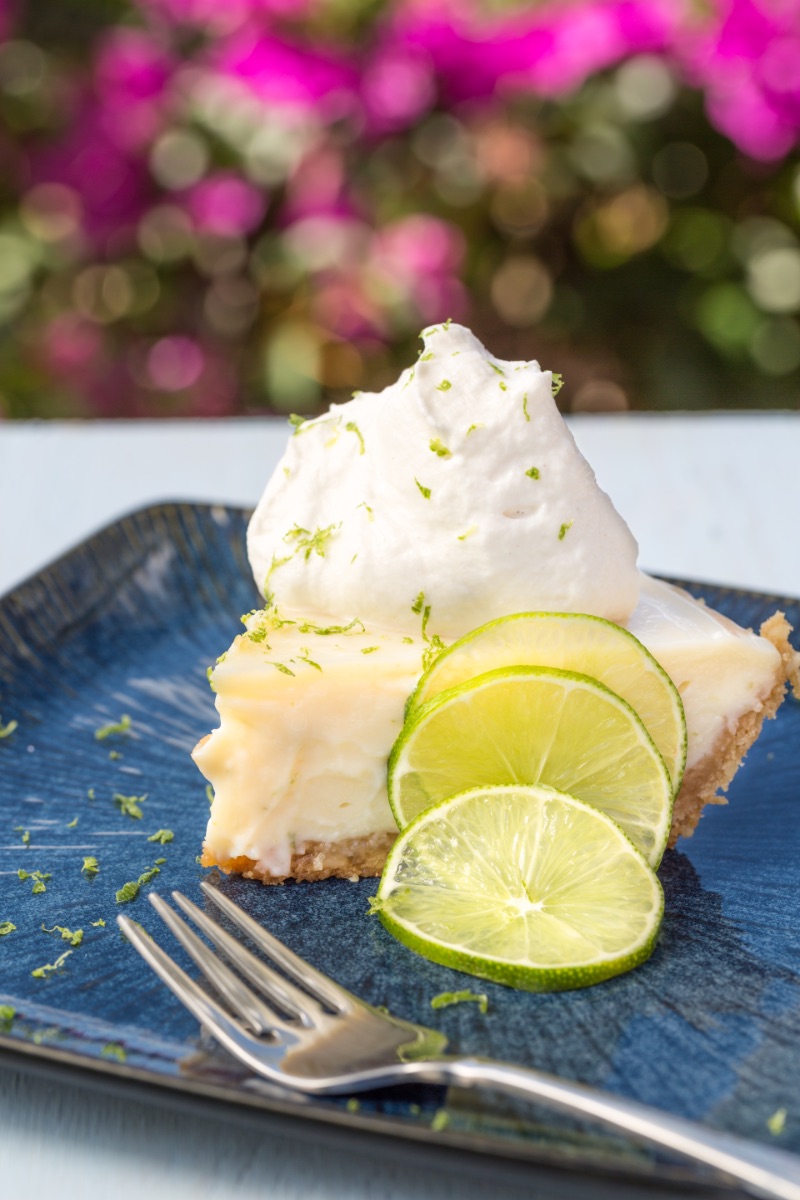 Pay close attention to crust consistency.
A mixture of graham cracker crumbs and melted butter, the crust needs to be perfectly consistent throughout. You can either buy the crumbs, or use a food processor, but if you do the latter, the chef says to make sure they come out super fine. After combining the crumbs with melted butter, form the mixture into the pie dish, making sure the crust is dense enough and with an even thickness throughout. "You want to make sure the crust holds up to your filling," says the chef.
Save your egg whites.
The topping is a hotly contested debate among key lime pie purists. While Thieffine finds it to be a little too sweet (he adds a spoon of fresh whipped cream instead), the chef says you can save your egg whites, mix in a little sugar, and toast the top for a fluffy meringue.
This article was written by Regan Stephens from Food & Wine and was legally licensed through the NewsCred publisher network. Please direct all licensing questions to legal@newscred.com.