We're all familiar with orange-colored carrots, but the root vegetables actually come in all different gorgeous hues, from white and yellow to magenta and purple. And few vegetable dishes bring me more joy to look at – and of course, to eat – than a rainbow of long petite carrots, their green fringes mostly trimmed but with an inch or so still attached. It's a beautiful way to present the vegetable. 
After roasting the carrots, which brings out their natural sweetness, sprinkle them with chopped pistachios for a sweet, earthy crunch. Serve the dish alongside a bright, herby labneh-based sauce, and you might forget every other dish on the table.
This recipe will work with any carrots, even the larger ones – just trim them down into strips and ensure they're all similar in size for even roasting.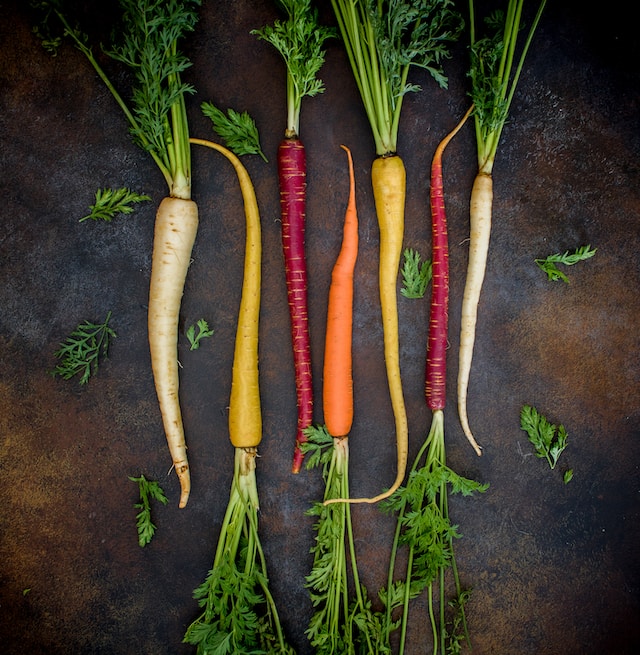 Photo by Dana DeVolk
Yield: 6 Time: 45 minutes
1½ lb. Rainbow carrots, leafy tops trimmed, cleaned
3 Tbsp. olive oil
2 tsp. ground cumin
2 tsp. kosher salt, divided
1 tsp. freshly ground black pepper
12 oz. Labneh, or plain full-fat Greek yogurt
1 cup coarsely chopped cilantro
1 cup coarsely chopped parsley leaves
¼ cup fresh lemon juice, plus more
1 small garlic clove, finely chopped
¼ cup roasted salted shelled pistachios, coarsely chopped
Instructions
Position a rack in the center of the oven and preheat to 400ºF. Line a large rimmed baking sheet with foil, then place the carrots on top and add the oil, cumin, 1 teaspoon salt, and the black pepper; toss to coat. Bake until the carrots are browned in spots and tender when pierced with a knife, 25–30 minutes.
Meanwhile, in a blender, purée the labneh, cilantro, parsley, lemon juice, garlic, and remaining salt. Season to taste with additional lemon juice.
To serve, spread the labneh sauce over a large platter. Arrange the carrots over the sauce, sprinkle with pistachios, and serve warm.
This article was written by Fatima Khawaja from Saveur and was legally licensed through the Industry Dive Content Marketplace. Please direct all licensing questions to legal@industrydive.com.