Anytime I see a dish with pesto at a restaurant, I have to order it – it's just my West Coast/Pavlovian response to zesty, herby, green sauces. Pizza night with my fiancé is all about a festive red-and-green affair with a half-marinara, and half-pesto pie. And a generous drizzle of pesto is my go-to anytime I need to jazz up a weeknight meal. You can use pesto as a dip, to liven up soup, stews, or pasta, rolled into a pork roast – the possibilities are almost endless. We know pest os delicious, but here's everything you need to know about its history and what goes into it. 
A brief history of pesto
The word pesto comes from Italian. "Pesto in Italian refers to anything that is crushed and has that certain texture. It is mostly greens-based, but not necessarily," says Laura Lazzaroni, author of The New Cucina Italiana. Traditionally made using a mortar and pestle, pesto comes from the word "pestare," or "crush;" its texture ranges from a thick paste to a looser puree. While this iconic sauce has roots in an ancient Roman paste with herbs, cheese, and pine nuts, the pesto we are most familiar with is Pesto alla Genovese originating from Genoa, the capital city of Liguria in Italy. 
What is pesto made of?
Pesto alla Genovese is made from just five ingredients, each of which plays a key role in its delectable and versatile nature: basil (specifically Genovese Basil), garlic, pine nuts, olive oil, and Parmigiano-Reggiano. But what about the melding of these ingredients gives this green sauce its enduring appeal? Let's break it down. 
Fresh basil gives pesto its signature herby brightness and iconic green color as well as a subtle, peppery flavor. Garlic adds pungency. Pine nuts, olive oil, and cheese act as emulsifying agents, helping to hold the sauce together while contributing richness and (in the case of the Parmigiano-Reggiano) umami and a salty, lip-licking flavor. 
While pesto purists stay true to these specific ingredients, other kinds of pesto have taken off with creative spins on the classic using the same base formula, but different herbs, vegetables, and nuts. "I make one with dandelion or carrot tops and wild fennel," says Lazzaroni. "You can make it with a whole range of other wild greens substituting them for basil, so it's not a proper pesto alla genovese but in my opinion, it's even more interesting."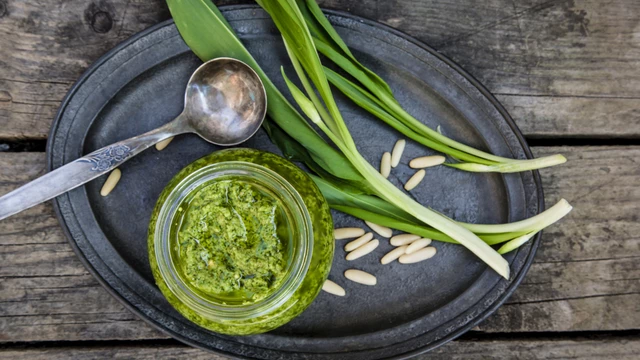 How to make pesto
If you have the tools and the time, a mortar and pestle are the way to go for a top-notch pesto. Combine the herbs and nuts in a mortar and pound in a circular motion with the pestle so that the ingredients open up in preparation for when you slowly add the oil to emulsify it with the other ingredients. The result is a creamy, very basil-forward pesto unlike what you get from other preparation methods. But there are options. Another solid path is chopping your basil, garlic, and nuts by hand and then combining them with the oil and cheese. If a chunkier pesto is what you're looking for, this is the way to go. For a more streamlined method, a food processor or blender works fine to make a quick pesto. 
How to to use pesto
Pesto is one of those ingredients that works with recipes from morning to night. Pesto and pastas are a natural pairing. Pesto can also add some zip to dips like this Walnut Pesto and Goat Cheese Dip or brighten up a salad or grain bowl like quinoa salad, or swirled into baked goods like these Pesto-and-Cheese-Stuffed Brioche Scrolls with Bacon-Tomato Jam. Try it with anything you think would be enhanced with some herbal green oomph.
This article was written by Andee McKenzie from Food & Wine and was legally licensed through the Industry Dive Content Marketplace. Please direct all licensing questions to legal@industrydive.com.