Last night, when I opened my fridge to make dinner, I was confronted with two truths: My leftover rice was getting a little too dry, and my mushrooms had maybe 24 hours before they'd start to get slimy. I had already made a fair amount of fried rice and was craving something creamy. Mushroom risotto sounded just right, but the rice was all wrong (or so I thought).
True risotto, the kind made by Italians, is made with Arborio rice, a short-grain rice with a lot of starch. After toasting the rice in fat and splashing in some wine, you slowly add hot broth to the rice a bit at a time, so it can mix with the starch released by the rice to form a thick, luscious sauce that tastes creamy without any cream. I didn't do any of that (I didn't have risotto rice). Instead, I made a roux with butter and flour, then tossed my oh-so-wrong rice in the roux before adding heavy cream to make a thick, béchamel-like sauce. I seasoned it with salt, pepper, and paprika, and chucked some roasted mushrooms on top. Thus, a 'Fake Risotto' was born.
It's not risotto, but it scratches the itch when you can't make the real thing. It's warm, comforting, creamy, and savory, and a great way to use up meager servings of dry leftover rice hanging out in your fridge. To make it, you need only rice, butter, flour, milk or cream, and maybe a little broth. Throw in yesterday's roasted vegetables and you've got a meal.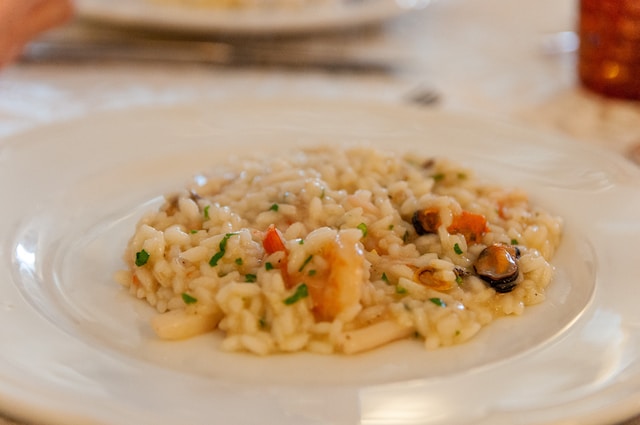 'Fake Risotto' Rice Recipe
Ingredients:
1 tablespoon butter
1 tablespoon flour
1 1/2-2 cups leftover rice (Don't sweat this measurement too much; it's very forgiving.)
1 cup milk, half & half, or cream (You probably won't use the whole cup)
Optional: Broth of choice
Salt and pepper to taste, plus any other seasonings you'd enjoy (Paprika is a winner with mushrooms, but onion powder and garlic powder are universal.)
Melt the butter over medium-low heat and add the flour, stirring to make a paste. Continue to cook for about a minute, until the smell of raw flour dissipates and the roux is a light straw color.
Add the rice and stir to coat with the roux. Slowly add 1/4 cup of milk and stir to thicken, add more milk, a little bit at a time, stirring between each addition until you have a creamy, rich sauce. If it's too thin, keep cooking. (It won't be too thin.) Give it a taste and season with salt and pepper, and any other seasonings you desire.
If it starts getting stiff or dry, add a little broth. (You can also add more dairy, but I'll leave that decision to you and your stomach). If you add too much liquid, let it simmer a little longer, but be aware it will thicken even further as it cools. Serve immediately with roasted vegetables of choice. (I recommend mushrooms.) Finish with fresh herbs or cheese if you have them, but this duplicitous dish is pretty good as is.
This article was written by Claire Lower from Lifehacker and was legally licensed through the DiveMarketplace by Industry Dive. Please direct all licensing questions to legal@industrydive.com.